Part 2 of 2 | Tony Borg gives us an insight into Lee Selby vs Josh Warrington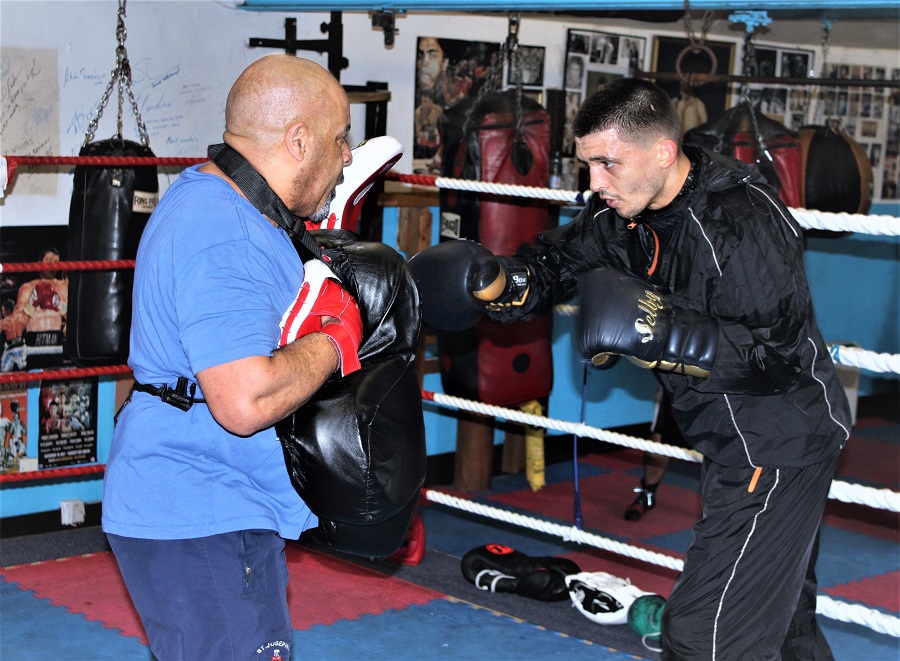 Josh Warrington said in a press release "He [Selby] thinks he's a banger when he's not. He puts far too much into his punches then fades." Borg added:
"The trouble with Josh Warrington is he has never sparred Lee Selby and obviously he has never boxed Lee Selby.
"With Lee Selby when he fights like I said earlier he hasn't been in the situation where he has had to dig in and dig someone out.
"He's not a thug, he's not a slugger, and he's a very educated boxer, very disciplined so if he's winning the rounds comfortably round-by-round that's what he does. Sits on the front foot and wins the rounds.
"If he's got to step it up he steps it up. Fortunate or unfortunately for Josh Warrington, if he pushes Selby all the way and its close and he's doing well against him, he'll get hurt. "
Warrington also added "[Selby] is very busy for six rounds, snatches the early rounds, then protects the lead" when asked if it was a fair comment, Borg added:
"That's happened on a couple of occasions, yeah. It just makes him an educated boxer, he's not a fool.
"He doesn't need to go in slugging it out and digging in deep like a nutcase. He's never been in a situation where he's like "like oh my god, listen it's really close – I got to dig in deep".
"He's just in there enjoying himself and entertaining the crowd. Crowd are happy with his performance and he's happy, goes home gets paid and still has his belt and no injuries amass."
The majority of both fighters' fights have gone to the scorecards but Borg thinks there's a good chance Warrington won't see the final bell:
"I don't think it will, I think Warrington's bravery and fitness will be his downfall.
"With others if it's been really close and they have come at Selby, he's just totally out boxed them. If Warrington is as good as he says he's going to be and he pushes Lee back and comes forward all the time. If he comes forward and takes a lot of shots, I think about the 8th or 9th round it will be home time for Warrington"
Borg sees first hand changes and how the boxing world is respecting Lee Selby:
"I've been out in America with Lee a few times now sparring, training and boxing and we've been round all the different gyms – he's a great name out there.
"When we were over last time the main reason they looked up to him so much was because of a fighter called Eric Hunter.
"We didn't rate him really highly over here, but over there in the gyms he's very highly rated, he's a real good operator they say like.  They say Eric hunter beat himself. He can beat all the others but he beats himself. When with Lee Selby he lost his rag, he lost his way.
"I know he caught Lee with a good shot and dropped him down but Lee got up won the rest of the round and won the fight."
A fight the British public want in 2018 is Lee Selby vs Carl Frampton. Borg recalls a conversation he had with Barry McGuigan years ago:
"Yeah, without a doubt [fight happening]. A number of years ago I took Gary Buckland up to spar with Carl Frampton on a regular basis and during one of the sessions – obviously who was being trained by the McGuigan's at the time.  They said: "They're getting to know each other too well now have you got somebody else in the gym to spar with Carl next week?"
"I said: "Well, yeah". They said: "What about Selby?" I've known Barry for a long time, I said: "You don't want to put him in with Selby." He said: "Pardon?" I said: "Listen it's up to you there different weights. But there both fit at the moment, both have fights, Selby fights 3-4 weeks away so he's sparring – he's ready.  But at the moment to be honest with you if you put Frampton in with him, he'll destroy Frampton." And that will be the last sparring session before his fight, so it's not a good way to end his training camp. Barry McGuigan said:  "Are you serious mate?" I said: "Honestly mate he's that good. He'll ruin Carl at the moment." Take from that what you will.
"They never said: "don't matter don't bring him up" they just said: "Right ok well leave it there then.""
The fight has been muted for some time and it's only now there is a real possibility it could be both fighters next fight, if both defeat their opponents Warrington (Selby) and Donaire (Frampton). Borg explains why he doesn't think the fight has happened yet:
"Why? I think at the time when he moved up, moved over and went to Al Haymon, it brought miles between them.
"Frampton was looking in one direction and we were looking at another I suppose. And when Frampton got beat by Santa Cruz it threw a spanner in the works.
"So now fortunately, but I didn't foresee this with them signing up with Frank Warren – who I'd like to say has made a fantastic comeback, Frank Warren himself. When he put this together it wasn't expected – I didn't see it coming."
Frampton no longer holds a world title; could this make the fight easier to be made?
"Possibly, the only problems we might have had if he had a title would be 'greed' I suppose. Because they both know they need each other and they both want to fight.
"Frampton would be the one saying I'm the one bringing all the people I got a big following etc. etc. I got this title you've got that title he would of probably wanted a 60-40 split or something like that – it may have been down to that. Now he brings to the table his popularity but he doesn't own a belt."
Borg doesn't want to look to far ahead as he is committed to the task of head in Josh Warrington, but he shared what he sees next for Lee Selby:
"I'd like to see him take each fight as it comes I don't like to look to far ahead the most important fight in life is the next one.
"Were going to deal with Josh Warrington and when that's done well be looking to Carl Frampton. And when that's done we will be looking to possibly a bigger fight or unification.
"At the moment all that's on our radar is Josh Warrington."