SECOND-ROUND RESULTS: 72nd annual Lowell Sun Charities Golden Gloves Championships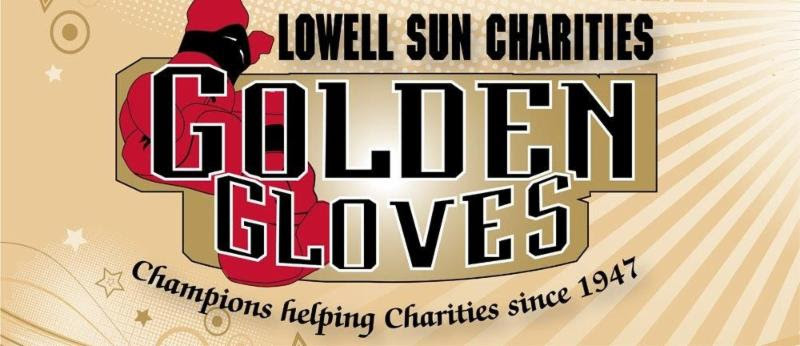 The Central New England (Greater Lowell) second-round of the 72nd annual Lowell Sun Charities Golden Gloves Championships concluded last night at historic Lowell Memorial Auditorium with that featured 13 exciting men's and women's novice class matches.
The quarterfinals are on tap next Friday night (Jan. 19) at Lowell Memorial Auditorium with novice and open class matches. See the complete 2018 schedule of events below as well as last night's complete results.
"The first bout (Rodriguez vs. Picariello) of the night was awesome, one of the best I've seen in years," Tournament Executive Director Bobby Russo said. "It was a lesson to be learned for fans: don't come late! One of the great things about amateur boxing is you never know what the fight of the night will be and last night it was the first. Rodriguez showed a good skill level, especially for a novice, and Picariello had tremendous determination. He kept coming and they both threw a lot of punches. It was a great way to start the show."
Season tickets for the remaining seven events are still available and reasonably priced at $75.00 (general admission). To purchase call the Lowell Memorial Auditorium box office at 1.866.722.8881 or order online at www.lowellauditorium.com. Individual event tickets are also available to purchase, starting at $13.00, only $7.00 for students (ID required).
Proceeds from the Lowell Sun Charities Golden Gloves Championship go towards sending the New England Golden Gloves champions to the National Golden Gloves Championship (starting May 14, 2018 in Omaha, Nebraska), in addition to supporting local athletes and area gyms, the Boys & Girls Club, soup kitchens, homeless shelters, cancer funds, scholarships and many other great charitable causes.
OFFICIAL RESULTS
NOVICE
(Feb. 12, 2018)
LIGHTWEIGHTS (132 lbs.)
Kevin Rodriguez, Lawrence, MA / Intenze 978
WDEC (5-0)
Giovanni Picariello, Medford, MA / Nonantun Boxing Club
Emmanuel Adumbire, Dorchester, MA / Grealish Boxing
WDEC (3-2)
Shane Jordan, Brockton, MA / Everybody Fights
FEMALE LIGHT WELTERWEIGHTS (141 lbs.)
Stephanie Khan, Brighton, MA / The Ring
WDEC (5-0)
Marine Krizisch, Cambrige, MA / Nonantum Boxing
LIGHT WELTERWEIGHTS (141 lbs.)
Steve Rao, Lowell, MA / West End Gym
WDEC (3-2)
Miguel Rivera, Lawrence, MA / Intenze 978
Robert Tomczyk, Sterling, MA / Palladin Martial Arts
WDEC (5-0)
Scott Nardella, Lowell, MA / West End Gym
Nelson Perez, Marlboro, MA / Upperkuts
WDEC (3-2)
James Quealy, Dorchester, MA / Grealish Boxing
FEMALE WELTERWEIGHTS (152 lbs.)
Emily Jones, Woburn, MA / Everybody Fights
WDEC (5-0)
Samatha Kreitman, Boston, MA / Sweatbox
WELTERWEIGHTS (152 LBS.)
Alexander Lynch, Quincy, MA / Grealish Boxing
WDEC (5-0)
Doug Maguire, Hudson, MA / Hudson Boxing Club
Apostolus Lolos, Manchester, NH / Manchester PAL
WDEC (4-1)
Daniel Richard, Malden, MA / Somerville Boxing Club
MIDDLEWEIGHTS (165 lbs.)
Jordy Artica, Chelsea, MA / Grealish Boxing
WDEC (5-0)
Steve Baez, Lowell, MA / West End Gym
Mohammed Ibrahim, Boston, MA / unattached
WDEC (5-0)
Ethan Marshall, Haverhill, MA / Haverhill Downtown Boxing
HEAVYWEIGHTS (201 lbs.)
Andrew Perez, Methuen, MA / Intenze 978
WDEC (4-1)
Jordan Faulkner, Haverhill, MA / Haverhill Downtown Boxing
SUPER HEAVYWEIGHTS (201+ lbs.)
Jean Fleurissaint, Mattapan, Ma / Boston Boxing
WDEC5
Brandys Nunez, Peabody, Ma / Dullea's
72nd annual Lowell Sun Charities Golden Gloves Championship Schedule
(Lowell Memorial Auditorium – 6:30 p.m. doors open, 7:30 p.m. first bout)
Central New England (Greater Lowell)
Quarterfinals – Friday, Jan. 19
Semifinals: – Thursday, Jan. 25
Championship Finals – Thursday, Feb. 1
New England Tournament of Champions
Novice Class Semifinals – Thursday, Feb. 8
Novice Class Championship Finals – Thursday, Feb. 15
Open Class Semifinals – Wednesday, Feb. 21
Open Class Championship Finals – Thursday, Feb. 22
Read more articles about: