Boxing fights can end in one punch; a look at fighters who may have the power to KO Anthony Joshua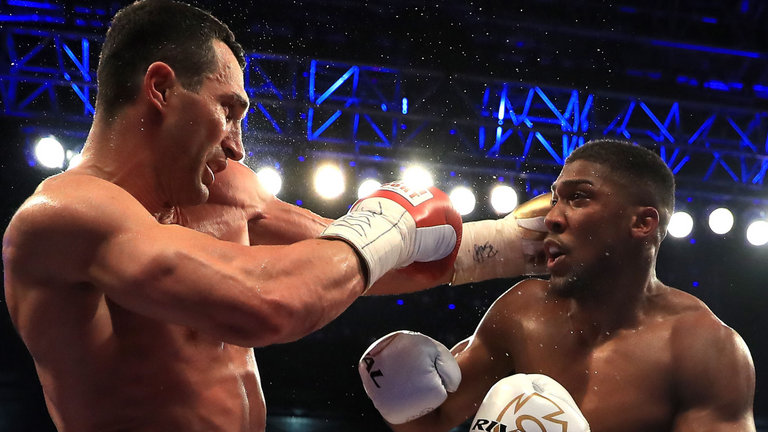 Deontay Wilder
There's no doubting that Wilder has the punching power to stop Joshua. 38 out of Wilder's 39 professional victims have fallen early although there has been a fair bit of padding included, especially in the early days. Former Olympian Wilder can certainly bang and it is fair to say that his wild, unorthodox style, that sometimes results in huge windmill swings, makes him dangerous from all angles. You'd think that Joshua would be able to use his more orthodox schooling to pick the openings and find the gaps in Wilder's flawed game, but what if WBC king Deontay catches the Londoner on the temple with a looping haymaker first?
Joseph Parker
I actually don't think Parker is quite the puncher his record would suggest. Since moving up in class, the New Zealander's knockout statistics have notably dried up. The last knockout he scored was in late 2016 and slightly controversial as opponent Alexander Dimitrenko was down on his knees from a bear hug when Parker snuck home a sneaky right hook to the ribs. The likes of ancient South African Frans Botha or limited brawler Solomon Haumono might not be able to withstand the heavy hands of Parker but at the top level a little more nuance and shot selection is needed. Parker has certainly found this out in his bouts with Carlos Takam, Andy Ruiz Jr and even Hughie Fury. If Parker is to knock Joshua out then I believe his best chance lies in making Joshua work hard for the first part of the fight, employing plenty of movement and physical grappling before taking over late and stopping AJ via accumulation. It's unlikely Parker would catch Joshua and stop him with a big one-punch finisher.
Alexander Povetkin
There's no doubting that the experienced Russian can wallop a bit but, as mentioned in a previous Ring News article, how much has that had to do with Povetkin's alleged outside assistance? 23 of Povetkin's 33 victims have failed to hear the final bell but in his most recent bouts since returning to the ring, Andriy Rudenko and Christian Hammer have both gone the full 12. That's not inspiring for my money as any decent heavyweight puncher and world title aspirant would be removing both of those guys. Say no more.
Luis Ortiz
Clearly a banger but with more skill and fluidity to his game. Ortiz brings something pretty much unique to the heavyweight party – head movement. Dipping, ducking and rolling isn't exactly top of most heavyweights' agenda these days. Ortiz is a southpaw who can trouble any rival with his shot selection and sparkling uppercut. Would he be too small to land one on Joshua though? You could foresee a long night for Ortiz if Joshua got his jab working correctly and the veteran Cuban was unable to find a way on to the inside.
Lucas Browne
Now here is a guy who can punch pretty hard with a single shot. The 38-year-old Aussie has 25 wins with 22 knockouts but once again the level of opposition is nowhere near elite level. Could be bang out Joshua with a single shot? Potentially he could, but would be be able to maneuver his feet into range and avoid the big shots for long enough to land that game changing blow? No, I don't think so. I'll give him credit for his stirring come-from-behind win over Ruslan Chagaev but he would have next to no chance against Joshua, apart from landing the money shot.
Jarrell Miller
When you're weighing in at 300lbs you have a certain amount of punching power built in by default. Is Miller too heavy? Yes, almost certainly he is, but the 29-year-old New Yorker is surprisingly athletic for his size. 18 knockouts looks impressive but the level of opposition on his record has to be inspected closely. Gerald Washington and Marius Wach were both hurt by Miller but both ended up retiring which suggests Miller clubs opponents into submission rather than sending them into oblivion with a single shot.
Daniel Dubois
Watch this space. Maybe in a few years when AJ is coming to the end of his career it could happen, but at the moment Dubois is young, green and very much at the opposite end of the spectrum. He has more punching power than many of the so-called top heavies around at the moment though.