Jack Arnfield responds to Tommy Langford: "He got poleaxed against Khurtsidze, I've got nothing to beat him? We'll see on February 17th"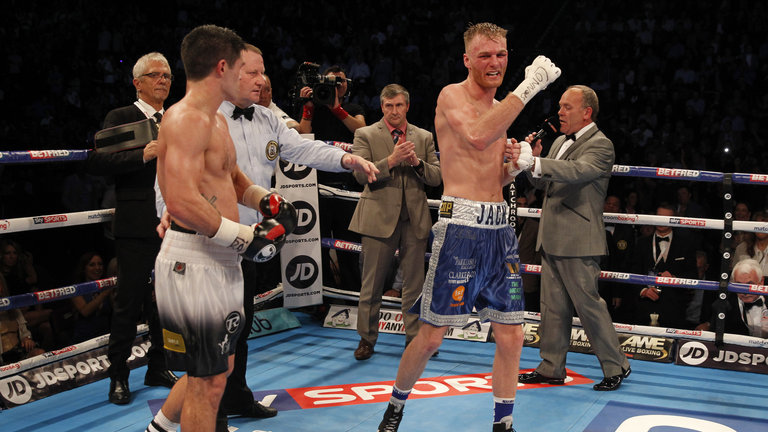 VIP Boxing's Steve Wood announced on Twitter that Tommy Langford vs Jack Arnfield had been cancelled and is awaiting a change of venue. The fight is expected to be announced next week and is to feature on a mega television show.
However, Ringnews24 can announce that the fight will take place on the George Groves-Chris Eubank Jr card. Also added to the event is Ryan Walsh vs Isaac Lowe in British Featherweight title bout.
Arnfield is excited about appearing on the show and television. He told Ringnews24.com:
"Massively excited, it's a massive card – I think it's going to be one of the biggest of the year. A sold out MEN Arena, I'm really looking forward to it."
Every young British boxer aspires to have the Lonsdale belt wrapped around their waist.
Arnfield is no different:
"I've always wanted to join the British champions. I've always wanted the British title.
"As long as I'm progressing, I'm happy. It just so happens it's falling right on my feet. I've worked my way up the British rankings and got myself into a mandatory position. So what I'm going to do is go out and win that title."
Arnfield previously fought for the British title against Nick Blackwell at the end of 2015. He went on to lose the fight on points and picked up experience which he can take into his upcoming title fight:
"I boxed for the British a few years ago now. To be fair I only had 8 days notice to take that fight. The preparation wasn't 100 percent for that fight but I still got a good fight, a good 12 round fight out of it.
"I think the last couple of years fighting at the top level in Britain. It will bode well for me in this British title fight."
Arnfield respects British champion Tommy Langford and expects a tough night:
"I respect Tommy Langford. He's a good fighter, he's busy, he's very fit, he's an athlete – I'm expecting a tough hard fight on the 17th."
Langford and Arnfield have shared a ring before during a sparring session. Arnfield added:
"It was a good sparring session down at Bobby Rimmer's boxing academy in Denton. I recall it was a good spar; I got the better in my eyes by quite a bit. But it was by no means one sided, that was five years ago or it could have been a bit longer. I'm not going to hold anything in that. A lot can change in four or five year's time."
Langford told Ringnews24.com: "He's got nothing to beat me".
Arnfield didn't take too kindly to that comment. He added:
"He's not boxed at the same level as me in my eyes. He's had one fight at a high level against Avtandil Khurtsidze which he got poleaxed – he got put to sleep near enough. As far as he's saying 'I've got nothing to beat him' we'll see on February 17th."
After winning the British title, Arnfield hopes to have a big 2018:
"When I beat Langford, I want the bigger fights. Whatever comes to me. Maybe defend the British title a couple of times or if anything big comes up, I'll be grabbing that as well."
Who do you think wins Groves or Eubank and why?
Groves wins – Eubank's an athlete, extraordinary, extremely fit, his work ethics unbelievable and he's aggressive. I think Groves is too big, too much and he'll hit too hard ultimately for Chris Eubank Jr.
Finally, Arnfield had a message for his boxing fans:
"Tune in February 17th when I beat Tommy Langford."