Part 2 of 3 | Tommy Langford: Jack Arnfield has got nothing to beat me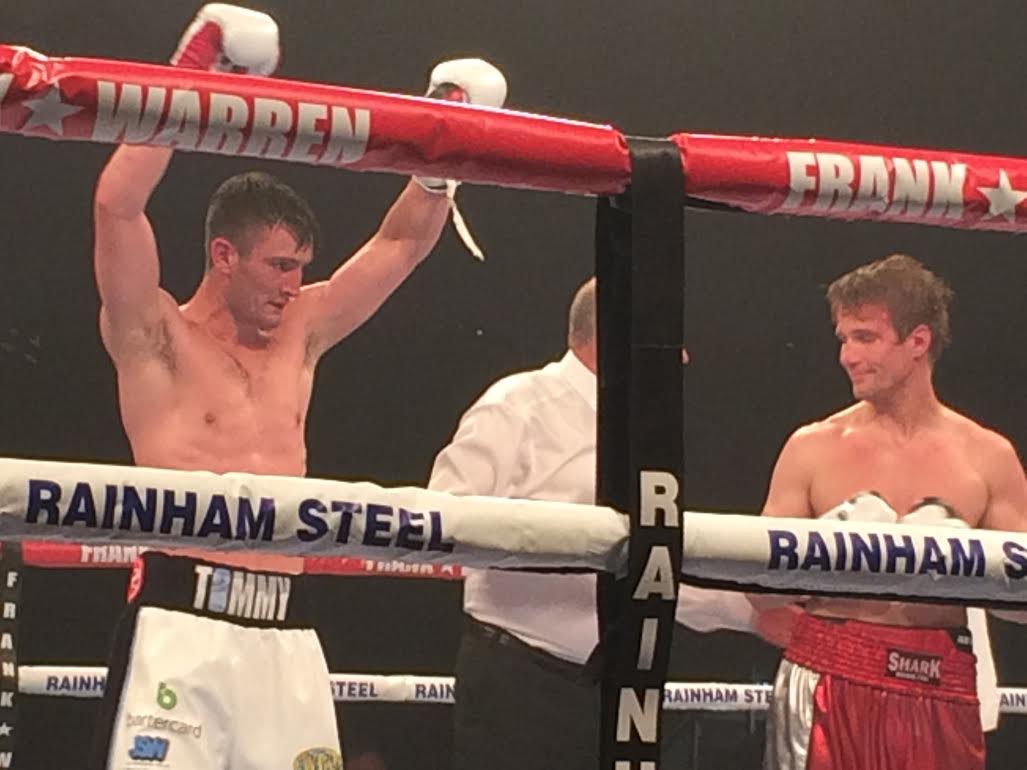 VIP Boxing's Steve Wood announced on Twitter that Tommy Langford vs Jack Arnfield had been cancelled and are awaiting a change of venue. The fight is expected to be announced next week and is to feature on a mega television show.
Not giving too much away, Langford told Ringnews24.com:
"I know when it is, but I can't give you an update because it's not been officially announced by the promoters of the show. I've got to wait for it being announced officially but you won't have to wait too long.
"It's pretty close a date to what the original one was and it's going to be a big show, a big TV show.
"I'm excited for it. I'm really looking forward to getting back into championship form and putting on a show and answering a lot of questions people have got about me. Whether they've got them right or wrongly about me, I think wrongly, I'm looking to go out there and proving a point."
Langford respects challenger Jack Arnfield:
"He's a good boxer. He's probably the first person I've boxed who's a good stand up boxer. A lot of fighters I've fought have been awkward, illusive, they go on the back foot or 5'4 Russians, juiced up Russians.
"I haven't really fought a straight forward boxer, and when I have I've really done a job on them. He's a good boxer and he's got a little bit of height on me and reach on me but it's nothing I haven't seen before in my career. It's nothing I haven't beaten before until I beat it again."
Langford and Arnfield have shared a ring before during a sparring session, Langford added:
"It wasn't a proper spar. I was supposed to spar him years ago. I think I was only a pro for a year. I was supposed to go up and spar Brian Rose and I went up there and Brian Rose wouldn't spar me.
"I did three rounds with Arnfield and three rounds with somebody else. It was something like one in and one out for six rounds – so it wasn't a proper spar. It was a long time ago, we're talking five or six years ago.
"There's not much you can take from that. Nothing that I remember that puts anything in my head about him. He's got a good jab; he seems to have improved since he's been working with Jen. It's just a boxing match and he's a good boxer. I'm just going to out box him and I'm well capable of doing that. I'm very confident of doing a number on him."
Although it comes with controversy, much like fans' pound for pound lists, rating's give fight fans a rough idea of who the best boxers around are.
Langford isn't bothered about ratings:
"It doesn't matter who is better – all those boxing ratings and all those rankings you take with a pinch of salt.
"I was ranked a hell of a lot higher than Arnfield until I lost to Khurtsidze. I was fighting for an Interim world title. Then I lost, even though he's ranked in the top 10 in the Ring Magazine ratings. I've now been dropped loads of points.
"The ratings don't mean nothing; they don't mean anything. If they want to rate him higher than me they can rate him higher than me – I'm not bothered.
"It doesn't matter to me I see myself as the better fighter. I am the better fighter. I'm the British champion. I'm going into the fight as champion. Let's see what he's got? He's got nothing to beat me."
Check back soon for Part Three of the Tommy Langford interview.