Lucas Browne aiming to shut up Dillian Whyte's big mouth before targeting Deontay Wilder and Anthony Joshua's titles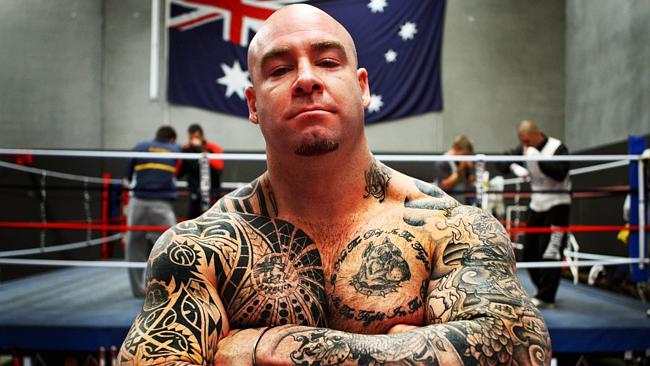 Former WBA champion Lucas Browne is currently undefeated as a heavyweight boxer, having won all of his 25 fights.
His next challenge is to beat Dillian Whyte, whose only defeat in 23 fights came at the hands of Anthony Joshua.
Both fighters have an impressive knockout ratio: Browne has 22 knockouts from 25 victories while Whyte has 16 knockouts from his 22 wins.
Browne hasn't been active in recent years due to a failed drugs test. He told Ringnews24.com:
"I've been happy up until obviously everything happened in the past years. At the moment I've basically had three fights in three years and being a 38-year-old man, that's not exactly were I saw my career at this stage. I want to get a lot more active and that sort of thing. I want to put all the nutrition, the drama and all the issues with the drug use behind me and get back fighting again."
Browne goes by the alias 'Big Daddy' he shared the meaning behind it:
"I just found I needed a name. When I started the cage fighting someone referred to me as 'The big bald guy with the tattoos' – So, I thought I needed a name. Being my last name is Browne and I've got three children I thought 'Big Daddy Browne' just sort of suited and we went from there."
Speaking to Sky Sports about his recent failed drugs test, Browne added: "I read the label and was trying to be as cautious as possible. Unfortunately I came up with a failed test, so it was my fault." He has now changed how he approaches things:
"The first one I tested clean three days before, blood and urine – then we got completely shafted.
"The second one silly enough – I just walked straight in the supplement shop took a gram of pre-workout stuff – that was completely my fault. I have personally put on a person from a supplement shop that knows my story and knows everything about it and knows how important it is to stay above board.
"He's come on board now and I'm on the correct supplements now. I've had a test since and had a clean test, we're all back on track."
Browne's record is impressive and he shared his proudest moment:
"I'd have to say the world title of course. When you get into fighting, I was growing up watching Mike Tyson and wanting to be the heavyweight world champion. I'd definitely say the proudest moment would be that."
Whyte and Browne have exchanged views across social media and the rivalry has been heated pre-fight. Browne added:
"I can't actually pinpoint when it began. I think it's just the fact that he is a bigmouth – he's very vocal about what he's about. I think his claim to fame is just the fact he's with Eddie Hearn and he has an actual big mouth. He hasn't fought the highest of quality and he lost to Anthony Joshua. Beside that he hasn't fought anyone of note. He certainly backs himself up with his mouth. I'm that sort of person – I don't like big mouth people and I just want to shut him up. "
Whyte accused Browne of deliberately trying to price himself out of the fight. Browne added some clarification on the issue:
"I think at one point there was a miscommunication between who was handling what. The initial offer came through Hatton and not to myself. They said yes on the deal but no one told me about it.
"When we came back and said we want this much, there was confusion, backwards and forwards. At the same time I think it was just Whyte being a little bit cheap, he was in control of the financials. I think Eddie Hearn gave him control of the financials for the fight. He was trying to be as cheap as he possibly could to gain more for himself."
Browne respects Whyte in the ring but believes in his own ability more:
"He's a decent fighter. I personally think he's like a new-age Chisora; he's very good but not a world beater and a gatekeeper to beat. He definitely fights; he's got a good work rate, all that sort of thing. From my point of view, I've got the power, the stamina – I think it's going to be a crash out. "
"I definitely think I've got the power over him – he gets a little too much emotionally involved. During this process now and the fight, I can get him emotionally involved and get into his head – it will put him off on fight night."
Browne loves to entertain the fans and is looking to put Whyte to sleep:
"I personally like knockouts. It's obviously more exciting and the fans want to see it. But I don't like the judge's decision, putting my life and career in someone else's hands. I'll be definitely looking for the KO and stoppage on the night for sure."
Brown is scheduled to appear today at 12.30pm at a press conference. He shared his plans on what he is going to do after the conference:
"I'll head straight back to Australia – my fight plan will begin. We're actually looking to possibly come back a few weeks earlier, either Manchester or London.
"I'm talking to Chisora's people at the moment, so maybe spar with Chisora and those sorts of people. It's going to be interesting, we haven't decided yet. It will be in Australia then come over here a couple weeks earlier. "
After Whyte, does he expect to get a world title fight?
"I hope so. Unfortunately it's about money and politics – we will have to see what happens. As long as its good competitive fights and good money – that's all that matters to me at the moment."
And he already knows which fighters he'd like to challenge for the title:
"I'd like to fight Wilder for the fact that he is a big mouth, I think he's got a very weak chin. Someone like myself who's got a big power shot, all I have to do is connect once on his chin and he goes down. I actually like the WBC title personally – it would probably be my choice."
Browne believes this fight will be compared to Joshua's stoppage of Whyte and victory would put him in a better position to challenge 'AJ'.
"I think so yes. I think it also depends on the fashion I dispose of Whyte. If I put in a good performance everyone's going to compare my performance to Joshua's – it will be a little bit of an indication to where I'm at. "
And he believes he has enough in the locker to share the ring with Wilder and Joshua, as he claims he has skills fight fans haven't seen yet:
"I'm always learning; I'm relatively new in the fight game. I've only been fighting five or six years. I'm always learning, my footwork's improving constantly and my confidence in myself. I've always got the power there, I can be losing 11 rounds and still knock you out – I'm always going to be dangerous in that regard, no matter what. It's the number one thing that will trouble those guys."
Finally, 'Big Daddy Browne' had a message for his UK following:
"I just want to say thank you to all the UK fans. It's really nice to get received as I do when I come over here. I personally think it's going to be more of a 50-50 support on the night for myself against Whyte. I just want to say thank you to all the fans."