Exclusive: Frank Buglioni responds to Anthony Yarde's claims and accuses Yarde of avoiding him and deliberately not making the fight with laughable offers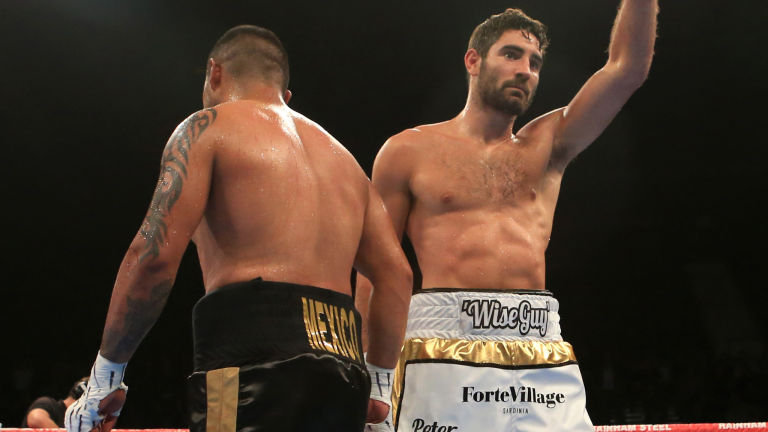 Frank Buglioni believes he is now finding his power after an injury that he has been dealing with since his third professional fight which has affected his performance and power inside the square circle. A confident Buglioni believes he will stop Yarde inside six rounds and he shared with Ringnews24.com why he believes he can accomplish his bold statement:
"I keep going back to this experience. I've seen him doing a lot of training because there's a lot of training videos out there. It's ok, it's good publicity, which is ok, but it allows a lot of your opponents and coaches to look and find holes in you.
"I've seen a lot of holes and weaknesses in Yarde. I'd be more than happy to exploit them, and yeah, please keep feeding him bums so he doesn't get that experience. So, when he does fight someone worthy I hope that person will be me and I'll expose him. I think if he steps up he will get found out and I want to be the one that does it and take the glory from him."
Yarde's knockout record is impressive with 13 KO's coming from 14 fights. But Buglioni isn't that impressed:
"He's a big puncher against super middleweights and guys who are kind of over the hill.
"When you see him against a guy who wants to win and not going to fall down and take his payday there's going to be a difference there. Don't get me wrong he's got that physique for the power punches. But as I say let's see him after three or four rounds when he's missing a few shots and taking a few back himself – we will see if that power maintains. I know my power increases and it stays consistent up until the twelfth round. In many fights I've rocked and hurt opponents in the later stages of a fight."
In an exclusive interview with Ringnews24, Anthony Yarde accused Frank Buglioni of turning down the fight on more than one occasion. Buglioni isn't happy with the accusations and what Yardes' team failed to disclose to the public:
"The first time they tried to make the fight they offered me less money than I was getting to fight a journeyman – I found that laughable. What they did is, they offered the fight knowing full well that I was never going to take it because the purse was so low.
"That was there, 'we've offered the fight to Buglioni and he doesn't want it'. What they didn't tell everyone was it was terrible money and there was nothing in my favour for that fight. There was no real interest. It was a meaningless offer.
"The second time he wanted me to vacate my British title and fight on the BoxNation platform. I sat down with Frank Warren and told him it was a dream and ambition of mine to win the British title outright. He knew full well that I wouldn't drop that British.
"At the moment they're giving me empty offers. They're empty offers. When I win this British outright; I'm happy to drop it. I'm happy to go and fight him whether it is on BoxNation or Sky Sports – no problem at all.
"I have a very strong feeling they'll go quiet when I win this British outright. And make other excuses saying there going down a different route or there chasing world titles – they won't want to fight me, they'll say: 'I'm irrelevant because I haven't got a title'.
"They'll come up with all the excuses in the world but mark my words they won't want to fight me. Hopefully, Anthony Yarde wants that fight and stands by it."
The fight between Frank Buglioni and Anthony Yarde has been talked about for some time now. Although the fight hasn't happened, its left fight fans suggesting both fighters are avoiding each other. Buglioni responded:
"There's been no avoidance and should he have taken the Burton fight he would have been my final eliminator. He would have been in line for the British and there would have been nothing I could have done about it.
"Then we would have seen who wanted it because I wouldn't have vacated that British title I would have fought him.
"He obviously didn't want to jump up over the hurdles to get to me or as much as he wants the fight. If he wanted to fight me he would have took on Hosea Burton, wiped him out as he said he would do and come onto me. But apparently Hosea Burton isn't a worthy challenger or he's old news. It doesn't make sense to me. "