Frank Buglioni to put friendship aside when he defends his British title against Callum Johnson – Commonwealth title on the line!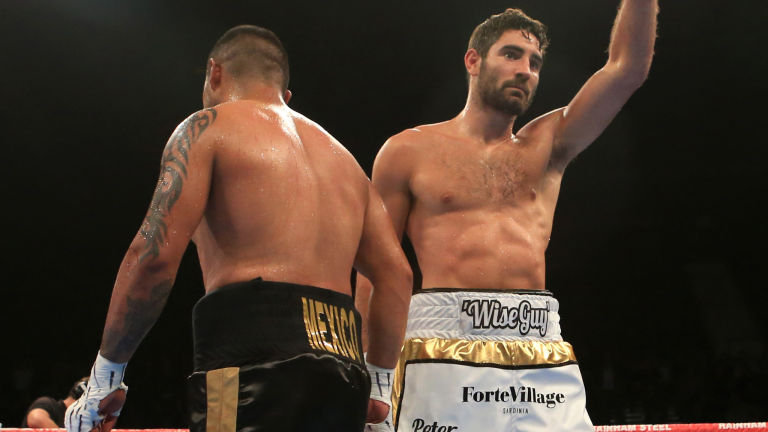 Frank Buglioni is set to face friend and rival, Callum Johnson on March 24 at the O2 Arena (Millennium Dome), Greenwich.
Buglioni is the current British champion and his record current stands at 21 wins, 15 KO's, two defeats and one draw.
He first won the title at the end of 2016 against Hosea Burton where he stopped his opponent in the twelfth round. Buglioni has had two title defences against Ricky Summers and Craig Richards.
Frank has been struggling with an injury since his third or fourth professional fight. Speaking to Ringnews24, he said:
"I'm not going to go into detail about the injury. It's an injury I wasn't even aware of but it was something that was holding me back from my third or fourth pro fight onwards. I've basically had this niggling injury that's been affecting me for a long time. After the Craig Richards fight I had a bit of time off and a chance to get my physio in almost every day. We've really gone out and done all the rehabilitation exercises to kind off push it. I finally feel I'm on the other side of it now – I'm very excited about my future."
'The Wise Guy' has fought 21 or 22 of his 24 professional fights with injury and it has affected his power and performance. He explains:
"It certainly affected my power. There were a couple of factors that affected the power. It was certainly the injury and also being at super middleweight towards the end.
"Kind of like the Lee Markham fight onwards there was flashes of power. When I moved to light heavyweight I found all my shots were hurtful but there was no snap in them and I've now found that snap and that power again.
"Don Charles has been holding the big pad for me. He's felt it in his shoulders and we've had to change training techniques because he can't hold the pads for too long from some of my shots. It's exciting times when I start sparring next week it's going to be interesting."
Buglioni and Johnson both hold titles, Buglioni revealed:
"Callum Johnson is Commonwealth light heavyweight champion and when he has to fight for the British he has to put his Commonwealth title up on the line – It will be for my British and his Commonwealth, It's a nice situation to be in."
Buglioni rates Johnson very highly and he has a lot of time for the fighter from Boston, Lincolnshire:
"I rate him really highly. I've got a lot of time and respect for Callum Johnson. I've known him for a long time in the amateurs. I've trained alongside him, I know his power is real, I know he can really whack. His left hook is really one of the best in the game.
"He's an underrated fighter; he's undefeated. His victory against Shihepo was a very good victory and a very good performance.
"Were friends outside of boxing, but I'm going to have to put that to one side when he becomes my opponent and just go in there and do my job. I'm sure he'll go in there and do exactly the same. "
Buglioni believes experience is key going into the fight:
"I think so. I think that was the telling factor for myself against Hosea Burton. Hosea Burton is a very good fighter and very technically sound. But, I had the experience of being in with higher level opposition, I travelled around.
"I had been with Steve Collins over in Dublin, I learnt off of them, who know a lot about the game. I've been with Mark and Jimmy Tibbs. I've had a lot of quality sparring. I've been around the block now and I think the experience is something that's so vital to your success.
"I think that's going to come into it again with me and Callum Johnson and my experience is going to shine through."
Buglioni shared his career path he would like to take last year when speaking to Ringnews24. He has a new path he'd like to take which involves exciting fights:
"I want to win this British outright. That's been one of my goals for a long time. Especially in the fashion which I'm going to do it now against four undefeated fighters. It's never been done in British boxing history so that's going to be a real honour and great achievement. Then I can go on for the Hosea Burton rematch it's a big fight if he still wants that. I'm gladly open to give it to him and then also Anthony Yarde. He's been calling my name out there's been a lot of publicity between the two of us – In terms of the match up and all that. I'd like to put that one to bed to show that I'm the best in the country then move onto European and world level."
Buglioni was very honest about his current ability but believes in his potential to be a future world champion:
"I wouldn't put myself alongside the likes of these guys. I know my potential and I know I can get to these levels – currently I'm not world level. But by the end of the year I'd like to think I'd be going into fights maybe more 50-50. I'd certainly say Sergey Kovalev is top of the tree, then Adonis Stevenson, then Beterbiev, then Bivol – very, very good fighters."
Buglioni hopes a title opportunity comes in 2018 and he has a preferred choice of opponent:
"My preferred champion would be Bivol if I'm honest and then you've got the Badou Jack and Adonis Stevenson fight. I'm leaning towards Adonis Stevenson in that but Should Badou Jack come through it and take the WBC title I'd be very open to going and fighting Badou Jack."
Yesterday's press conference was very heated when Dillian Whyte and Lucas Browne came face to face for the first time since the fight was announced:
"I thought it was good. Dillian Whyte never shy's of a bit of controversy. 'Big Daddy Browne' he gave as good as he took. I really enjoyed it and it's nice to be on the card of a real grudge match. People will certainly get interested and get the flavour for it – I'm excited to be part of it.
"Although there is no real grudge between myself and Callum Johnson were both quite respectful of each other. Although were friends going back from the amateurs, we'll put that aside well both go about our business and it will be a ferocious fight when it happens."
Whyte vs Browne is sure to be an explosive fight, Buglioni added:
"I think Dillian Whyte wins because he's been in with better opposition. His experience will shine through. I also think he's a bit more explosive than Browne. Browne can really punch but I'm going to lean towards Dillan Whyte he's got a very good chin as well. This is going to be an interesting fight it's no forgone conclusion – I lean towards Dillian Whyte."
Finally, Buglioni had a message for his boxing fans:
"I appreciate all the support and the interest whether it be good or bad. Anthony Yarde and Hosea Burton have ribbed me and chased me for those fights, believe me those fights will happen. If it's down to me those fights will happen but hey won't be happy endings for you guys. "