Jason Easton on turning professional, fighting Glenn Foot and fighting Josh Taylor at Edinburgh Castle or Easter Road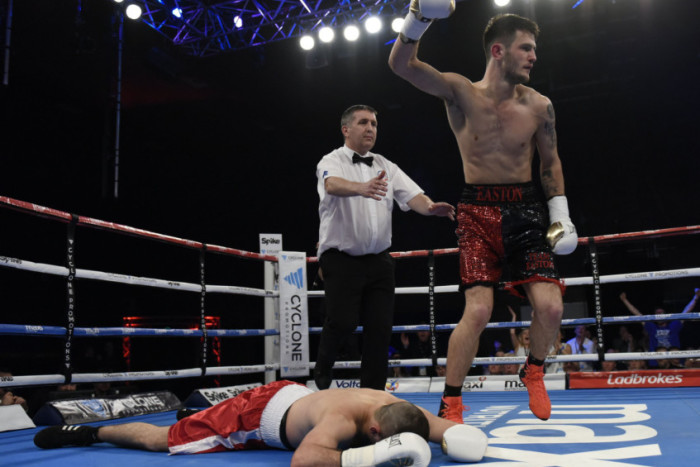 Jason Easton had been boxing as a professional boxer for 2 years and six months. He has had 11 professional fights and remained undefeated. He picked up his first title against Rhys Saunders for the BBBofC Celtic Super Lightweight Title in only his eighth fight. It didn't take Easton long before he fought for another title. In his tenth fight he fought for the vacant International Boxing Organization Inter-Continental Super Lightweight Title against Steve Jamoye. He went on to win the fight and then defended it successfully against Josef Zahradnik. Next up for Easton is, Glenn Foot they will share the ring to compete for the vacant Commonwealth Super Lightweight Title at The SSE Hydro, Glasgow.
Easton shared how he got into boxing. Speaking to Ringnews24, he said:
"When I was younger about nine years old my Uncle Neil he did a bit of boxing at the time, just amateur level, maybe six fights. He used to take me up when I was really young. So, I was always kind of back and forth. I was more into football at the time; football was all I wanted to do growing up.
"As a teenager, at 15, I was still kind of on and off boxing. At 15 years old I got my first fight as an amateur and I won it and I loved it I fell in love right away. I loved the feeling of winning, the adrenaline, being nervous before a fight – I loved all of it, I loved being in a fight and a war.
"I just thought giving up the football and sticking to the boxing is what I wanted to do. It kind of went from there. I won the Scottish and then I got into the Scotland team so I got to travel everywhere, I got to travel all over the world. I must have been to 15 or 16 different countries with the team. I got to travel and see all the different parts of the world as well as boxing. I just fell in love with it. I thought this is what I want to do; I just fell in love with it. I had 103 fights, 70 wins – One day I want to be a world champion."
A new rule in amateur boxing helped Easton move from amateur boxing to professional boxing:
"It's more dangerous with the smaller gloves. My last year as an amateur boxer the head guards were taking away. That's what I worried about turning pro without the head guards – 20-25 fights were without head guards.
"I kind of got that experience before I turned pro. I kind of felt what it was like, just a little bit heavier gloves at the time. I kind of felt more relaxed going into the pros. I fought at a good level without the head guards. So, it didn't really faze me turning pro.
"I felt as if my style was suited better to the professionals. I had that come forward, dig in deep fighting style – I felt pretty comfortable turning over as a professional. It feels a bit sorer when you get punched (laughs) but I quite enjoy it, as you've probably seen in my last few fights."
Defence is very important and it's something Easton has worked on since turning professional:
"Definitely my defence, I think just relaxing as well. My defence especially after the Steve Jamoye fight – I had a bit of a rocky start against him. My mentality going into that fight was a bit off. I felt as if I had to pace myself for the 12 rounds. I'd never been past six rounds – I had two 10 rounder's but I stopped both opponents Zoltan Szabo and Rhys Saunders both in round two. I did a couple of six rounder's before it – that's all I ever did.
"Going into the 12 rounder's I thought I have to pace myself here. I knew he had done 12 rounds before. He just came out flying and it caught me off guard he caught me a lot and my defence was pretty terrible to be honest. So, we went right back learning to be more switched on protect myself a lot better."
Easton is currently undefeated and boasts a record of 11 wins from 11 fights with six stoppages:
"It's been a lot better than what I thought it was going to be at the start. I strongly believe before I turned professionally I could get up to this level like domestic level up in the top five. And fighting for big titles but I never expected it to come so quick.
"I owe a lot to Cyclone and my manager Billy Nelson for helping me and giving me opportunities and obviously Josh Taylor because Josh Taylor is bringing these big nights back to Scotland and is giving me a massive opportunity. "
Easton respects his opponent Glenn Foot:
"I think he's a great fighter, he's very tough and I think he's quite like me. I like a bit of fight as well but I can box. I think he likes to get involved in a bit of a tear up. But, if it does come to that then I feel like I can get in and mix it up with him – I quite enjoy that.
"Glenn foot is a good fighter I thought against Josh Leather he was winning the fight even with his points taking off during the fight; near the end of the fight I still thought he was maybe edging the fight. I thought he was doing enough in the rounds, he showed he's got a lot of grit and a lot of determination. I expect a bit of a war and a tough fight but I feel confident in winning.
"Glenn foot will come forward and he'll keep coming that's the kind of fighter he is. He didn't win Prizefighter for not being tough. I do expect a tough fight – it should be a good one."
Easton doesn't study his opponents too much but he has enjoyed watching the Foot-Leather fight:
"To be honest leading up to all my other fights I never really watched much of my opponents. I'll maybe watch a couple of fights then after wee bits I've seen enough. The last couple I've been studying a little bit more obviously it's getting more dangerous now because the fighters are getting better. I need to make sure what I'm going in against. So I've been watching Glenn Foot against Josh Leather – I've watched his fight three or four times to be honest. "
Foot is a very good boxer as he proved with his performance against Leather. But, Easton is confident in his ability:
"I feel at distance I'm a better boxer than he is. I think inside he leaves himself open as well as I do. I feel as if I can counter and push him back more than Josh Leather would have done at the time. Josh Leather, I feel like his punches were sharp but there was no power in it to keep Glenn Foot back. I strongly believe I will be able to do that."
Jason Easton vs Glenn Foot is a fantastic match-up and fight fans on social media feel it may overshadow the main event which features Josh Taylor vs Humberto Soto:
"I think a lot of people have been saying so on Twitter. I think because two of us like a bit of a scrap. I think it could be a really entertaining fight – It could be a fight of the year candidate."
Easton picked up an eye injury in his last fight against Josef Zahradnik and joked:
"Aww terrible, just joking [laughs]. It's actually healed very well. You can't even notice it on my eyebrow. I just took a lot of time out and let it heal properly. I went out and got stitched up that night and spent the night in the hospital and just kind of rested for a few weeks.
"I've only just had my first spar back last week. It was nothing intense it was just a local guy from our gym. I'm just easing it back now but I'm getting into full swing of sparring soon."
Jack Catterall is the current British Champion and Easton doesn't think a British title shot is too far away:
"I think with the Commonwealth title I don't think I'll be too far away. I think with a Commonwealth title you can get that call up at any time. If the call came we would take it.
"Jack Catterall would be a very tough fight I believe I can fight at that level and a British title is everyone's goal in Britain – I would never shy away from a shot at that."
Easton shared his plan for 2018:
"To remain unbeaten and maybe push on to European, world level – I think that's the goal. Move onto a world title.
Easton doesn't have a dream opponent but would like to mix it with the top British fighters:
"There's no one on my mind I'd like to fight. Leading up to this fight I've actually mentioned the likes of Glenn Foot, Josh Leather Tommy Coyle because all these guys are in the top 10. I want to get in and mix it up with these guys. And prove I belong at this level and can compete and beat these guys."
A fight that's been muted is a potential Scottish fight between two friends Josh Taylor and Jason Easton:
"I think so, I think well obviously all the guys in Britain if we keep winning there's a good chance we could end up fighting in the future.
"Me and Josh are very good mates – I've been speaking to him on Snapchat and if we keep winning there's a possibility that it may happen further down the line for a British title or something – were kind of preparing ourselves for that.
"He kind of jokes about it on Snapchat. He mentions me and him fighting at Edinburgh Castle or Easter Road, imagine that? We just kind of joke about it just now but I think if the fight ever did happen we'd put our friendship aside for that fight. And after it we would be have a beer together and have a laugh and a joke about it."
Finally, Jason Easton has a message for his fans.
"I just want to say to all my fans I appreciate the support not just through my professional career but my amateur career. It's been unbelievable every fight that I've had. In the pros everyone's there backing me and it's the same people all the way through. I love and respect every single one of them. I'm going to make sure I bring this title back to Edinburgh for them not just for me but for them."