Part 1 of 2 | Josh Taylor respectful of Humberto Soto; Excited about going back to The Hydro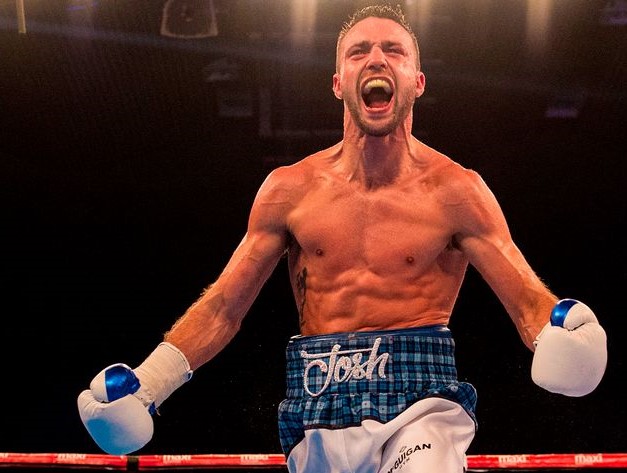 Scotland's 'The Tartan Tornado' otherwise known as Josh Taylor had a perfect 2017 and remained undefeated while impressing the British public with his win over highly rated O'Hara Davies.
Next up for Taylor is the highly experienced and former world champion, Mexico's Humberto Soto. Soto has been involved in 77 fights, winning 66 fights and although he hasn't boxed since 2016 he may prove tough opposition.
2017 was a big year for the Edinburgh boxer. Speaking to Ringnews24, he said:
"It just went from strength to strength, really. The start of the year I spent the full month in Las Vegas in the camp with Carl Frampton preparing for the second Santa Cruz fight. We were in a big house together training and living out of Shawn Porter's gym. We had a big villa to ourselves and a swimming pool – it was amazing. Getting sparring with the likes of Shawn Porter, I did four or five sparring sessions with him and I was really holding my own with him, giving as good as I got. I was really proud of myself the way I handled myself in sparring and being part of the big occasion with Frampton and Santa Cruz. It was just absolutely unbelievable being in Vegas and part of a big show like that – it was just unbelievable.
"In terms of my performance at the start of the year, it wasn't very good. It was pretty flat, to be honest. I don't know what happened .I think I underestimated my opponent, which is a mistake that I'll never make again – I ended up making hard work of it. I couldn't get myself up for the fight and when I got in there I just couldn't pick myself up – that's a mistake, I've definitely learned. Still a decent performance got the win over there, got eight rounds. I looked alright probably a 50 percent performance. From there on it went from strength to strength.
"I then come back and defended my title against Warren Joubert. That was a great performance back in Meadowbank, the atmosphere was absolutely unbelievable – I stopped him in the sixth round.
"Then I had two weeks in London back training for the O'Hara Davies fight. We trained for six or seven weeks for the O'Hara fight. I'd say that was probably my highlight of the year, beating O'Hara and making him quit. That was my highlight of the year and the atmosphere was unbelievable with 4,000 people going mad – it was great.
"My last performance against Miguel Vazquez I thought I improved again and stepped up in class. I stepped up in class myself and my game improved and my game stepped up another level. I got him out of there and made a massive statement. I was really happy with the way 2017 went. Hopefully I can start off where I left off in 2017 on the third of March and get off to a good win."
Taylor is due to fight Soto at The Hydro, Glasgow on March 3. Taylor respects Soto and his achievements:
"I think he's a great fighter – I think his record speaks for itself, to be honest. He's had 77 fights, he's only lost six fights – his record speaks for itself. He's been in with the best and been a two weight world champion and also interim world champion at a third weight, so his record speaks for itself.
"I'm expecting a tough fight; I think it's another step up in class again. I know he's at the late end of his career, probably the wrong end of his career but he's still a tough opponent and I think it's a step up from Miguel Vazquez. I think he's a better all-round fighter, he's got better combination punches and he comes and looks to fight. I've got full respect for him."
Taylor believes he will win the fight and have too much for the 37-year-old Mexican:
"I've got youth, I've got speed and I've got the desire of coming up and being world champion. I've got the hunger there – I'm a hungry young lion. I want to get to where I want to go and become world champion; he's standing in my way of that. I'm not going to let him stop me. I believe my desire, my speed and my youth will be enough."
Taylor rates The Hydro very highly and is looking forward to fighting at the arena and it will bring back memories. He explains:
"I think probably the Hydro is the best one that I could possibly ever go to in Scotland. Due to the fact that I'm so excited because it's the first time I've been back there fighting since the Commonwealth Games when I won my gold medal. Going back there and boxing in the arena is going to be something special and will bring back a lot of memories from the Commonwealth Games. I'm really looking forward to going back to Glasgow because the last time I went to Braehead the reception was unbelievable – I'm looking forward to it."
When Taylor's opponent was announced, social media erupted and many fans posted their disappointment at the announcement of Humberto Soto. That is credit to how far Taylor has come in such a short space of time that fans want to see him in bigger and better fights.
"Yes, possibly – my goal at the end of the year is to become world champion. But at the end of the day it is only my twelfth fight. I can't be jumping in; I've still got a lot of learning to do at the same time.
"All the other challengers like Regis Prograis, he's got a fight lined up. Sergey Lipinets has a fight lined up; all the top opponents in the top 10-15 all had fights lined up – Soto was only the viable option.
"We tried to get the Yigit fight but he really didn't want the fight. He decided to tuck-tail and run away from the fight after we offered him it. He came back with a stupid response and he wanted three times the amount of money that we offered him. He priced himself out of the fight. It was really the only option we had and I still think it's a great choice – I still think it's a great learning fight. He's got experience in abundance, two times world champion – I think it's a great fight for me at this stage of my career.