Fourth-round results: 72nd annual Lowell Sun Charities Golden Gloves Championships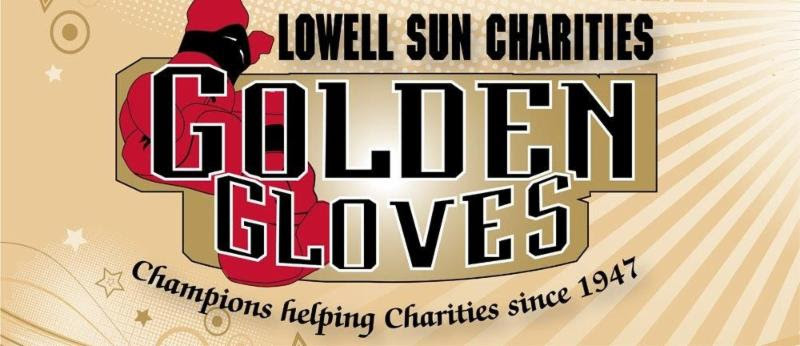 The 72nd annual Lowell Sun Charities Golden Gloves Championships continued last night in front of a jacked-up crowd at historic Lowell Memorial Auditorium, featuring later round Central New England (Greater Lowell) novice and open class matches.
Novice semifinals and championship finals, as well as some open semifinals and championship final, were held last night. USA Boxing's No. 7-rated light heavyweight Miguel Teo (Marlboro, MA) captured the Central New England (CNE) open division championship, stopping John Xifafas. of Nashua, N.H., in the third round. CNE novice division champions crowned last night include East Walpole (MA) flyweight Noelle Boran and Chelsea (MA) middleweight Jordy Artica
"We had another good crowd of great Lowell fans on a very cold night," N. E. Executive Director Bobby Russo said. "The Vegas-Gigliotti match was interesting and the Fight of the Night. It got very rough at times. Vegas dominated for the most part but Gigliotti showed super toughness. He took some shots but kept coming back."
The championship round of the novice and open division is next Thursday (Feb. 1) at Lowell Memorial Auditorium. See the complete 2018 schedule of events below as well as last night's complete results.
Championship packages are now available for all five remaining championship events (CNE novice & open championships, NE novice and open division semifinals and finals) and reasonably priced, starting at $70.00 (general admission). To purchase call the Lowell Memorial Auditorium box office at 1.866.722.8881 or order online at www.lowellauditorium.com. Individual event tickets are also available to purchase, starting at $13.00, only $7.00 for students (ID required).
Proceeds from the Lowell Sun Charities Golden Gloves Championship go towards sending the New England Golden Gloves champions to the National Golden Gloves Championship (starting May 14, 2018 in Omaha, Nebraska), in addition to supporting local athletes and area gyms, the Boys & Girls Club, soup kitchens, homeless shelters, cancer funds, scholarships and many other great charitable causes.
OFFICIAL RESULTS
NOVICE
(Feb. 25, 2018)
FLYWEIGHTS (114 lbs.) – SEMIFINALS
Thomas Curtis, Methuen, MA / Haverhill Downtown Boxing
DEC (5-0)
Danny DeJesus, Lawrence, MA / Haverhill Inner City Boxing
FEMALE FLYWEIGHTS (119 lbs.)
Noelle Boran, East Walpole, MA / Boston Boxing
DEC (5-0)
Melissa Giroux, Lowell, MA / Lowell West End
(CNE Championship)
LIGHTWEIGHTS (132 lbs.) SEMIFINALS
Jessica Lamproon, Dorchester, MA / Boston Boxing
DEC (4-1)
Kerrin McNeil, Boston, MA / Grealish Boxing
WELTERWEIGHTS (152 LBS.) — SEMIFINALS
Apostolus Lolos, Manchester, NH / Manchester, NH
DEC (4-1)
Arsham Bedrossian, Waltham, MA / Nonantum Boxing
MIDDLEWEIGHTS (165 lbs.)
Jordy Artica, Chelsea, MA / Grealish Boxing
DEC (4-1)
Mohammed Ibrahim, Boston, MA / unattached
(CNE Championship)
OPEN
FEMALE WELTERWEIGHTS (141 lbs.) — SEMIFINALS
Ashleigh Moore, Buzzards Bay, MA / Nonantum Boxing
DEC (3-2)
Kimberly Wabik, Everett, MA / Quietman Sports
Erika Skoog, Roxbury, MA, Nonantum Boxing
DEC (5-0)
Britney Stockton, Keene, NH / Boston Boxing
JUNIOR WELTERWEIGHTS (141 lbs.) SEMIFINALS
Brandon Higgins, North Chelmsford, MA / Lowell West End
DEC (5-0)DEC (3-2)
Edwin Rozen, Haverhill, MA / Haverhill Downtown Boxing
WELTERWEIGHTS (152 lbs.) SEMIFINALS
Peter Maher, Arlington, MA / Somerville Boxing Club
DEC (3-2)
Charlie Espinal, Salem, MA / Private Jewels Boxing
Xavier Vega, Lawrence, MA / Canal Street Boxing
DEC (5-0)
Harrison Gigliotti, Bradford, MA / Haverhill Downtown Boxing
MIDDLEWEIGHTS (165 LBS.) SEMIFINALS
Michael Fontanez, Nashua, NH / Nashua, NH
DEC (4-1)
Yamarco Guzman, Methuen, MA / Canal Street Boxing
LIGHT HEAVYWEIGHTS (175 lbs.)
Miguel Teo, Marlboro, MA / Hudson Boxing
RSC3 (2:58)
John Xifafas, Nashua, NH / Nashua PAL
(CNE Championship)
72nd annual Lowell Sun Charities Golden Gloves Championship Schedule
(Lowell Memorial Auditorium – 6:30 p.m. doors open, 7:30 p.m. first bout)
Central New England (Greater Lowell)
Novice & Open Championship Finals – Thursday, Feb. 1
New England Tournament of Champions
Novice Class Semifinals – Thursday, Feb. 8
Novice Class Championship Finals – Thursday, Feb. 15
Open Class Semifinals – Wednesday, Feb. 21
Open Class Championship Finals – Thursday, Feb. 22
Read more articles about: