Part 2 of 2 | Josh Taylor on Ricky Burns, Jack Catterall (British champ) and world titles; Aims to Unify and move up to welterweight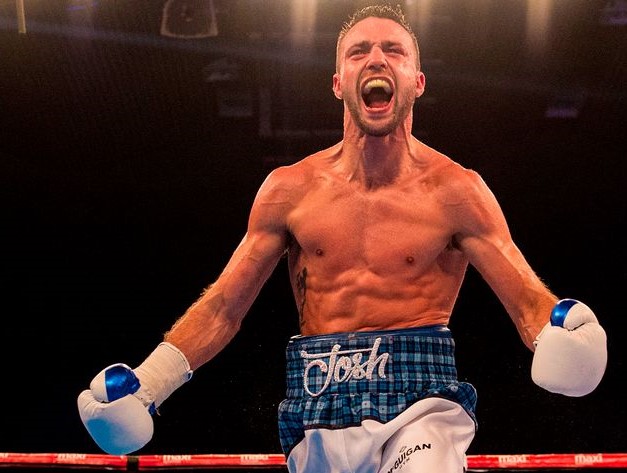 Ricky Burns is 34-years-old and the former three weight world champion has had a colourful career but is approaching retirement. Burns has brought big nights of boxing to Scotland, but with retirement in the not too distant future Scottish boxing fans look to Josh Taylor to continue to offer Scottish fans exciting fights in Glasgow.
Taylor has huge respect for Ricky Burns and what he has done for Scottish boxing and didn't want to class himself as the future of Scottish boxing. Speaking to Ringnews24, he said:
"I'd like to keep the big nights in Scotland for Scottish boxing fans and keep big nights and titles in Scotland – that's something I definitely want to do.
"But in terms of comparing myself to Ricky Burns and his achievements – I don't want to compare myself to anybody. I have full respect for Ricky and the things he's done for Scottish boxing. Three weight world champion and the only Scottish boxer to do that. I'm full of respect and I don't want to compare my career to his career. I just want to be the best that I can be and become a world champion. A goal of mine is to hopefully maybe even unify the division and then move up to welterweight – that's the personal goal of mine."
A fight that has been spoken about is Josh Taylor vs Ricky Burns but with Burns looking for huge pay days before retiring it may mean the fight Scottish fans want to see might not happen.
"I rate Ricky Burns really well. I think he's a great boxer a great fighter – he's got a heart of a lion. I think it would be the makings of a great fight between us two. At this stage in his career I think he just wants massive fights, money fights and I think he wants to get his revenge back on Anthony Crolla. I read something a couple of weeks ago he's going back to lightweight and staying at lightweight. It doesn't look likely it's going to happen, I'm not going to chase for it – if it happens, it happens. If it doesn't, it doesn't."
Jack Catterall is the current British champion and Taylor would love to get his hands on the belt.
"If nothing sorts of works out this year and I don't get the opportunities that I'm hoping to get, then definitely. But, I'm not ruling out anybody or any fights. Anything is possible, really. The options I have just now are not looking at the British title. If I don't get the opportunities I'm looking for then why not? If it comes up and it's the right timing and all that sort of stuff then definitely, I'll fight anybody.
"It's a fight that could potentially happen and a fight I'd be 100 percent confident of winning. It would be absolute brilliant to add a British belt to my name. It would be great to get my hands on the British belt at some point."
Taylor is currently ranked very highly by the WBC (5), IBF (10) and the WBO (14) and a world title shot may not be too far away.
"I think I'm ready for world level. Ability wise, I feel I'm more than ready to fight for world titles.
"So if the opportunity comes, I'm not going to turn it down. I'm going to grab it with both hands and go for it. If the opportunity comes to fight for a world title the answer is aye. I'm taking it with both hands and taking the opportunity. But realistically and ideally I'd like another couple of fights to get ready for that sort of level. "
Taylor rates his division highly and the fighters in it:
"Mikey Garcia, Sergey Lipinets, Terry Flanagan has just moved up so he's another one. There are loads Jose Carlos Ramirez, Regis Prograis and Viktor Postol – all them, these guys are all really good fighters. There are massive fights out there for me that could potentially happen."
Taylor's friend Jason Easton features on the undercard against Glenn Foot and it may overshadow the main event due to being such a good match-up.
"I think that's a great fight. I think it's going to be an all action fight to be honest. Glenn Foot comes forward and puts pressure on and likes a fight. Jason likes to get stuck in amongst it as well. I think it's going to be a cracking fight. It's just a pity I'm not going to be able to watch it unless there's a screen in the Jason room. "
Being top of the bill is something all aspiring fighters dream of. Taylor shared:
"None of them have come to me for advice – I don't think they would either. There all my pals it's just great being on the bills and doing it as professionals. All the lads me, Charlie, Joe Ham, Jason all the lads have been all over the world as amateurs going to tournaments and had great times. It's good were all doing it as pros now. Were all doing our own thing were all doing really well. It's a really nice feeling to know were all doing well as pros and doing our own thing and making our names in the pro ranks as well."