Will Boxing's Ring Girls Be Next To Go?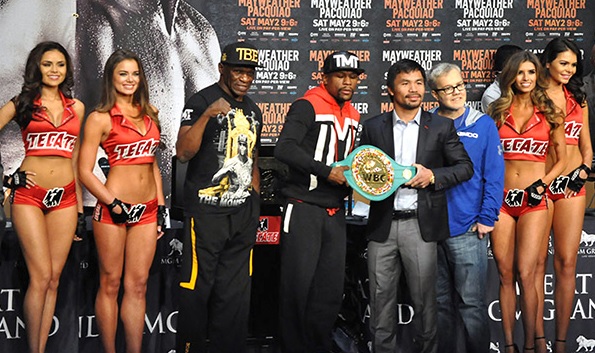 It was reported earlier this week that F1 will be dropping their Formula One grid girls due to claims that the car racing sport uses women in a derogatory manner. Hot on the trail of this news, there are now fears that boxing could be the next sport to make as big of a change by letting go of it's illustrious so called ring girls.
There are no official plans for the removal as of yet, but that has not stopped fans and some of boxing's most important figures have their say about it.
Speaking to The Sun, promoter Frank Warren said: "Despite the fact that darts and Formula One have elected to play to the politically correct gallery, I, for one, certainly have no intention of handing the ring girls their cards."
He added: "What is happening now is actually discriminating against women by attempting to eliminate a legitimate line of work. Why should that happen?"
Warren does have a point here. It does not seem as if any females who do that type of job to earn a living are resistant to their job description. And in boxing, there are many of them!We are not only speaking of ring girls in the United Kingdom. In America, it is customary for press conferences to be furnished with women wearing suggestive clothing, often standing beside an advertising poster publicising a major business sponsoring a boxing event. Further, the same can be seen at their weigh-ins. Particularly for major fights.
Why?
When one looks a little deeper, that is actually a good question. At least in regards to British boxing. It is not in my belief that their abscence would impact the sport in any detrimental way. That is not to say that I think we should get rid of them. Not at all, but when a punter buys a ticket for a fight it is highly likely that the last thing on their mind is how captivating the girls holding up the round cards are going to be. They are merely a fleeting presence throughout a contest, and they appear and disappear equally quickly.
But this author is in full support of their presence! Ring girls are not just some eye candy for men to ogle at. Besides their obvious role to give the sport a little glamour by looking good, they also have an important purpose in that they tell the viewing audience of a bout's progression when they hold up a card showing people what round it is. If this component was taken, how would people know what round it is? I am not sure that many people would want to apply the amount of focus it would take to keep score. If the worst happened and the decision to eradicate boxing of ring girls was acted upon a plan would most likely be put in place to keep us informed, so there probably isn't much to worry about there.
It would most likely be rather simple to come up with a new system to inform people of the round number they would be witnessing but considering that ring girls have a history dating back to 1965 when Ring Magazine was the source of inspiration for the idea, it would be a bit of a shame. Perhaps to strike a balance to appease both those that wish to make the world better by battling exploitation and those who wish to just relax on a Saturday night watching a good fight, one idea would be to have both males and females take turns to hold up a numbered card between rounds. There would be little room for objection.
Looking toward the future, it is highly unlikely that ring girls would vanish from the 'Sweet Science.' It would take a fight in itself before any major change like that would be enforced. Think back to times whenever national concerns caused debates about change in boxing. More times than not, those changes never occurred.
For now, there is most likely nothing to worry about.