Carl Frampton looking to perform at his best against Nonito Donaire and makes a public statement that will excite fans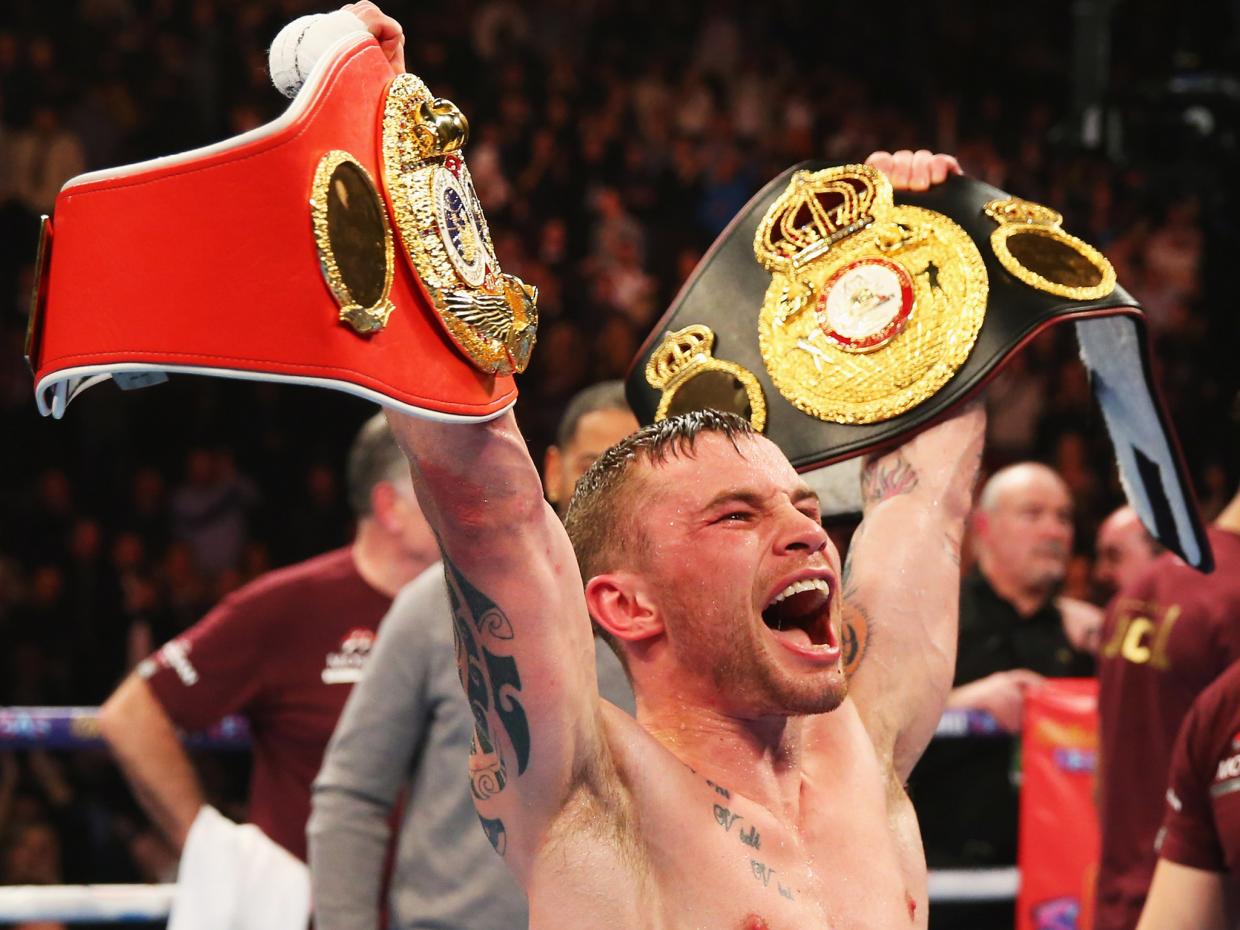 Northern Ireland's Carl Frampton otherwise known as "The Jackal" has had a mixed 2017 which saw him lose his WBA Super Featherweight World Title in a rematch against Leo Santa Cruz and then 10 months later he fought and defeated Horacio Garcia in front on his home fans.
Next up for Frampton is a four-weight world champion Nonito Donaire. Both fighters currently don't have a world title but a win for either fighter should set up a world title fight next, so there is a lot at stake for both fighters at The SSE Arena, Belfast on April 21st.
Carl spoke to Ringnew24.com and reflected on last year, this is what he said:
"It wasn't a great start to the year and the middle of the year wasn't great either. It started with me losing my title and a fight getting cancelled. I then parted with my team who I was with and joined Jamie Moore, MTK, Frank Warren and BT which has been a good move for me. I ended the year on a high and winning a fight, it feels good getting back to winning ways and putting myself in contention again for a big 2018. "
Frampton is respectful of Donaire and that challenge that lays ahead.
"He's good, he can fight. You can't just become a four-weight world champion and not be anything but. He's slick, he's got a monstrous left hook and I think he was number three in the pound-for-pound ranking at one point in his career.  So, an incredible fighter and probably the best fighter I've ever fought. But these are the fights that excite me and get me up for it. I always believe that when I'm put in against top opposition that's when I perform to my best."
Donaire is 35-years-old and at the later stages of his career, perhaps this is the right time for Frampton to face Donaire who was once a formidable fighter.
"I don't think so; people are making a lot out of that, look at what Roger Federer is doing in tennis, he's having a revival at 36. Nonito Donaire has had a long training camp and he's had a lot of time for this fight, he's entitled to put in a good performance."
"The people who are talking about the age of him or what are they talking about really? He lost a fight last year to a monstrous puncher Nicholas Walters, then he came back and won another fight. He's in a similar position as me that he lost to a good fighter and he's had a comeback fight like I did. Now, this is a fight that the winner, whoever wins goes on to fight for a world title – no doubt about it.
"People are talking about the age thing; it's not really on my mind. I'm thinking about Donaire coming in and putting in the performance of his life, which he is entitled to do. That's not on my mind at all."
Boxrec have a difference of 16cm between Frampton and Donaire's reach. Frampton was quick to point out:
"It's wrong, their stats are wrong [laughs]. He's a similar sort of height to me. My stats on Boxrec my reach is for some reason about four inches shorter than what it is. I don't know where they got that from. No one from Boxrec has ever actually measured my reach so someone has guessed there and yeah that's wrong. He probably had a bit of a longer reach than me but 16cm is wrong. "
Britain could potentially have two featherweight world champions. Scott Quigg could be a world champion soon if he defeats Oscar Valdez and Lee Selby defends his title against Josh Warrington thus keeping the title in UK. There are plenty of options out there for Frampton but defeat against Donaire would be devastating for his title aspirations in 2018.
"Well, it's definitely going to knock me back; it's not going to do me any favours at all. But, I'm not thinking about that.
"Obviously, Quigg fighting Valdez for a world title he could be a champion to be honest. I doubt it, I don't think he's going to beat Valdez but I think it's one of the champions he could beat, it would be Valdez.  Because I see that fight a bit of a shootout and both guys can punch and both have shown wee bits of vulnerability's in the past as well. You never know but I don't think Quigg will win.
"But, with Warrington and Selby as well and obviously, the Santa Cruz fight – he's always an option too. I'm not thinking about losing. Losing could be disastrous for my career but it's the last thing on my mind. I'm just thinking and visualising my hand being raised at the end of the fight and I know that if I perform to the best of my capability then that's going to be the outcome."
Frampton split from Cyclone and long-time trainer Shane McGuigan in 2017. He decided to choose Jamie Moore as his new trainer.
"Jamie hasn't tried to change me too much if I'm being honest. I'm 30 years old it's not as if I'm suddenly going to change my style completely under a new trainer – Jamie understands that.
"We're working on things, there is no fighter that's a perfect fighter and there's things that need to be improved.
"In each camp, we look at each opponent and we train for that specific opponent. There's little things that were working on that we think are going to work against a good Donaire. The last fight against Horacio Garcia I was trying things in the ring. Against someone like Garcia you can afford to try new things out but things will need to fall into place possibly for Donaire. But we've got a game plan and that's what we're working on at the minute. "
Frampton's first fight at featherweight was against Leo Santa Cruz and he put in a stellar performance to win the WBA Super World Featherweight Title and he feels that is the weight for him:
"I think featherweight is my weight, super bantamweight was killing me.  I know it's only four pounds' difference but featherweight is my weight and that's where I feel I perform best. I think the performance of my career was the first one against Leo Santa Cruz and that was at featherweight – I think it suited me more. Obviously, it's still a wee bit of a struggle and I missed the weight once but these things happen that won't happen again in my career and I think I'm a fully pledged featherweight.
Frampton wants his revenge over Santa Cruz and to prove he is the better fighter, but will the fight happen in 2018?
"Potentially, who knows what will happen? You know what; I'm the one who's being vocal about it. I'm the one who wants to make that fight happen. Put the nail in the coffin with the trilogy but he's not saying too much about it. I'm not really thinking about that. We've got a good team at the minute; they'll get me big fights as long as I continue to win. If the Santa Cruz fight happens then I'll be all over it."
Frampton travelled to America twice to face Santa Cruz. Frampton has been left disappointed that Santa Cruz said he'd come to Belfast or UK, yet he hasn't fulfilled his promise.
"I went to the States twice and he did say he'd come to Belfast or the UK – yeah, that's not going to happen. I don't think he's going to come to Belfast. It's a little bit disappointing he isn't a man of his word.
"But if I have to travel anywhere in the world to settle a score I'm willing to do it. Even if he wants me to go to Las Vegas again, I'll do it. The fans enjoyed their trip to Vegas this is me publically stating: If he doesn't want to come to Ireland or UK or Europe I'd happily go back to America to settle the score."
The fight the British public are eager to see is Lee Selby vs Carl Frampton. The fight for one reason or another has failed to materialise leaving boxing fans disappointed.
"It could potentially be a huge fight. Again, I've only got one opponent on my mind at the minute and that's Nonito Donaire. I'm sure Lee Selby is in the exact same situation with Josh Warrington. We're thinking about one fight; it's important to do that, you can't look too far ahead.
"If I win my fight ahead against Donaire, I'd be hoping to fight potentially maybe the winner of Warrington v Selby. Whoever wins that fight it doesn't bother me."
A stadium fight in the summer could be Frampton's next fight as he looks to push on from a disappointing 2017.
"I think even Warrington if it comes off. There's big fights and if we do it at the right time of the year I think a world title fight against anyone, we could sell out Windsor Park I've got a fanatical fan base and I'm very proud of it.
"Doesn't matter who it is, if I get a big fight in the summer against anyone, we sell out Windsor."
Frampton has ambitions of becoming world champion in 2018 and shared his plans.
"I want to be a world champion again – I still believe I've got the ability to do that. It could be a big year for me. We're kicking off with a big fight against Donaire and potentially an outdoor world title fight, stadium fight in Belfast. Then we could squeeze another one in before the end of the year, who knows? After a disappointing year, last year, 2018 could be a big one"
Finally, Carl had a message for his boxing fans:
"Thanks for the support; you've always stuck by me. Again, it wasn't a brilliant year who knows how the fans are going to react to everything that was going on. But they've always had my back and supported me all over the world – thank you."