A look at heavyweight Martin Bakole Ilunga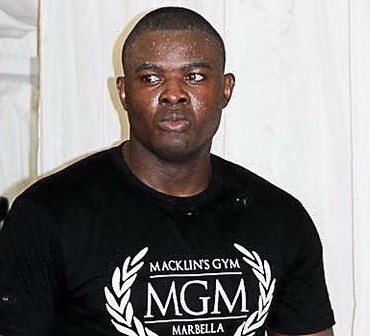 A lot has been made of Martin Bakole since he signed with Cyclone Promotions, the big heavyweight sensation is lauded up and down the country by envious trainers for his slick skills. His trainer Billy Nelson is very confident in his prediction that he has a future champion of the world on his hands.
So what do we know about 26 yr. old Martin and will he live up to the hype, we take a look at the man from Republic of Congo now based in Airdrie.
With a record of 10 and 0 the undefeated fighter could end up on Britain's least wanted list. Martin is a danger to pretty much every heavyweight out there right now except maybe the elite level. The stories from sparring are that he is a handful for everyone he has faced so far, the danger in this being that it becomes more difficult to get the fights you want unless you can force your way into contention and become the mandatory challenger.
I've been fortunate enough to have watched him in training and he certainly has skills. He is a big imposing guy yet slick and has good hand speed for his size, he also has decent head movement. Seeing him on the heavy bag he also packs a punch which his 70% KO ratio would testify to. Having had him in my car I would also say he appears bigger than his 6ft 6" frame would suggest.
If there are any potential weaknesses it could be that Martin is a laid-back character, potentially too laid back. He is a lovely big guy and will have to make sure he can find the right amount of spite to carry into fights with him. The other thing that could hamper him is his nutrition, it is fairly well known that Martin doesn't really eat much on the day of a fight. I can't help but wonder that if this continues on his journey to meeting bigger and better opponents as well as longer fights, will he have enough to ensure he has the stamina for 12 hard rounds at the top level. It could be that this is already being addressed as no doubt Billy will leave no stone unturned but whilst he can get away with it at the moment I feel this could leave him just that little bit short of energy in the back end of a grueling fight once he gets into those championship rounds.
However, let's focus on the positives of this dangerous, hard hitting, fast moving, and accurate puncher. With the training from Billy, the backing of Cyclone and appearing on Channel 5 Spike it won't be long before Martin becomes a household name. Whether he can live up to Billy's claims of being the most naturally gifted boxer he has trained is another thing. Martin's next fight is on the undercard of the Josh Taylor v Humberto Soto bill but as yet no opponent has been named. Like everything it's all about timing, the heavyweight division is back on top again after a few years in the doldrums. With the right matchmaking and guidance, it could well be that we see Martin Bakole Ilunga in the big fights over the next 18 months to 2 years which would be great for him and testament to the hard work of Billy Nelson.