Will Chris Eubank Jr ditch his dad if he loses to George Groves?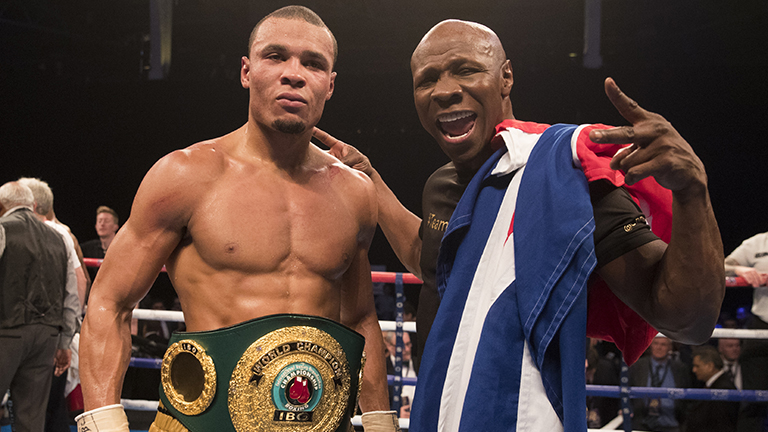 On Saturday night, the World Boxing Super Series will see WBA super middleweight champion George Groves facing off with Chris Eubank Jr. In a semi-final grudge match from the Manchester Arena in Manchester, England.
Eubank Jr., although less bombastic than his father and former world champion Chris, is still very much a star in his own right. Eubank Jr. Is riding a lot of momentum following his knockout of Avni Yildirim in the third-round of his WBSS quarter-final clash on October 7.
A week later and Groves too scored a stoppage, halting Jamie Cox in the fourth round. Ever since, the pre-fight trash talk and buildup has been building between the two men. Eubank isn't holding back on his banter either.
"I think it's gonna be an epic war. I believe George Groves is going to get knocked out," said Eubank in an interview published by RingTV.com. "Groves is a solid, all-round fighter. He doesn't excel in any one aspect of the sport, whereas I do: speed, strength, grit, determination, stamina. These are all attributes I believe he can't come close to me in."
But who are we to overlook Groves? The champion is still young and is you take a closer look at his losses, you can see it's not as bad as it may seem. Yes, Groves was stopped twice by Carl Froch, but each contest was a quality affair and many had Groves ahead in their first encounter.
Groves has also lost a decision to reigning WBA light heavyweight champion Badou Jack, yet it was still a very competitive and entertaining battle.
"The one thing he does have over me is experience and that's what I think he's going to try to use over me in this fight," Eubank admitted. "It's just not going to be enough. I'm too hungry. He's not going to last the 12 rounds. I'm gonna go in there and rip that belt away from him."
Eubank (26-1, 20 knockouts) grew up surely admiring his father's accomplishments, and it is harder to recall a fighter more arrogant at times than a prime Chris Eubank Sr. In his prime. Eubank Jr., may be more mild-mannered, yet still believes in himself to the fullest.
"I believed I could win the tournament, I don't believe any man can beat me," said Eubank. "I've had that mentality since I started. That's the mentality you have to have if you're gonna become a world champion of note. My confidence has always been there."
There has been a lot of mention of Eubank's father in the media, perhaps even more than his son at some times. Whether it was how he reportedly was part of asking for crazy demands for a fight with lineal middleweight champion Gennady Golovkin in the past, or the sometimes scathing media articles highlighting how young Eubank Jr. should distance himself from his father, there is always some kind of discussion.
It's very true that many father-son duos simply do not last the distance in the sport of boxing. Over the years, the sport has somehow driven a wedge between such tandems, whether it be from the father and son disagreeing, to other personalities being involved behind the scenes.
One thing that is certain is that it's easier to stay a team when you are winning you fights, and Eubank Jr. plans to continue winning.
"I want everybody to know that I am the superior man. I'm not going in there to do just enough to win. I want to take this man out."