Joshua v Parker: clash of the heavyweight champions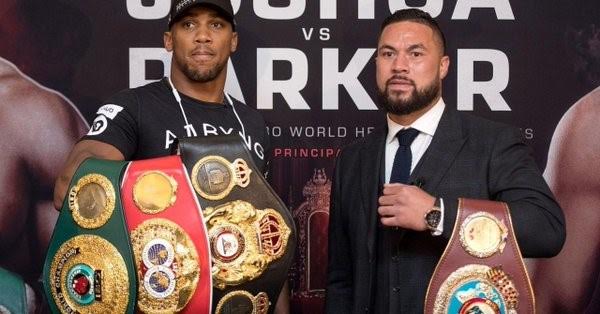 After years of decline, it seems that boxing's heavyweight division is returning to global prominence. Not since the days of Evander Holyfield, Lennox Lewis and the circus that was the closing stages of Mike Tyson's career has there been such interest in the heavyweight stars – the division of boxing that was once considered the pinnacle of the sport.
Part of the reason for that is the emergence of a new star – Anthony Joshua. The Olympic gold medallist has grabbed the attention of the boxing public, and his 20 wins from 20 fights – all of them via knockout – have also caught the attention of non-fight fans.
The other factor is the possibility of the coming together of all four heavyweight belts. On 31st March in Cardiff, Joseph Parker will put his WBO title on the line against Joshua, the current IBF and WBA champion. It will be the first time that two undefeated heavyweight champions have faced off since Tony Tucker fought Tyson in 1987, and if the WBC champion Deontay Wilder comes through his bout with Luis Ortiz earlier in the month, the way will be clear for the winner of the Parker-Joseph fight to go up against Wilder with the heavyweight championship of the world up for grabs.
In short, there's a lot at stake in this fight, particularly for Joshua, who could lose both of his existing titles and the chance to add a third and a fourth. Not that the bookmakers seem to think that he should be worried. Joshua is a huge favourite for this fight. In fact, according to the betting markets, Parker has less chance of beating Joshua than Conor McGregor had of upsetting Floyd Mayweather. A Joshua win in four to six rounds appears to be the most favoured outcome, according to the current odds.
While Joshua is rightly, and understandably, the favourite, there is a danger that Parker is being underestimated. For a start, he has never been knocked down. As he has climbed the ladder, Joshua has found it progressively harder to finish fights. Three of his four fights since he became champion have been the longest of his career. To stay at the top of the division, and to unify all four belts, Joshua will need to find new ways to break down opponents, and Parker presents another challenge along those lines.
Parker can also test Joshua in other areas. The big man likes to dominate, and his raw power is usually enough to overcome most opponents, but he can be less secure against fighters with good movement, and Parker can exploit this. His more economic punching style could also give him an advantage, if he can take the fight deep into the later rounds.
However, while Parker cannot be underestimated, the challenges that he faces are enormous. He does have a solid jab, which will be important in establishing a foothold in the bout early on, but he will need much more than that to get the job done. For a start, he is yet to show the ability to manage and control a fight in which he has to change his plans. Does he have the ringcraft to exploit the small chinks in Joshua's armour?
Parker is also unlikely to be able to goad his opponent into losing his cool. Joshua learned a lot from the Dillian Whyte experience, not least the importance of not letting the other fighter get to him. That bout turned into a street brawl because he allowed Whyte to get under his skin, and it ended up being one of his toughest encounters. This won't happen again.
Finally, a big unknown factor is how Parker will cope with the biggest hits he will have ever faced. While his record indicates that he has a granite chin, this will be his toughest test yet. If he goes down, particularly early on, will he have the resilience to bounce back? We know that Joshua is able to take a hit and recover, but we can't say that for certain about his opponent, particularly given that this will be the biggest and most intense fight of his life. Will he thrive on the larger stage, or will he buckle? That remains to be seen.
For fight fans, however, this will be a fascinating encounter. Two undefeated champions going head to head, with a potential historic reunification of the heavyweight titles just around the corner. It doesn't get much better than this.