Will we see Naoya Inoue vs Wisaksil Wangek in 2018?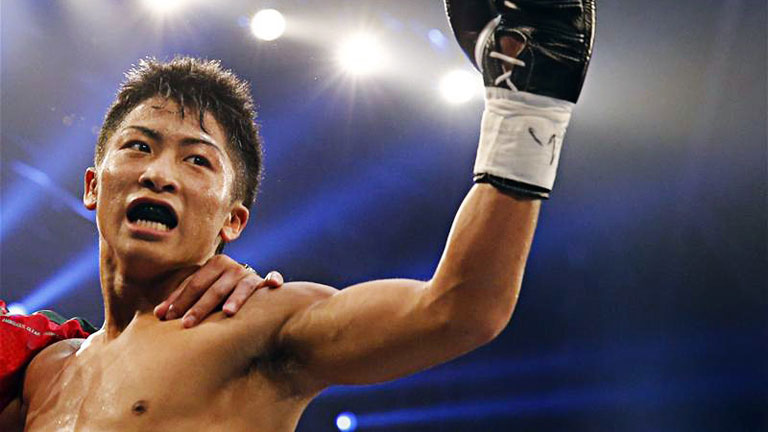 Big fights at the lower weights have suddenly become fashionable. The hugely successful run of Nicaraguan superstar Roman 'Chocolatito' Gonzalez was captured in its latter stages by HBO, as part of the supporting cast to Gennady Golovkin's fights. For better or for worse this included Gonzalez's most recent two bouts, which also happened to be his first two defeats, both at the deadly fists of Thailand's Wisaksil Wangek (or Srisaket Sor Rungvisai as he is known in most quarters).
In the post-Gonzalez climate, step forward Naoya Inoue, a 24-year-old destroyer from Yokohama who punches extremely hard. You can run and try to hide, you can even put your gloves up and try to block him but this guy will just literally punch through you. American television got a sniff of Naoya in his last-but-one bout when he arrived on the West Coast to batter Antonio Nieves to defeat. Inoue showed calmness, poise and shot variation, mixed with chilling punch power, to break down and stop Nieves in six one-sided rounds. He made the seventh and final defence of his WBO super-flyweight crown in December, 2017 when Yoann Bayeux was smashed into oblivion in the third round.
Inoue has since moved up to bantamweight and is expected to face Jamie McDonnell for the Doncaster man's WBA 'world' title at some point in May in Japan. Prior to defeating Omar Narvaez for the WBO super-fly belt, Inoue had already won a world title at light-flyweight and completely surpassed the flyweight division altogether. He is growing fast and may soon be competing as high as featherweight if this surge continues.
Moving up in weight does not altogether rule out a fight between the Japanese 'Monster' and Wangek, however. The bantamweight division is only three pounds higher (118 lbs) than super-flyweight (115 lbs) and Wangek is a hefty unit. The chance to move up and challenge for a world title at another weight would be appealing and HBO would presumably be interested, seeing as they have televised both fighters in the past.
Wangek has the not-so-small matter of first getting past his WBC super-flyweight mandatory on February 24. Boxing as part of Tom Loeffler's 'Super-Fly II' card, Estrada vs. Wangek is an enthralling matchup and certainly no given for the Thai champion. Prior to Wangek dismantling Gonzalez over two fights, Estrada had arguably given the pound-for-pound claimant his toughest fight when they clashed in Los Angeles in 2012. Estrada has not lost since and in his last fight defeated quality fellow-Mexican Carlos Cuadras on the aforementioned 'Super-Fly' card. Interestingly, Cuadras beat Wangek on a technical decision back in 2014 and Wangek has not lost since, which makes Estrada and Wangek such a tantalising prospect.
It would be a real shame if Inoue moves so rapidly through the weights that he were to miss out on a fight with the likes of Wangek, Estrada or even Cuadras. The Inoue-Gonzalez ship has now sailed. If Inoue was to stay at bantam after presumably beating McDonnell, and Wangek continue to campaign at super-flyweight, then Inoue would surely target the likes of Luis Nery, Ryan Burnett or Zolani Tete. Another possible target would be Shinsuke Yamanaka if the Tokyo resident was able to take his WBC bantamweight title back off Nery in their rematch and then be open to an all-Japanese showdown with the young pretender rather than an expected retirement.
Inoue-Wangek is a mouth-watering prospect that would need the combined desire of promoters and television networks alike to push hard and make the dream a reality in 2018.