Darts, PDC get rid of walk-on Girls – should boxing get rid of ring girls?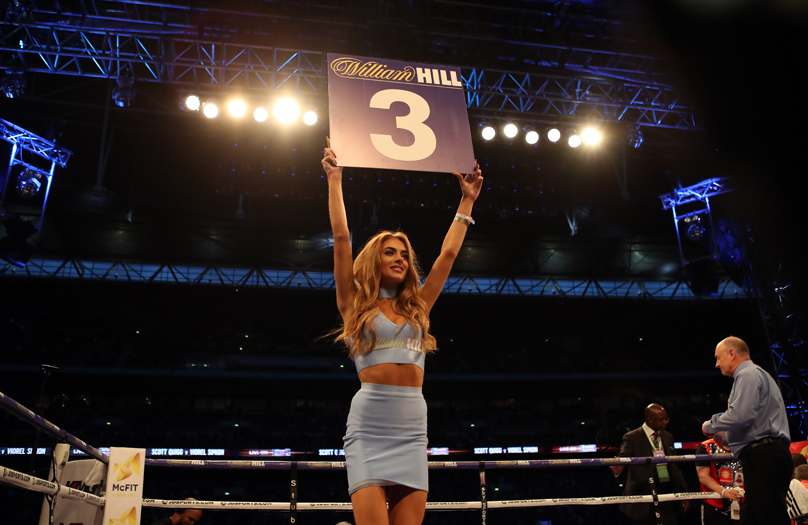 The walk-on girls have been removed from darts and the grid girls axed from Formula One. Now, some fans of boxing are concerned that ring card girls will be the next to be culled from mainstream sports viewing.
Arguments can be made from both sides. Those in favour of removing the girls claim, with some justification, that the girls are objectified by a rabid set of drooling punters, who wolf whistle and holler while the scantily clad females posture in the ring with a ring card above their heads, in between each session.
Those who reckon the girls should remain in their roles, argue that they are acting more as brand ambassadors, doing a serious job and ultimately being present through their own choice. They say that those looking to do away with the option of choosing to be a ring card girl are removing choices for women and taking away jobs. This argument also has merit.
Even though Matchroom run the Professional Darts Corporation (PDC) that has, in conjunction with SKY, overseen the removal of walk-on girls, Head of Boxing at Matchroom, Eddie Hearn, has insisted that they will not be getting rid of ring card girls anytime soon.
German promoter Kalle Sauerlan -who has become somewhat of a cult figure with UK fight fans since running the World Boxing Super Series and enjoying himself greatly at fights and press conferences- has also come out in defence of the girls. Kalle claimed that he had "never heard so much crap in my life" and described the job as a glamorous profession. He has resolved not to get rid of ring card girls at his future shows.
Speaking on a recent episode of the Boxing Asylum podcast, Irish model Judy Fitzgerald aired her displeasure at the feminists trying to take away the girls' profession and way of making a living. One Darts girl said that 60 per cent of her income had been removed after the job was canned.
"The feminists really should be for women and not against women," said Fitzgerald. "They're putting girls out of work so that's not really empowering any women. I really don't feel like I'm objectified because I'm just wearing sports gear like when I go to the gym."
Judy also raised the point that ring card girls aren't just born with naturally excellent physiques but rather countless hours are spent in the gym honing their bodies and enhancing the way they present themselves. Some female critics or "Feminazis" as they have been labelled in some quarters, say that the women are being exploited and one even went so far as to intimate that a ring card was lacking in mental capacity. Judy Fitzgerald rejected any "airhead" claims that could be levelled at her by pointing out that she is a qualified swimming instructor and a nurse, currently working towards a Masters degree.
There are valid points to be made on both sides of this argument and it is set to run and run as boxing once again comes under scrutiny from the wider public.
Read more articles about: