Jack Cullen tipped for the top by former Khan trainer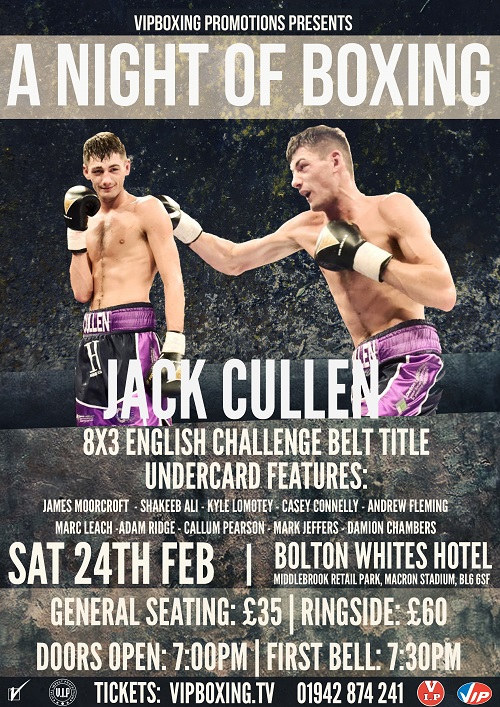 Boxer Jack Cullen gets his first eight-rounder when he tops a VIP Promotions bill at the Bolton Whites Hotel this Saturday (February 24). Undefeated Cullen, will also take part in his first title fight when he squares-off against Alistair Warren for the English Challenge Middleweight title. With the show streamed live and free on vipboxing.tv, renowned trainer Tommy Battel is predicting this will be the first of many belts for the talented local fighter.
In Jack's corner since he was sixteen, Battel has revealed how a horrific work accident derailed the young fighter's sure-fire amateur progress. Tommy, who guided former world champion Amir Khan in his early amateur days, has successfully fought cancer himself in recent years, and says he only agreed to become Jack's pro coach because he is convinced his protégé has the ability to get to the very top of the sport.
"Jack had a bad scaffolding accident [3 years ago] that curtailed his career, when everyone had him nailed on to win the ABAs," detailed Battel. "He broke his jaw, smashed his wrist and punctured his lung, so it was really quite bad. I've also had cancer, and that put a stop to everything for about two years too really. When Jack eventually wanted to turn pro, I ended up turning pro myself. It isn't something I wanted to do but I think Jack can go all the way, and that's why I turned pro with him. Turning pro for me was a massive life-decision, and I wouldn't be here thinking he couldn't win a world title, because I absolutely do."
Cullen is unbeaten in eight outings and has stopped his last two opponents. From Little Lever, and known as 'Little Lever's Meat Cleaver', the 24-year-old has also sparred with some of the UK's best fighters, including being a main sparring partner for World Boxing Super Series semi-finalist Callum Smith. Battel though is predicting Saturday's opponent, Warren, will give his charge a thorough test. The fighter from Huddersfield may have lost 17 of 31 contests, but always gives a good account of himself and Tommy warns he has the ability to cause an upset.
"We know Alastair is tough," said Tommy. "I've watched him on a few occasions. He's always fighting decent opposition, like [Chris] Eubank Jr and [Tommy] Langford, and he doesn't get many easy runouts. We also know he can also turn you over if you're not prepared, because he comes and has a go. So, we're preparing for that. Jack is a terrific long-range boxer, but he also likes to fight and that was probably his downfall in the amateurs; he liked a tear-up too much. I think [against Warren] Jack will box him for a few rounds and then we'll take it from there. In this camp, he's been particularly vicious, but I want him to box early-doors. We're not under-estimating Alastair, we want to box him, pick him apart, and then take it from there.
"I'm taking this all in my stride. Jack's been doing well in his sparring, and he always rises to the occasion on fight night, so I've got no issues about him stepping up to eight rounds. I've got every confidence in him, he's never showed any signs that he's not ready. We're looking for three or four eight-rounders this year, and then we'll be looking to step up again. Although, if a Central Area title fight came up straight after this one, then we'd take it, no qualms.
VIP Promotions presents an evening of boxing at the Bolton Whites Hotel on February 24th. Appearing will be Bolton's Jack Cullen; Salford's Marc Leach; Darwen's Micky Ellison; Wigan's James Moorcoft, Andrew Fleming and Casey Connelly; Blackburn's Shakeeb Ali; Leigh's Kyle Lomotey and Adam Ridge; Cumbria's Callum Pearson, and Dukinfield's Damian Chambers.
Tickets priced at £35 (general), £60 (ringside) are available from all boxers, or at vipboxing.tv and Eventim.co.uk
The show will also be streamed live and free at vipboxing.tv
Keep updated on VIP Promotions' news by visiting vipboxing.tv or follow on Twitter @vipboxing and Facebook.