Jamie Anderson looking to knock-out Paddy 'Geezer' Reilly on March 17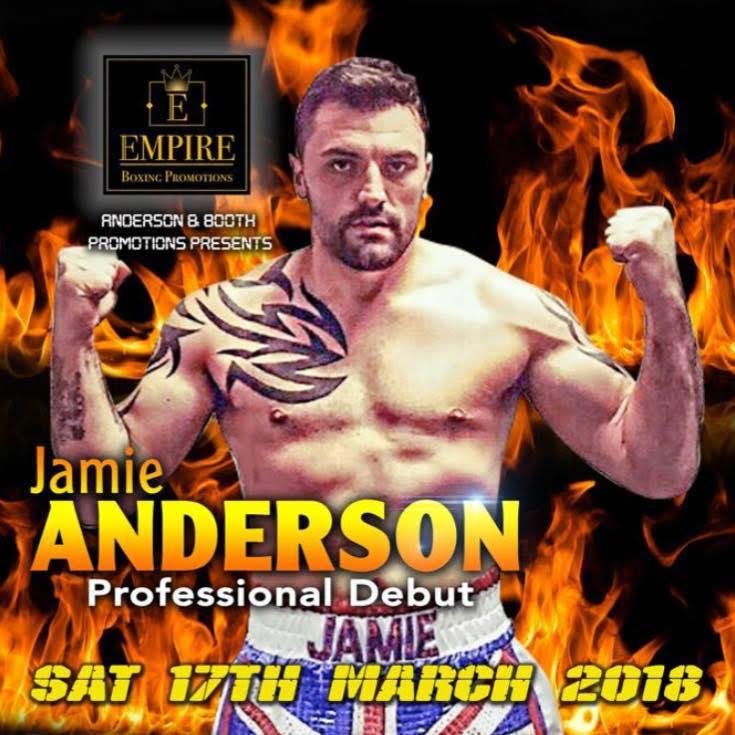 Jamie Anderson is not only one of Britain's newest licensed professional boxers, but also will be promoting his own shows! Jamie answered some questions ahead of his professional debut on 17 March at Irlam and Cadishead Leisure Centre.
Talk a bit about your background in boxing?
"My boxing background is quite limited, but I have always loved boxing and the sport through and through, I've always wanted to take part in some capacity but never really had any contacts in the game so not really knowing how to. But in July 2013 at 19stone 4lbs and the tender age of 27 I walked into a gym up in Scotland where I started to train I couldn't even skip or throw a left hook but as I'm a determined individual and I kept at it day after day week after week, 3 months after starting training I fought my first white collar fight I weighed in at 16 stone 2lbs, I won the fight every round of the fight, the guy I fought was 18 stone 5 so in my heart, I had achieved something I'd always wanted to achieve….box, train, compete and win but then dream expanded I won a few more white collar fights, dropped a few more stone and moved to a new gym where I was trained by Peter Harrison and Scott Harrison – I trained every day from 10-12.30 with Scott and three evenings a week with Peter my weight eventually got down to 13 stone 6, my last white collar fight was against a guy who was undefeated
"Paddy geezer Reilly" and at 13 stone 6 and I knocked him clean out in 42 seconds of the first round.
I then from that went on to fight in the Scottish novice championships where I got to semi-finals and Peter wanted to turn me pro from there on and that was the plan …In amongst all of This I had a successful Security business hence why I could train full time, and training with Scott a former 2 time WBO world champion he was trying to make his own come back so I put forward for my promoters licence which was accepted by the BBBofC … so I signed Scott Harrison for a comeback fight at Bellahouston leisure centre
but that was short-lived as Scott got into a bit of trouble and Show was cancelled the positive for me as I now had a promoter's licence with the BBBofC.
"I then moved back down to England where I fell away from the sport, in turn, put a bit of the weight back on but then in 2015 I met Gary Booth."
Why did you decide to be a promoter and a fighter?
"With meeting Gary Booth and getting to know him we talked about the promoting of shows and as I had the promoter's licence he had a trainers and managers licence we could have everything under one roof!
"I don't trust easily in this sport as there is a lot of backstabbing so for me to turn pro under my own banner and to be in complete control of my own money and management, I would only have myself to blame. Not only that Gary and I are fulfilling 2 man's dreams!
"He's always wanted to bring his own homegrown talent through training, manage and promote them from such a young age and that's what we're doing and in doing that we are fulfilling my dream of being involved in this amazing sport! I'm fulfilling it by competing as a professional boxer but also professional boxing promoter! So this is a
long-term project that has become a massive part of my life!"
How did the link up with Gary Booth come along?
"See above but the way I got in contact with Gary was … I was working and drove past Liverpool road in Irlam and saw his signs called his mobile and here we are."
Now you've turned pro what's your ambition as a fighter and as a promoter?
"Well I understand that this is the fight game and a tough game to be involved in but once through them ropes it's even tougher and I plan on taking each fight at a time and in each fight, each round at a time! But I'm a very positive and ambitious person so I have my own targets inside. I know I'm not gonna go and win British titles or anything like that lol the pros are a totally different ball game and it's built on levels and better you become the bigger the level, but if I could achieve a belt and entertain boxing fans and retire and become a very successful boxing promoter I would be very happy. I would have lived my dream."
What can fans expect from March's show from yourself and from the show
as a whole?
"What people can expect from me on 17th March is 110% commitment… I can bang, so it will be an entertaining debut fight if I land clean my opponent will be going to sleep. I want the knockout that's what I want to do in my boxing career I want to knock my opponents out! Fans love that I loved that in boxing …it's entertaining! As far as the show it will be an amazing first show there has been no expense spared! And I want to start as you mean to go on …. there are great fights on the card 7-8 tasty bouts, we have British Boxers TV doing all the coverage, interviews etc so for the first show I think people are going to be pleasantly surprised."