Daniel Dubois: How Far Can He Really Go?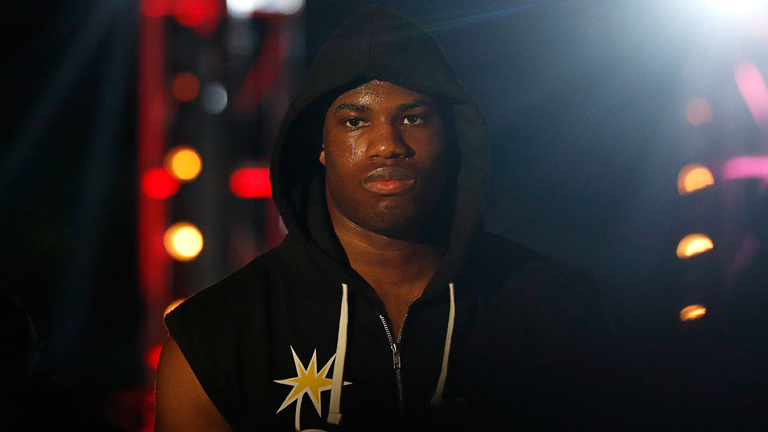 Former five time junior nationalist and British amateur champion, Daniel Dubois has set the trail to ignite the fire on the heavyweight division when he beat DL Jones on Saturday night in three rounds. He focused mainly on the uppercut and throwing some big right hands to overwhelm Jones, who was in survival mode throughout the short lived contest. It showed little of anything new of Dubois, who appeared to feel the same when it looked as if he fought as if he was just going through the motions.
What can we glean from what we have seen of Daniel Dubois so far?
Not much, but there are a few things.
The most obvious is that the Greenwich boxer has power. He has stopped all of his seven opponents, often with big right hooks upstairs and some nasty looking body punches. But if there was one thing that Dubois' fight with Jones showed, is that he can be easily tied up. This could potentially be trouble for him in the future if he is made to be frustrated and get emotionally thrown off his gameplans.
When he does have his opponents on the go, DDD is a pretty good finisher and has had little problem with upping the pressure and finding the answer to close the show. He has the potential to use his height to good effect and set things up with the jab first, but he tends to just flick it out instead of being more assertive with it. He has shown a solid jab in a couple of his bouts but I would like to more of it. At 6'5, Dubois' reach of 78 inches is not the longest we have seen for his stature. But mostly everybody who religiously studies the sport knows that the jab is the most important punch in boxing, even if it seems to also look the most basic. In fairness, the level of his opposition so far has not required Dubois to use the jab in dominant fashion, so he should learn to develop the habit of using it more as the quality of his contenders increase.
Counter punching also seems to be a part of Dubois' game. He likes to counter with rights as his opponents throw which seems to work for him. Working on a variety of strikes will see that he is a little less predictable when doing this.
And what questions remain?
There are several.
Dubois is yet to be pounded by anything that connects in the right places. But it is surely a matter of time when he will be. And it will be interesting to see how he takes it. Will he be able to utilise any defenses he may develop in the future and survive the turbulence?
When a particular idea to beat a boxer has been planned for and it is going against him, will Dubois be able to think his way through? Punchers such as Mike Tyson and David Tua could not. Boxing is a thinking man's sport. It is not just about brawn. Floyd Mayweather has proved this.
What about when Dubois faces somebody who intends to emotionally unsettle him in the build ups to a fight? Will he keep his composure? This same question can be also applied to if and when Dubois goes into a fight that houses major hostile crowds. Fighters have been known to have lost fights before they have even stepped into the ring!
Having never gone past three rounds so far, seeing how Dubois handles going the ten or twelve round distance will give us another answer to another query that is yearned for. He is already being thrown in bouts that are scheduled for ten rounds, so might we know sooner rather than later? Names like Dereck Chisora are already being talked about. The Finchley fighter is known for his durability, but promoter Frank Warren has stated that somebody of Chisora's calibre will not likely face Dubois for another twelve months. This may depend on how fast Dubois progresses in the meantime.
With stories such as Anthony Joshua being floored by Dubois in sparring already circulating, England could see yet another hungry heavyweight boxer that will surely add to the boost in popularity that the sport has seen since Anthony Joshua became world champion two years ago.