Liam Smith is in prime position to contest Sadam Ali's WBO 154-pound title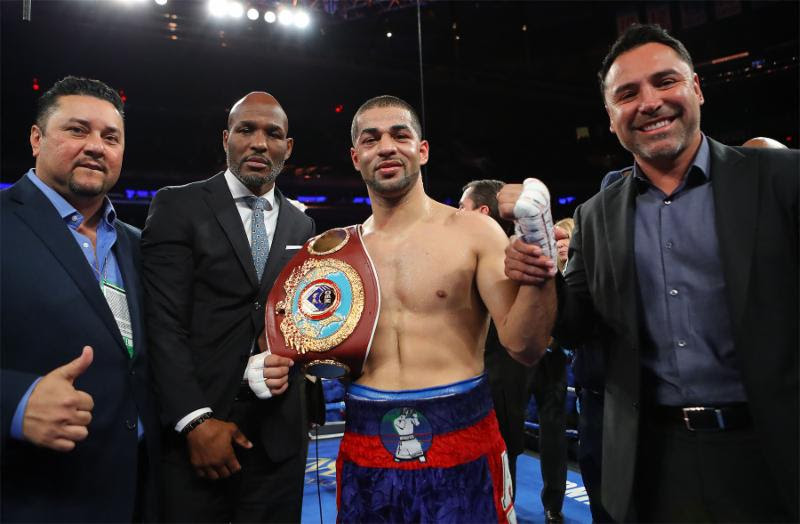 Liam Smith is in prime position to contest Sadam Ali's WBO 154-pound title and the bout could be tied up within the next month or so. 'Beefy' holds mandatory status and is favourite to face Ali next as the Liverpool man bids to win back the crown he has previously held, before Saul 'Canelo' Alvarez relieved him of it via ninth-round knockout in 2016.
Former Alvarez victim Miguel Cotto picked Ali for his final fight last December and expected him to be a relatively soft touch given that Ali was moving up from 147 where he had been beaten by Jessie Vargas in 2016. Ali had other ideas though and looked fresh and revitalised as he took full advantage of Cotto's physical deterioration to prevail over 12 rounds. Beating Cotto was victory enough but Sadam also got the WBO in the bargain and is now expected to use it as a bargaining chip to nail down some lucrative future matchups.
WBC light-middleweight king Jermall Charlo has since called Ali out for a unification but Ali's representative Eric Gomez, from Golden Boy Promotions, dismissed the bout and said that Ali was unavailable. Liam Smith was rumoured to be boxing Ali on the Golovkin-Canelo II undercard but was unhappy with the cash on offer and May 12th has instead been mooted, also Stateside.
If Liam was to upset the applecart and take Ali's WBO belt off him then a money-spinning fight with UK rival Kell Brook could be in the offing. Smith is with Frank Warren and Brook with Eddie Hearn but surely some agreement could be made if the money was right. The situation has a few slight twists in it as well, seeing that Liam Smith's brothers are promoted by Hearn and Kell Brook used to be promoted by Warren.
That is all conjecture at the moment, however, as Smith-Ali has not even been rubber stamped. If and when it happens I would expect a close and competitive encounter between two evenly-matched fighters. Smith showed his rugged toughness in both fights with Welshman Liam Williams -the latter serving as an eliminator for the WBO top spot- and has the potential to cause plenty of issues for the top operators at the weight.
Regarding a prediction, I would tentatively pick Ali to prevail. Smith is a big super-lightweight and Ali is a newcomer at the weight, so Smith's extra strength could be a factor as the fight goes into the later rounds. Smith likes to cover up and throw sporadic flurries, set up by a strong jab and an emphasis on uppercuts. Ali has the best win out of the two, over a faded retiring Cotto, but Smith did not disgrace himself in his loss to Alvarez, who ultimately punched too hard and accurately.
Even though he can claim to be a former world champion, with two defences to his name, I don't consider Smith a world class fighter as he has yet to record a world level win. The WBO title was vacant and John Thompson was not a viable opponent for a world crown. Neither was Jimmy Kelly who has to go down as one of the least deserving 'world' title challengers of any year. No disrespect to Kelly but he had never contested a scheduled 12-rounder and received a shot off the back of winning a vacant WBO Inter-Continental Super Welterweight Title. Montenegrin Predrag Radosevic might have arrived in Liverpool with a statistically impressive 30-1 record but had never beaten anyone of substance. Smith's 29 years of age now and still, I believe, has more mileage left on the clock.
That said, I would pick Ali to win on points in a possible split or majority verdict and then travel over to England to defend his title against Kell Brook at some point in the future.