Wisaksil Wangek Champion Again – Wins Superfly 2 Over Estrada!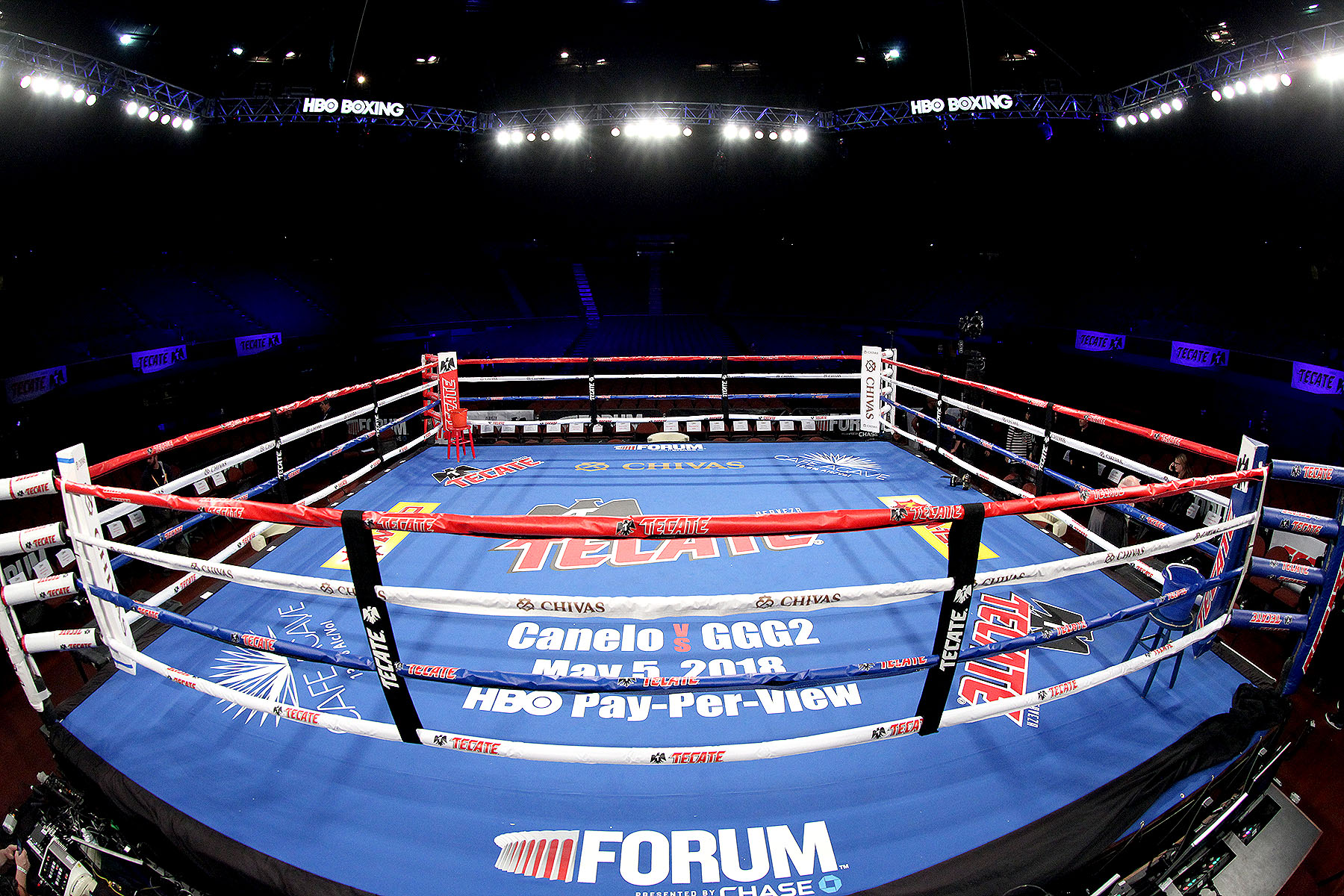 We went back to the Forum in Inglewood, CA for the event known as Superfly 2, put on by 360 Promotions and shown on HBO. This show promised to deliver as much, if not more, then the first event and at least as far as the main event was concerned, it did not disappoint.
That main event saw Superfly 1 winner Wisaksil Wangek, AKA Srisaket Sor Rungvisai, (45-4-1, 40 KOs), (who got the win over Ramon "Chocolatito" Gonzales in that first one), come back on this night to try to get another one. His opponent this time was Juan Francisco Estrada (36-3, 25 KOs). Wangek was defending his WBC World super flyweight title, and this fight was scheduled for 12. For his part, it was Estrada who defeated Carlos Cuadras in the first SUPERFLY event.
The huge crowd was deafening when he was introduced, and the boos that rained down on the ring were just as loud for Wangek. Punches landed for both fighters in the opening round, but the hardest one was from Estrada, as he connected with a big right hand. All that changed in the second, as Wisaksil really got in some hard shots to start off the round. Estrada answered back a few times, but Wangek did the most damage.
There were a lot of exchanges in the third. This fight was living up to what most people expected in the three rounds we had seen so far. The fourth round was all Wangek. Every time Estrada would attempt to mount an attack it was soundly shot down. At the end of the round, Juan Francisco was rocked by a flurry of punches courtesy of Wisaksil.
We saw the same ending in the fifth. Right before the bell Wangek landed a very hard shot, once again staggering his opponent. And once again, he was saved from further attack by the bell. In the sixth, while Estrada was able to land a few of his shots, he still was overpowered by Wisaksil.
The seventh was yet another good, strong round for Wangek. He was putting on a boxing clinic her in Inglewood. Every time that Juan attempted to do some damage, the got punished for his effort. That had to be discouraging. Estrada had a great round in the eighth. He landed some really hard punches, and while he also had to eat some leather, he could at least do some damage of his own.
We were in the ninth already? This fight was just flying by. We saw another good round for Estrada, but Wangek had his moments. This was a good, competitive fight by two tough fighters. In the tenth and the couple of pervious rounds it was as if Estrada had figured out the puzzle that was Wisaksil. He wasn't landing as many punches as he had been, but Juan was not letting the title holder land many on him, either.
The tide turned back to Wangek in the eleventh. Right at the end Estrada got in a couple of good shots, but it they were probably not enough to steal the round. We moved into the twelfth and final. When the bell rang these two warriors came out swinging and never stopped. We went to the scorecards. One judge saw it even at 114-114, while the other two had it 115-113, and 117- 111, giving the decision to Wangek. He retained his belt, but there is not shame for Estrada. He fought his heart out.
It was hard to hear what Wangek said when in the ring, as the crowd was quite boisterous after the defeat of their favorite. But here are his views of the fight following his victory..
"Estrada was a very good fighter – he was a good, strong fighter. I love this style of boxing, and it was a tough fight. (I fought well because) right now I have the support of Thailand, and I'm thankful to all the Thai people that came."
With regard to Estrada closing ground in the later rounds, Wangek said, "I was very, very confident that I was winning, but more importantly I wanted to bring this belt back to Thailand, and to Thailand it goes. I will fight anybody at 115, and I will fight Estrada again."
Of course, the loser is never happy, and that was the case here. Estrada thought he won. "The people are the judge, and you can hear that they thought I won, and so did I. I want to do it again, no doubt, or I'll fight any other champion."
And later, 360 Promotions' Tom Loeffler had this to say.
"Rungvisai doesn't give an easy fight. Estrada came to fight and I won't be surprised if it was Fight of the Year. Both fighters showed their warrior spirit. It was a very close decision. I thought he edged it. All three cards were within range.
"This fight this performance warrants a rematch. It would be tremendous to bring it back to the Forum in the fall. It was non-stop. The goal is to do a rematch and that would be Super Fly 3!"
In the co-main event, Carlos "Principe" Cuadras (36-3-1, 27 KOs) stepped into the ring with McWilliams Arroyo (17-3, 14 KOs) to see who would win the vacant WBC Silver super flyweight title. The fight was scheduled for 10 rounds.
This fight started off with a bang, as both men came flying out of the gate and never looked back. There was a real rivalry going on in the building as well, as there were many "Mexico" chants for Cuadras and some boos for Arroyo, who is from Puerto Rico. Some good opening shots were landed by both men.
Carlos gave the fans a lot more to cheer about in the second, as he hit McWilliams with both barrels, and hard. Arroyo stayed on his feet, but damage was done. The third was another good round for Carlos. Arroyo was able to land some of his jabs, but Cuadras was still in control. Things appeared to stay that way in the fourth.
Arroyo came out and landed some good body shots on Cuadras to start off the fifth. Carlos threw a lot of punches, but in this round they did not often find their target. The sixth round was similar to the previous one. Carlos had seemed to be really on his game early in the fight, but he had failed to stay like that for the last two rounds. In contrast, Arroyo had gotten sharper.
McWilliams was staying in the game in the seventh, and was very sharp. In the eighth Arroyo would jump in, land combinations, and jump back out, making Cuadras have to chase him. But in all this was a closer round than the two previous ones. Cuadras had a better round in the ninth, which say both men scoring points in this close contest.
In the tenth and final there were many punches thrown by both, some landed, but many did not. We went to the scorecards to decide this contest. One judge saw it a draw at 95-95, while the other two had 98-92 and 97-93, giving the majority decision to Arroyo. McWilliams is the new WBC Silver super flyweight title.
It is hard to say whether Arroyo had a great night, but let's not forget that McWilliams has not been in the ring for two years! In that last fight he lost to "Chocolatito". It is however, easy to say that Cuadras was not at all impressive this evening, and got out-boxed by the Puerto Rican.
Flyweights Donnie Nietes (41-1-4, 23 KO's) and Juan Carlos Reveco (39-4, 19 KO's) dueled for the IBF World flyweight title, which was held by Nietes. This fight was to go a scheduled 12 rounds.
The first several rounds did not go as the big crowd would have liked. They wanted to see more action, and the boo-birds were out in force. They were expecting start to finish drama, and were displeased when that didn't happen. All that changed a short time later.
Right at the end of the sixth round a powerful shot right hand landed for Nietes and Reveco stumbled to his corner. The referee had the ring doctor look at Juan Carlos and round seven began. But Donnie knew he had his man right where he wanted him, and two body punches and a heavy left hand put Reveco down and out. The fight was stopped at :53 seconds after the corner waved the title, and Nietes kept his belt.
The next fight on the card saw Artem Dalakian (16-0, 11 KO's) take on Brian "Hawaiian Punch" Viloria (38-6-5, 23 KO's). This fight was for the vacant WBA World flyweight title and was scheduled to go 12 rounds. There was no damage done in the first round, as the fighters seemed to be testing the waters.
That changed in the second, as Brian came to life and got in some good shots. Dalakian was strong in the middle of the fight, but just before the bell Viloria came on and was landing some combinations when the bell sounded. The two scuffled a bit after the bell. The third was a good one for Artem, as he landed punches in bunches and was quite effective in doing so. He kept Viloria off his game.
Artem was landing some good body shots, and that continued in the fourth and fifth. Dalakian scored with some good combinations in the fifth as well. Artem had to be frustrating for Viloria. In the sixth he would keep Brian at bay with his reach, and then land combinations. When he got bored with that, he would hold and push Viloria down in the process.
Finally in the seventh the fans had something to cheer about, as Brian landed a solid overhand right that rocked Artem. That punch woke everybody up, since until then point it had seemed as if we had already seen 12 rounds. It had been a pretty lackluster fight thus far. Brian landed a decent right hand again in the eighth. Other than that, not a lot of action.
The referee finally got tired of all the pushing down that Artem had been doing all night to Viloria and took a point away. Another shining moment in this dull fight. Yes, that is sarcasm you are reading. Not too much to say about the tenth. Two more rounds to go, and thank God for the ring girls, as that was the only thing keeping the crowd awake.
A head butt had the blood flowing down the face of Viloria in the eleventh round. When Brian came out for the final round the blood was still coming out. Like a shark in the water, Artem smelled that blood and took aim on the head of Viloria for the final three minutes. Still, we went to the scorecards. All three of the judges saw the fight the same, 118-109. Dalakian became the new WBA World flyweight champion and remained undefeated.
Lightweights took to the ring as Pedro Duran (16-0-3, 13 KO's) faced off against Enrique Tinoco (16-5-4, 12 KO's). This fight was scheduled to go eight rounds. Both men started off strong, but just before the bell Duran was able to get off a very accurate combination. Tinoco was able to back Pedro up a lot in the second, and when he got him on the ropes he landed some good punches. But Duran was good when in the center of the ring.
The third round was a pretty even one. Duran would land, and then Tinoco would land. We were seeing good back and forth action. That was the same in the fourth. The fighters were really taking it to each other, and as we headed into the second half of the fight, it was probably a hard one to score at this point.
Found five, and Enrique was having a lot of success with his body punches. He had used them sporadically, but in this round he really took advantage of them. His jab was also landing. It was the same in the sixth, but in the seventh, Pedro got in many good punches. In the eighth and final Tinoco was unable to push Duran to the ropes and ate many punches because of it. We went to the scorecards. One just saw it 77-75 for Duran, while the other two had it 76-76. These two fought to a majority draw.
We saw women in our second bout of the afternoon as Australian Louisa "Lulu" Hawton (7-1, 3 KO's) faced off against Anahi "Pantera" Torres (17-17-1, 2 KO's) for the vacant WBC International female light flyweight title. This fight was to go a scheduled eight rounds.
The ladies gave us action in the first round, but nobody had established a true lead early on. Hawton did show her speed, however. In the second, Torres landed some very good punches and looked quite strong. Louisa stepped it up a bit in the third, but it was still Anahi who was applying the pressure.
In the fourth one could make a case for Hawton, as she was able to land some leather on Torres. This seemed to be the closet round thus far. The fifth was also close, but Louisa seemed to be waiting to for the knockout punch to come while Torres was taking it to her.
In the sixth Torres landed solid punches on Hawton throughout the round, and really made a statement right before the bell.
The seventh was a little more even again, but Torres was still looking strong. Hawton appeared to not be able to catch a rhythm of any kind. We moved into the eighth and final round, and the jab combinations of Torres were still making an impact. Anahi threw some really hard lefts and rights in the last round, and we went to the scorecards. The scores were 79-73, and 77-75 twice, putting the belt around the waist of Torres, proving that you can't judge from just the record of the fighter. To say she was thrilled is an understatement. Great performance by Anahi.
The first match of the afternoon saw featherweights take to the ring for a scheduled four rounds as Mario Ramos (4-0, 4 KOs) went up against Oscar Quezada (7-6, 4 KOs). Early on in the first round a left fist to the body of Oscar sent him to the canvas. Seconds later Mario landed a barrage of punches on his opponent, putting a quick end to the fight at 2:19 of that very first round.
All in all, a good afternoon and evening of boxing. Not all of the matches shined, but the ones that did shone brightly. The main event was exciting. Call him Wisaksil Wangek, or Srisaket Sor Rungvisai, now just call him Champion – again! We also saw a couple of good knockouts, and the women rose to the occasion as well.