Will Deontay Wilder's Win Over Luis Ortiz Gain Him More Popularity?
Deontay Wilder scored a spectacular knockout win over Luis Ortiz on Saturday night when the fight ceased in the 10th round.
The Cuban was boxing an intelligent fight, using the straight left and lead right to offset the champion. He used counter blows whenever Wilder attempted to unload on him which was met with mixed success. Ortiz got put down in the 5th round but managed to get up and carry on. He almost had Wilder out two rounds later in the 7th after landing a barrage of flurries. But the American managed to hold on and recover over the next nine minutes.
He found openings with combinations in the 10th. Ortiz went down twice, the last knockdown the result of an uppercut which ended the proceedings. Wilder's record is now set at a nicely rounded 40-0 with 39 KO's.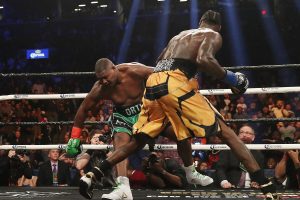 Those looking for a classic heavyweight encounter will be disappointed since it fell a little short in that regard. The bout saw both boxers respecting one another's power and reluctant to commit until one of them landed anything of note.
In the grand scheme of things though, will the win over Ortiz give Deontay Wilder the boost in popularity that his career and legacy needs?
Well, let us look at Wilder's behaviour before Saturday's fight.
One of the very few reasons why Wilder is known is because of his catchphrase, "Bomb Squad" which he has screamed before every fight that has gotten media attention. But before facing Ortiz, he had noticeably upped the ante!
The knockout artist made controversial statements such as building a career that will finish bettering the pugilistic progression by Muhammad Ali. And that he would beat a prime Mike Tyson. Hardly anybody took these words seriously, but he is on his way to becoming memorable in the minds of the public if he carries on going down this route.
Wilder was also much more intense, as if he was an animal that was held on a leash that was itching to be let off to hunt his prey. He seemed to take a lot of his anger out on those that were fortunate or unfortunate to interview him, a behaviour that could have been mistaken to disguise that he was highly strung. But one can look back and realise that he was probably simply exaggerating the way he normally acts in order to become his own hype machine, much in the same way that Floyd Mayweather has since leaving Bob Arum back in 2006.
Lou DiBella and television network Showtime's job of promoting Deontay Wilder could have been a lot better. It has been discovered that DiBella's Tweets on Twitter contained very little in mentioning the heavyweight champion. This is a boxer that is the holder of what is highly considered to be the most prestigious prize in sports! When you compare what Anthony Joshua in England has done such as many television appearances, media attention focusing on his charity work and efforts to combat crime, public appearances to talk about his life and career, it makes you wonder if DiBella realises whether or not he has a hot commodity in his hands.
Before his fight with Luis Ortiz, Deontay Wilder did not really have a fight that would make people sit up and take notice of him. He did not really have that solid name on his record.
So, will beating the silver medalist do just that?
Well, if you compare the fight with Anthony Joshua's contest with Wladimir Klitschko that took place in April last year, you probably know that Klitschko was already an established name. The general public knows who the Klitschko brothers are. Luis Ortiz is really only known to the dedicated fans.
The fight itself caused some of the attending crowd to become restless. Booing could be heard, especially during the early part of the fight, but it did have three rounds that stood out. The 5th, 7th and the 10th.
But ultimately, it is going to take more than one fight to get Wilder the attention and recognition he craves. But he is going down the right path so long as he acts as his own press agent.
Judging by his words and actions before Saturday evening, it is likely that he has finally come to realise this.