Callum Johnson opens up about his life struggles, losing his dad and wants to make up for lost time against Frank Buglioni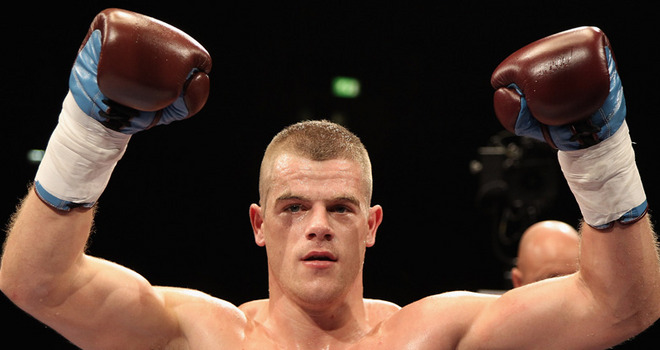 Callum Johnson hasn't fought since he defeated Willbeforce Shihepo on September 24, 2016.
Johnson picked up the Commonwealth title that night and will be looking to add the British title before looking for bigger pay days.
'The One' is set to face friend and rival, Frank Buglioni on March 24 at the O2 Arena (Millennium Dome), Greenwich, live on Sky Sports.
Buglioni is the current British champion and his record current stands at 21 wins, 15 KO's, two defeats and one draw.
A lot of things have happened in his time away from the ring. Callum shared some sad news. He told Ringnews24.com:
"After I won the Commonwealth title I had a bit of down time, I lost my dad. It sort of hit me and I had three or four months, I was down in the dumps and didn't know what I was doing with my life.
"I then got back in the gym and was due to fight but I got an injury and another injury, so injuries have kept me out for the last 10 months."
Ringnews24 would like to offer its condolences to Callum and his family.
Johnson didn't consider giving up boxing during the difficult period in his life.
"Never ever did I think about quitting boxing. I did have a little period where I did struggle in life in general, not just boxing, just in life. I had a period where I struggled coming to terms with losing my dad and everything else. I always knew I'd get myself right again and get myself back in the gym and in the ring. When I did get back in the gym I sustained a couple of injuries which put me out even longer."
After winning gold at the Commonwealth Games many fans, including myself, expected Callum to go on to bigger and better things and be further on in his career. Callum shared similar feelings:
"I thought I'd be further on, yeah. Certain things have held me back, some are my own fault and some are not my own fault. It is what it is at the end of the day, I try not to really look back at what ifs and what should have been – I just look at the end of the day where I am now in my career. On the plus side, I'm still unbeaten, I'm Commonwealth champion and I'm challenging for the British title. I just look at the plus sides rather than the negatives, to be honest."
Johnson respects the current British champion Frank Buglioni but believes he is the better fighter.
"I rate him highly – he's tough, he's proved his worth, he's British champion and defended it a couple of times. You can't say anything bad about him in terms of his boxing – he is what he is, he's a tough solid pro. We know he comes to fight and comes to win and he's a very tough man but at the same time I believe I'm better than him in all departments."
Johnson doesn't believe he is an underdog going into the fight.
"It doesn't bother me. I don't think about it if I'm being honest. George Groves went into his fight against Chris Eubank as an underdog. I don't believe I'm an underdog and my team doesn't believe I'm an underdog. I know what I'm capable of and I've seen what Frank's capable of. I know my best beats his best every day of the week.
"I do everything better than he does. I can fight better than him, I can box better than him, I'm faster than he is, I'm more powerful than he is and whichever way I need to beat him, I'll beat him."
Frank Buglioni in a recent interview with Ringnews24 said 'he believes Johnson has one of the best hooks in the business'. Johnson sent out a warning to Buglioni:
"People mention my left hooks but while they're mentioning my left hook, they forget most of my knock-outs have actually come from my right hand – what does that tell you? Does that tell you my right hand is even better than my left hook or are they forgetting about my right hand? As I say, I've scored more knockouts with my right hand than my left hook."
Johnson believes he has the power to knock-out any opponent.
"I believe I've got the power to knock anybody out if I land right. I'm not saying I'll definitely stop him but I know how tough he is. He's a tough strong game man and he's fit. I believe if I land the right shot, I'll knock anybody out."
Johnson has 11 stoppages from 16 of his fights but will he be looking to stop Buglioni?
"No, I'll just be looking to win the fight any way possible – If it comes then it comes, if it doesn't, it doesn't. Obviously, it's a 12 round fight you have to be fit for the rounds. I'm putting the work in at the gym to make sure I'm fit for the rounds – if the knock out comes it comes but if it doesn't, it doesn't.
Johnson is eager to make up for lost time and shared what winning the Lonsdale belt would mean to him.
"It would mean everything. It's just another title, hopefully to get me to bigger and better things. It's massive to win the British title, its every boxers dream from Britain. It's one of my dreams and hopefully on the 24th of March it will come true."
Callum Johnson vs Frank Buglioni takes place as an undercard fight with Lucas Browne vs Dillian Whyte topping the bill. Johnson shared his prediction on the big heavyweight clash.
"I'd favour Dillian Whyte. I think obviously he's a better boxer than what Lucas Browne is. But Lucas Browne's record speaks for its self. He's never been beat, he's knocked everybody out by two or three and he did win the world title. In that fight, he got knocked down once or twice and got back up to score the knock-out. He proved there how dangerous he is. And in the heavyweights anything can happen especially with their punching power. I'd slightly favour Dillian Whyte but I wouldn't be surprised if Lucas Browne pulled the upset off. "
Johnson shared his plans for 2018.
"First and foremost, win this British title and then go from there. I obviously have lost a lot of time in boxing. I've wasted a lot of time and I'm not getting any younger. So, hopefully get this one out of the way, win this, then like I say I got to make up for lost time and hopefully make a couple of very big fights quickly."