Sergey Kovalev rolls forward with TKO of Mikhalkin; is Dmitry Bivol, Badou Jack showdowns next?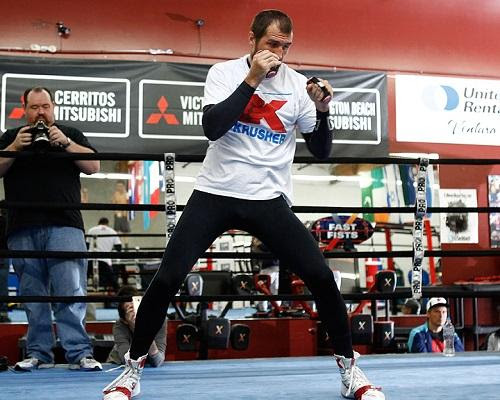 A lot can change in a matter of months in the boxing world. It's a good thing to see the career of WBO light heavyweight champion Sergey Kovalev back on the upswing.
Less than a year ago, in June of 2017, we saw Kovalev suffer the second loss in a pair of back-to-back defeats to Future Hall-of-Famer Andre Ward. The second time, which took place in Las Vegas at the Mandalay Bay, saw Kovalev get stopped along the ropes in the eighth round. Those losses, coupled with his age at 34 years old, saw Kovalev's star status dim while those in the sport wondered if he would bounce back.
But bounce back is exactly what the Russian star has done. Last night on HBO's airwaves, Kovalev stopped Igor Mikhalkin, who despite giving his best effort, was no match tonight for Kovalev, who scored a 7th round stoppage via cuts. The contest took place from within Madison Square Garden.
Kovalev (32-2-1, 28 KO) never was exactly in trouble from Mikhalkin (21-2, 9 KO), who did manage to land on occasion, but was never able to remotely do any damage or sustain an attack. Kovalev gave his view of things.
"It looked easy, but he's a good boxer, he has good stamina and movement. He controls distance," Kovalev said.
Kovalev also expressed some displeasure with his performance against the southpaw boxer, perhaps citing that it was the style of Milkhalkin that threw him off more than anything else.
"I'm always ready for a big fight," said Kovalev. "But not with a southpaw! My next fight with a southpaw will be much better with this one."
Earlier in the evening, also taking place on HBO, WBA light heavyweight champion Dmitry Bivol dominated rugged former title challenger Sullivan Barrera over 12 rounds before exploding for a 12th round knockout victory. With the win, Bivol improves to (13-0, 11 KO's).
Asked about Dmitry Bivol, who won earlier on the show, Kovalev seemed to hint that he may be after a bigger money fight that what the Russian champion represents.
"If it's a big money fight, yes, I'm ready," stated the two-time champion. "I've read on the internet that Badou Jack would be a money fight, if he beats (Adonis) Stevenson."
Jack, the former WBC super middleweight champion, challenges Stevenson for his WBC light heavyweight belt on May 19 in Canada on SHOWTIME, in what will surely be a pivotal showdown.
Getting back to Kovalev's performance last night, it's good to see the offensive Kovalev back in the mix, as he landed 186 of 525 (35%) total punches, and a very strong 165 of 362 (46%) of his power shots. Mikhalkin, meanwhile, landed just 43 of 275 (16%) of his overall punches, and 32 of 172 (19%) of his power punches.
Who knows what exactly is next for Kovalev, but he's again near the top of things in a very booming division, so surely we'll be seeing him in a special showdown later this year.