Barry McGuigan MBE gives an insight into the events that occurred at The SSE Hydro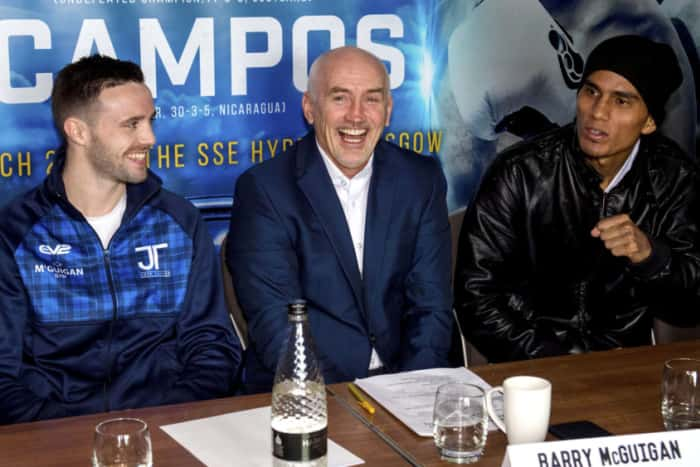 Scotland's next star in the making, Josh Taylor (11-0) was due to face former world champion Humberto Soto (66-9-2) but an injury left Cyclone Promotions looking for a late replacement.
Nicaragua's Winston Campos (30-3-5) was the fighter that accepted the challenge and the late call from Blain McGuigan. Thankfully, the show could go ahead.
Taylor, in a very dominant performance, put his man to the sword and the fight was over after only three rounds of boxing.
Barry McGuigan MBE expected Campos to perform better than he did but admitted that it's hard to judge until they step into the ring with 'The Tartan Tornado'.
He told Ringnews24.com:
"I thought Campos would have put up a better, tougher, harder fight – It's hard to know when you watch these guys on video. They look really good and then you put someone like Taylor in front of them, and you realise very quickly that he's actually not in Taylor's league. We thought he would be a much more difficult proposition.
"Taylor had been training for a 5'7 orthodox attacking fighter who is a good combination puncher. And instead we had to cope with a tall rangy southpaw who moved and boxed. I thought Taylor handled it with aplomb and he just showed his class. He is in a different league compared to the vast majority of the super-lightweights around at the minute. I don't think many are going to be able to deal with him to be perfectly honest, only the very top guys will give him a test."
McGuigan is fast tracking his boxer Taylor with the aim of becoming world champion, but by doing so he will be bypassing the British and European titles.
He explains why:
"I don't want to undermine the British and European titles – they are of course valuable.
"Certain fighters are tied up and are with other broadcasters and it's difficult going down certain routes. But, I know Taylor is a measure for any of them – he's the best super-lightweight in the country without a doubt. That includes Jack Catterall and all the rest of them and to my mind Terry Flanagan.
"We had the audacious Ohara Davies who called Taylor out and we called their bluff. All the boys in the Essex stable, Tony Sims gym, which had been on the GB set-up with Taylor, thought he was a very talented kid but they didn't think he was much of a puncher. They also thought he was hot-headed.
"Ohara Davies had been knocking everybody out in the gym. There was all sorts of rumours, knocking high profiled fighters about and flattening them. They were obviously buoyed by that and thought he could beat Taylor. But, Taylor turned him inside out and battered him and showed him what it means to be a world class fighter."
McGuigan feels they are progressing Taylor at the right speed and he gave us an insight into his coaching:
"We're pushing him at the right speed and we're giving him the right fights. We're quite good at what we do and we know how to bring guys through. We've proved it before and Shane is a phenomenal coach and he works with a great solid team around him. Josh Pritchard is a very fine young coach and Daryl Richards is a great strength and conditioning coach who works alongside John Connor – owner of the Irish strength institute in Dublin. His knowledge on strength and conditioning is second-to-none.
"As a world class coach, you have to wear several hats. You're expected to know all of the boxing side of things, but there's also the strength and conditioning element that you need to understand. Then, of course, there's nutrition. You need to know how to make weight correctly. Finally, there's also mental attitude. Coaches have a lot of areas to cover, but Shane ticks every box.
With so many world title options out there for Taylor, McGuigan – a former world champion himself – shared the path he would like to take:
"We'd like to go down the WBC route. I've got a very good relationship with them. They're a top organisation and Taylor is already their silver champion.
"But, we're happy to work with all the governing bodies. It's whatever comes around at the right time. You've got to look at what's available and look at what's the best way to go for us. For every individual, it's different, but we will assess the Super Lightweight landscape.
"There is no doubt the WBC is the preferred route. Ramirez and Imam are fighting on the 17th of March. I think Barthelemy and Relikh are fighting on the undercard of Garcia and Lipinets [Note: interview was conducted prior to the fights]. And Flanagan is fighting Hooker for the WBO title on April 14. So, we will know in a couple of weeks who the champions are going to be. Josh may need another eliminator but we don't know – we're going to keep our options open and see how things unfold.
Taylor announced post fight that the Mikey Garcia fight is attractive to him. McGuigan shared his thoughts on Garcia and the possibility of them meeting in the ring in the future.
"I honest to god have no worries about Taylor fighting anybody.
"Garcia will also fight anybody, but he's already outlined his intentions. He wants to beat Lipinets and go down and fight Linares [Linares has since agreed to face Vasyl Lomachenko on May 12 in New York]. If he can't get the fight with Linares he might go straight to 147 and fight the likes of Errol Spence, Keith Thurman and Terence Crawford – that's where he wants to go.
"I'm not going to be stupid – if that bout with Garcia was to be made it would be a very tough fight indeed. Taylor has got the ability to mix it with any of those guys, though – I'm not worried about any of them.
"That said, you've got to be realistic. He is going for the big-name fighters because that's where the money is. We've seen him deal with welterweights in sparring – hitting them and hurting them. So, he must feel he can compete at 147.
"As far as that fight goes, I expect Mikey Garcia to win comfortably against Lipinets, and possibly even stop him late." [Garcia went on to win a wide points decision].
Elsewhere on the Cyclone Promotions bill – labelled 'Scotland's Finest' – Jason Easton was taken to hospital after his Fight of the Year contender with Sunderland's Glenn Foot. Foot won the fight with an eleventh round stoppage win after an exciting back-and-forth battle. McGuigan was full of admiration for both fighters and gave us an update on Easton:
"He's out of hospital. He was fine – they just wanted him in overnight for observation. It was one of the fights of the year already and we're only in March. I think we'll struggle to get a better round than the eighth in that fight, which was an all-out slug fest. We always knew it had the potential to be and so it turned out. Jason's a proper warrior and he gave it his all. He knew Foot would be dangerous early on and it played out that way. He [Jason] just got tired and couldn't get back into it.
He was hurt himself then he hit him and had Foot out on his feet. Foot said after the fight he'd never been hurt like that before. It was a great, great fight and who knows? Maybe we could see a potential rematch down the line. I'd like to see Jason ease himself back in with a couple of confidence-boosting fights, just to get back into the swing of things.
"Congratulations to Glenn Foot. He hasn't had it easy in his career. I thought he beat Josh Leather comfortably and didn't get it. His performance against Easton was just magnificent – great, great display."
McGuigan feels that Glenn Foot can now go even further in his career, and it wouldn't come as a surprise if he fought for a European or even World title down the line.
"Jason got his tactics wrong. He didn't move his head enough in the first couple of rounds. It's not his style of fighting. He stands up tall and he punches down on most of his opponents. He's a terrific puncher and he can bang. But, he's also pretty hittable and he just didn't move his head enough and he got nailed.
"You're not going to get away with that from someone like Glenn Foot. Foot is an excellent box/fighter that's aggressive and comes forward. He's one of the best kids in the domestic scene. I wouldn't be all surprised if he goes onto fight for more major honours in the near future.
Chantelle Cameron defended her IBO Lightweight title in impressive style. She won every round against two-time World title challeneger Myriam Dellal. McGuigan was very happy with her performance and he expects bigger and better things for Chantelle with some massive fights in the not too distant future.
"I was very impressed. It was always going to be difficult to get Myriam Dellal out of there. She had her gone probably three times in the fight in these two minute rounds. It would be preferable for her if they were three minute rounds because she's got an unbelievable engine. She never lost a round and out-boxed the girl, she beat her up and she almost stopped her on more than one occasion.
"She shook her to her boots, but she got a bit of a bruising on the left eye because of a thumb in the eighth round. So, instead of attacking like she wanted to and finish like a train, she had to outbox her in the last couple two rounds because of the eye damage. She still dominated and Dellal said she'd never been hit like that in her life. The France native has fought Delfine Persoon for the WBC Lightweight title, and she's also challenged Maiva Hamadouche for the IBF Super Featherweight strap. I felt she won that fight against the latter as well, which is testament to her pedigree. It was a blistering performance from Chantelle Cameron, so I was very happy.
"I'm telling you right now she's going to beat all the super featherweights and lightweights in the world – every single one of them. It's our job now to get her into another couple of unification matches.
"We'll fight any of them, there's none that we are concerned about. The great thing about Chantelle is she is 26-years-old and all these girls are older than her. The two that we are targeting – Persoon and Taylor – are 32 and 31 years of age. Chantelle is in her prime years, and she's getting better every day.
"She's got a great relationship with Shane. She's punching harder and putting combinations together and that showed on Saturday night. Her jab was superb, and she was able to move seamlessly from body to head with her combinations. But, she had a bit of a leaky left and at times was getting caught over the top by a right hand. She's got a very sturdy chin. She's just a strong, strong girl who is going to improve and she's going to beat everyone that we put in front of her."
Lee McGregor won by stoppage against Nicaragua's Pablo Narvaez in an impressive display. McGregor hasn't had life easy. He lost his mother to cancer before his grandmother and cousin both passed away just a couple of weeks later. He also lost his grandfather a fortnight before the fight. McGregor has had a lot of personal anguish to deal with. McGuigan feels for the young fighter and expects a massive future from the talented Edinburgh boxer.
"McGregor is a superstar in the making – He is one talented young man, and he's going to win a lot of titles. He can bang, he can box, he's improving and he's got a ferocious appetite for learning. He's got a huge fan base and is a very likeable kid. He's very appealing to people and fans have taken to his back story. People really love him and the way he's been able to come back from all that and bounce back. He really is a terrific young man and he's got so much talent.
"There's been a bit of argy bargy on Twitter with Josh Wale. I hope Wale retains his title against this young kid Kash Farooq, because we want McGregor in with him as soon as possible. McGregor is ready to roll; he's sparring 10 rounds in the gym with two or three different sparring partners. He's just flying; he's a proper pro fighter and can win weight divisions from bantamweight right through to featherweight. He's got a very bright future ahead of him.
"I genuinely believe if we can get him another win, I'd be happy to put him in with Josh Wale. Right now! That's how good he is."
McGuigan was keen to pay homage to another one of his rising stars by the name of Chris Billam-Smith, who is beginning to make waves in the domestic cruiserweight scene.
"There's a cruiserweight in our gym that I'd like to mention, Chris Billam-Smith and he fights this weekend in his fifth professional fight [Billam-Smith made it five stoppage wins from five, as his opponent Danut failed to come out for round six]. He's a real talent. He has to give away a weight on Friday at the O2 Academy in Bournemouth against Gheorghe Danut. He's fighting a heavyweight in the hope that he gets some rounds – he hasn't gone past three rounds yet. He's a real, real talent in the cruiserweight division. He's been sparring with Matty Askin and Stephen Simmons before their British title fight which happens this Saturday. Chris' nickname is 'the gentleman'. He looks like a throwback to the 1930's. He's a handsome young man and a very nice guy. He's great to have around, and he has a very positive influence on all the fighters in the gym. He truly is a gentleman in every sense."
Due to the adverse weather, Cyclone encountered a lot of problems whilst trying to get the March 3rd show at the SSE Hydro to go ahead. The public workout was forced to be cancelled, with the traditional fight week press conference and weigh-in having to be moved to a more central location. McGuigan shared some of the other issues he had to deal with in the wake of the 'Beast from the East'.
"We were very happy with the show under the circumstances. It was dreadful, the weather was diabolical and the gods were with us – somebody up there likes us. We were very fortunate because a couple of the judges couldn't come in from America due to the lack of connectable flights. The British Boxing Board of Control stepped up to the plate and we got some replacements. Terry O'Conner, John Keane, Victor Loughran and a few others – The Board of Control were fabulous. We managed to pull it off and the snow cleared. The crowd was amazing. We can't wait to come back up to Scotland in June."