Matty Askin leaves his family to train like Rocky; Aims for bigger fighters after Stephen Simmons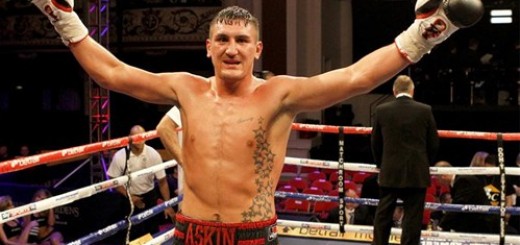 England's Matty Askin (22-3-1) defends his British title against Scotland's Stephen Simmons (18-2) this Saturday at York Hall, Bethnal Green.
The Blackpool fighter won the British title against Welsh fighter Craig Kennedy with a KO in round six at the Motorpoint Arena, Cardiff.
Askin explained what it felt to become British Champion.
He told Ringnews24.com:
"It felt really good. It was something we had been aiming for, for a good few years and now it has come true. We're looking at bigger things and hopefully we'll hit the next target."
'The Assassin' feels that Simmons has earned his title shot but he isn't of the same level.
"He's a good fighter and he's deserved his number two spot.
"I just think there are levels in my own honest opinion. I don't feel he's got better footwork than me, he doesn't punch harder than me, he doesn't move as good as me and he's not as fast as me. When you put all of them together, I can't see him winning. I struggle to see how he's going to cause me problems and outwork me. I can counter that with the shots that I'll be landing. He is a good fighter; I just think I'm on a different level."
Askin rates his power as one of his main attributes and Simmons will feel that power come Saturday.
"Power, power and movement and he'll realise that soon as we're in there. In the interviews afterwards they all say 'I couldn't believe how fast he was and how hard he punched' they must think I'm a right pu**y, but once there in there it's a whole different ball game."
Askin decided to sacrifice time with his family in an attempt to be prepared 100 percent. He moved away from home to live alone at Charity Farms to prepare mentally and physically in a "Rocky"-esque style.
"I've got a three-year-old boy who wakes up at three o'clock in the morning screaming and crying. And little things like driving to the gym which takes me about an hour and a half every day. Little things like that I have taken out of the equation to make life a little bit more stress free. I don't have to worry about rushing to get my son from nursery or cooking dinner for my partner when she gets home.
We sat down and talked things through and luckily we got help from both of our families, we've got good families and everyone dug deep so I can focus on what I needed to do."
Askin felt that in previous training camps he possibly couldn't prepare 100 percent and he felt a change was needed.
"Possibly – You've got things coming through the door; you've got bills and always thinking about other things. At Charity Farms I've had no distractions. I trained twice a day and if I wanted I went into the woods and went on long walks and I wasn't eating s**t like at home. I live right next to the shops and I could just get a bar of chocolate and whatever. It was just so much better for me mentally and I'm in a better spot. "
Askin revealed he may consider this for future camps although he had some regrets.
"Yeah, but in the Summer – it was freezing [laughs]. When it started snowing it was -4, I was regretting it a little bit to be honest with you. It's something I'd look to be doing in the future. I and my partner were looking at buying a static caravan in Chorley. And whenever I went into camp I'd drive up and live there, it would just take the stress away. It's something we could consider doing."
Simmons in a recent Ringnews24 interview claimed Askin can't deal with pressure fighters and he used Ovill McKenzie as an example. Askin dismissed that claim:
"Of course I can, I fought McCarthy and he was on his front foot. McCarthy is a better fighter in my eyes than Simmons. McCarthy is a lot better; he's a brilliant fighter in fact.
"I think he's going to have a big shock. I boxed twice in two and half years when I boxed McKenzie. I had 18 months out then I boxed Menay Edwards and then I had 12 months out and boxed Ovill McKenzie.
"I've got a good run going here, I'm busy and I've beaten some good lads. That was the only factor in the McKeznie fight and McKenzie can punch, well could punch. He's going to have a shock on Saturday night when I meet him in the centre of the ring and I'm going to be hitting him hard – they'll be rethinking their game plan."
Simmons accused Team Askin of deliberately putting Wadi Camacho on the bill to try and get under his skin. Simmons fought and defeated Camacho in 2014. A bemused Askin added:
"[laughs] Is it f*ck, true – I don't even know Wadi Camacho. It's because the promotional side have got something to do with Steve Goodwin and I think they'e working together, that's the reason they got him on. Why's he bothered about Wadi Camacho? He's got me to face – He's a f**king be**end. "
Askin believes he is getting to Simmons and there are signs he's starting to crack.
"Today I looked into his eyes and he looked nervous and he's coming up against the best fighter he's faced – it's as simple as that.
"He's got a big challenge and he's already talking about retirement and working. This is a big payday for the lad. Hopefully both of us come out unscathed and we can carry on with our lives, we've both got families.
"I'm getting to him, I'm pi**ing him off a bit."
Simmons and Askin were meant to fight in Scotland but injury forced Askin to pull out of the fight. He explained why and gave us an update on the injury:
"The injury is spot on. We've done everything, we've had a hard camp and everything has held up well. The thing is, injuries come and go; you're putting your body through that much stress with training, these things happen. There's no way I just won that belt and was going to go into a fight one handed – it just wasn't going to happen. It pained me, it killed me to pull out of the fight but I've got to think clever. Why fight and lose the belt with everything I've earned for the sake of a bit of pride?"
After Askin defeats Simmons he wants to test himself against the best in the division. He revealed that he has an opportunity to gauge where he is at in terms of fighting the top fighters.
"I'd like to aim for the bigger lads, like Murat Gassiev and Oleksandr Usyk. I'm going over to Dubai after this fight for a couple of weeks to spar with Usyk for the Gassiev fight. It will be a good yard stick to see where I am at."