Jose Ramirez Stamps Himself a Champion After Grueling Battle With Amir Iman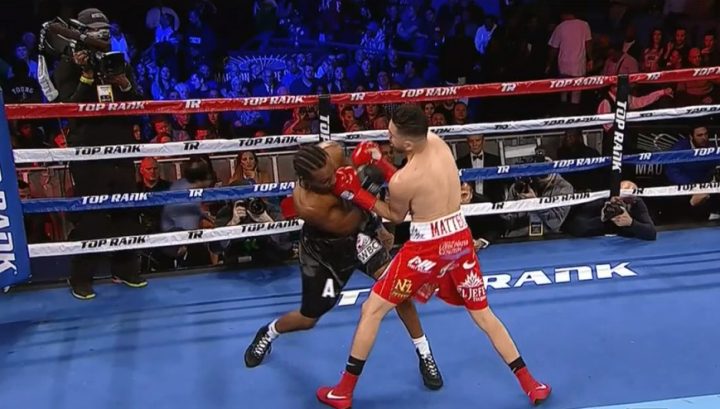 Young Jose Ramirez stamped himself a champion on Saturday night, after a grueling, 12-round battle vs. Amir Iman from the Theatre in New York's Madison Square Garden. With the win, the 25-year old Ramirez captures the vacant WBC junior welterweight title.
Scores across the board read 120-108, 117-111, and 115-113. The 120-108 card admittedly appeared too wide, as Iman did appear to do enough to capture a few rounds here and there. It was a classic battle of the precise boxing and movement of Iman, in the face of the patient yet undaunted Ramirez, who appeared to pick up the aggression round by round. Ramirez is trained by Freddie Roach, who is known for his offensive approach.
Ramirez moves to 22-0 (16 KO's) while the 27-year old Iman falls to 21-2 (18 KO's). This was Iman's second defeat following his upset loss to Adrian Granados in 2015. According to CompuBox, Ramirez landed 282 of 799 (35%) of his total punches, and was able to connect on 44% (228 of 536) on his power shots. Imam landed 182 of 653 (29%) of his total punches, and 108 of 372 (29%) of his power shots.
Ramirez appeared a bit raw at times during the fight but got more and more comfortable as the rounds wore on. His willingness to attack and mix it up from the body to head makes him an offensive threat, though he can still work on some facets of his game.
Former unified junior welterweight champion Terence Crawford had the division on lock, but him relinquishing the title made the 140-pound class became wide open. Crawford is now campaigning at 147 pounds, and this was the perfect opportunity for Ramirez to step in and shine, and he did just that.
Ramirez now likely will soon defend against interim champion Regis Prograis, who just last weekend stopped former champion Julius Indongo in only two rounds. That matchup would also likely be wildly-entertaining, as was tonight's match.
Speaking post-fight, Ramirez reflected on going 12 hard rounds and winning the title.
"A 12 round war," Ramirez said of the fight. "You could tell in the last championship rounds I was having a good time. Amir came well prepared and [we] gave the fans a great boxing fight."
Regardless of how anyone had the fight scored, it was easy to tell that Ramirez was ahead going into the 12th and final round. Still, the Northern California fighter continued to press the issue and go for the kill.
"Because I'm a fighter and this is what I signed up for," Ramirez noted. "I'm glad
I listened to [Freddie Roach] the last couple of rounds, but I enjoyed every second. It was a very proud moment and he can call me a world champion. I feel very blessed."
The 140-pound division has a new champion and boxing has a new star on its hands.