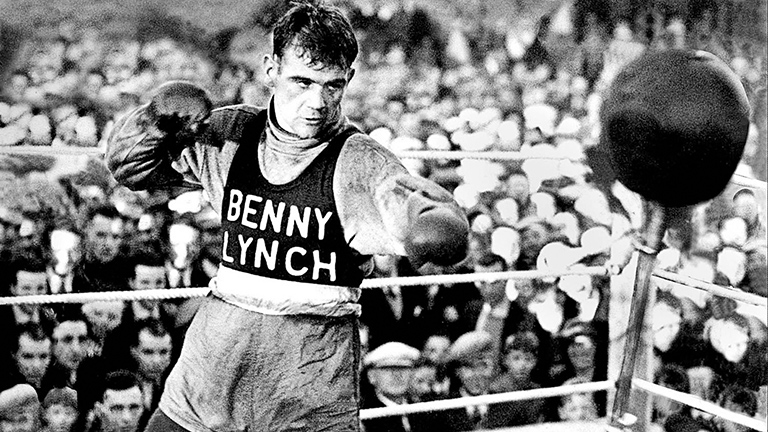 Born and raised in the Gorbals of Glasgow in 1913 Benny Lynch became Scotland's first ever world champion winning the Flyweight Title against Jackie Brown. His life would be a tragically short one as he passed away at the age of 33 with alcohol
Lynch was to have 119 professional fights winning 88 with 14 defeats and 17 draws to his name, he won his first Scottish title on the 16th of May 1934 in a 15 round points victory over Jim Campbell. As was often the way then the rematch took place one month later on 27th June when again Lynch was victorious over the 15 rounds.
On the 4th March 1935 at the Kelvin Hall in Glasgow, he fought a 12 round draw with world champ Jackie Brown although the title was not on the line that night. It would be later that year he would again fight Brown and this time the World Flyweight Title would be the prize on offer. On the 9th September at the Kings Hall in Manchester Benny Lynch scored several knockdowns before the referee intervened in the 2nd round and he heard the words every fighter dreams of hearing – and the new champion of the world at only 22 as well as being British champion.
Eight fights and almost a year to the day later on 16th September 1936 Benny knocked out Pat Palmer in the 8th round at Shawfield Park in Glasgow to defend his British Title, World Title as well as becoming the EBU European champ.
19th January 1937 and another nine fights in the Empire Pool at Wembley was the stage for his next world title defence, this time against Benjamin Gan or Small Montana as he was known. The fight went the full 15 rounds with Lynch being declared the winner
Later that year on 13th October 1937 he went up against Peter Kane, who was at the time 42 fights undefeated with only 8 of them going the distance. In front of a roaring crowd of approximately 40,000 people, Lynch defended his world title with a sensational 13th round knockout, it would be the last time he would defend his title in a ring.
Weight issues eventually saw him dethroned as he lost his title on the scales against Jackie Jurich on the 29th June 1938 even though he beat him with a KO in the 12th round at St Mirren football ground in Paisley. There would be only 2 more fights in his career and both were losses a points defeat to KO Morgan in September 1938 and just over a week later on 3rd October 1938 Benny Lynch would have his final fight in a ring being knocked out in the 3rd round by Aurel Toma.
With only 3 years in the ring since becoming world champion Benny's career was over by 25 and his spiral into drink was to be the one opponent he would never defeat and ultimately it took his life at the tender age of 33 years old.
Benny Lynch will be and should be remembered as one of Scotland's greatest ever fighters it is a shame we never got to enjoy him for longer. More importantly than this, it is a shame he couldn't get the help he needed and allow his family to be able to have spent more time with him.
Read more articles about: