Could we Realistically See Anthony Joshua Fighting in the UFC? Boxing Superstar discusses the latest rumors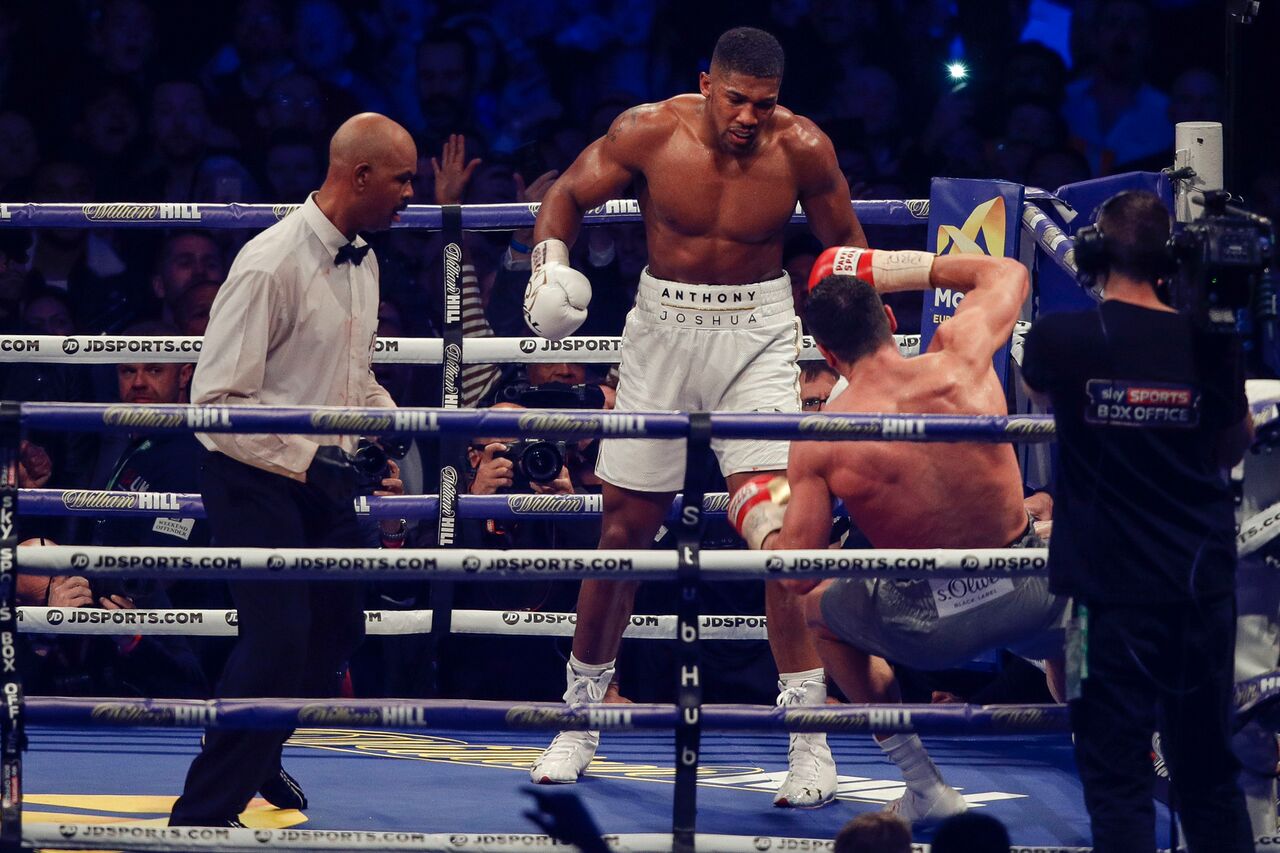 As Fight Week approaches for IBF/WBC heavyweight champion Anthony Joshua, the talk on him couldn't be much higher. Joshua (20-0, 20 KO's) faces off with WBO heavyweight champion Joseph Parker (24-0, 18 KO's) inside of the Principality Stadium in Cardiff, Wales on Saturday, March 31 in a fight that will go a long way towards determining the future of the heavyweight division as well as what lies ahead in the UK champion's career.
What is interesting about Joshua is that fact that, aside from his obvious fighting ability, he is clearly one of the most marketable athletes not just in boxing, but in sports today. That charisma has definitely caught the attention of UFC president Dana White, who recently mentioned how he would be interested in signing the 28-year old to his own promotional company.
During a recent conference call, when asked of the recent UFC talk, Joshua pledged his alliance to his current promoter Eddie Hearn of Matchroom Boxing.
"I'm riding with Eddie," stated Joshua. "He's backed me from the get-go. And the second thing, I'm a boxer. I'm not into the UFC so I don't know what their plans are. But every time I've been asked about UFC and if I would make that crossover like McGregor did with Mayweather, I've said yes."
UFC superstar Conor McGregor crossed over and challenged former pound-for-pound king Floyd Mayweather to a boxing match this past Aug. 26, losing via 10th round TKO, as noted by Joshua. Joshua knows fully well the kind of business acumen involved to make such a crossover himself, as believes Hearn and White could be the people to help make it a reality.
"I'm interested because we can all work together," Joshua clarified. "Mine and Eddie's relationship is a really good working relationship. I'm sure Eddie has an interest in working with Dana White. If it's good business, it makes sense. I'm not into business. I'm sure Eddie's not going to say, 'Dana White, we're not interested in working with you' when we don't know what's on the table."
"We'll listen and a hundred percent, if it makes sense, we're all in," Joshua added. "I'm happy that Dana White is coming into the game and hopefully he can add some excitement, progress forward, make some good money and make some good fights."
Ever the shrewd businessman with a growing list of all-star clients, it's hard to imagine a promoter in boxing who is on a bigger rise than Hearn is at the moment. When asked about the prospects of Joshua in the UFC, Hearn shared his view.
"If Dana White wants to speak to us, obviously Anthony's with us," Hearn said. "We're willing to talk to anybody and we do great business with everyone. We work with anyone, if the business is right. In the meantime, I'll sign Conor McGregor and it'll be fair."