Anthony Joshua prediction: "I can get him out of there between 6-8"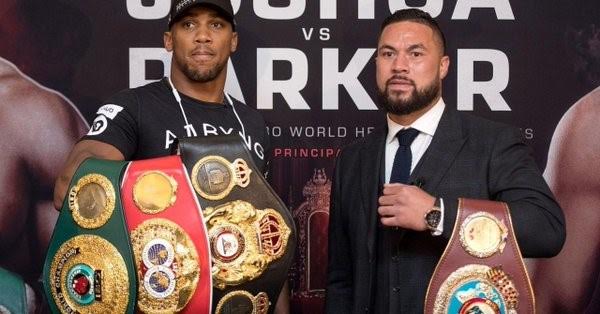 Unified heavyweight champion Anthony Joshua 20-0 (20) has revealed changes to his training regime as he claims he will knockout Joseph Parker 24-0 (18) in under eight rounds when the two meet at Principality Stadium in Cardiff, Wales where up to 80,000 people are expected to watch the fight on March 31.
Nine days out from his career-defining clash with the Kiwi WBO heavyweight champion, the 28-year-old Parker says that changes in the gym will make him even more dangerous on fight night.
"What I've learned is that boxing is simplified when you incorporate your feet. Even though it's a game of punching people, your feet get you in and out of the way," Joshua said to Sky Sports UK.
"So if I can transform what I've worked on in the gym for the last 10 to 11 weeks into the ring then hopefully I can get him out of there between six and eight."
The teak-tough New Zealander, who is of Samoan descent, has never been dropped or visibly hurt in his boxing career.
While Parker has said he expects to come in light for this fight, Joshua has revealed he anticipates weighing in below 240-pounds himself.
"I'm looking to slim down for this fight, to (238, 239) pounds," said Joshua. This isn't Weight Watchers; nobody should go into camp focused on weight, but you do have to focus on the type of fight and fighter you're facing."
Joshua believe that Parker is more effective fighting off the back foot.
"Looking at Joseph Parker, you've got to look at how he boxes on the front foot and on the back foot. When he's on the front, he finds it difficult to land combinations. When he's on the back foot, he's performed better," said Joshua.
"We're still in preparation, but so far so good. This is the first time I'm manned up with my trainer and said, "This is what I think is working and this is what isn't. Can we make some changes?"
Talks are already underway for Joshua to face his WBC counterpart Deontay Wilder of the United States to crown the first undisputed heavyweight champion since Lennox Lewis 18 years ago. Victory against the big-hitting American would see Joshua become the first heavyweight to hold the WBA, WBC, IBF and WBO titles simultaneously.