Luke Keeler believes he has the better boxing ability as he looks to showcase his talents against Conrad Cummings; Targets Billy Joe Saunders' WBO title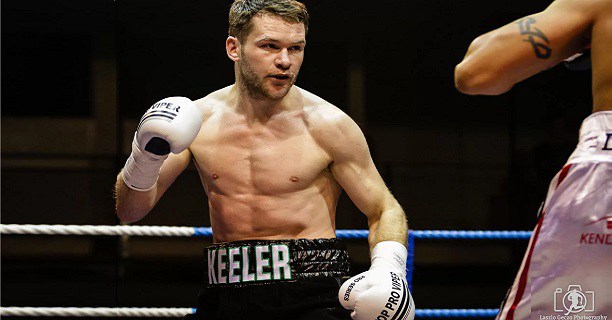 The WBO interim featherweight world title will be on the line when Carl Frampton and Nonito Donaire clash in a blockbuster bout at the SSE Arena in Belfast on April 21, live on BoxNation.
Supporting the main event is Republic of Ireland's Luke Keeler [13-2-1] who will take on Northern Ireland's Conrad Cummings [13-1-1] for the WBO European title.
Keeler has had ups and downs in his career with lots of learning curves in his 5 year career as a professional boxer.
He told Ringnews24.com:
"I'm happy enough; I've had a couple of good learning fights. I've been in Prizefighter – I damaged my hand in the first fight against Luke Crowcoft. It was a close fight [Tom Doran], it was a three round fight and I didn't take a lot from that. I learned lessons and I didn't really class it as a defeat.
"The rematch with Tom Doran was madness, I rushed in after catching him badly and I got caught in the back of the head that never got called. They were good learning fights and I've learned from them and moved on. I wouldn't be where I am today if it wasn't for those learning fights. "
Keeler rates Cummings as a quality fighter, and he can't wait to share the ring with him.
"He's a quality fighter; he's up there with the best at home. He's a come forward fighter and I've always performed well against guys that come forward, my style always gels. At this stage of my career, he's the perfect opponent and level for me to progress – I couldn't pick a better opponent. I'm happy that it's Cummings and it will be an exciting fight. He's not shy and can mix it up like myself. I think, on his day, he's a come forward fighter and I'm delighted with the fight. "
Keeler is taking the fight serious and he revealed to RingNews24 he has made big changes.
"It's up to me now, I'm fully committed. I was always working fulltime during my pro career – I finished work at Christmas. I'm training twice a day and am fully committed. It's up to me now to showcase what I can do with the commitment behind me. The stage that I'm at and the kind of fighter he is, it's all set up nicely to show my best."
A rematch took place in February against Adam Jones, an opponent Keeler beat on points previously. Referee John Lowey scored the fight a draw at Keeler's disappointment.
"The guy that I fought, he came in a good bit heavier – he's upset a few guys, he's a decent boxer. I thought I won the fight comfortably. It was a four round fight and the referee scored it a draw. I think everyone in the place thought I won – I was shocked at the result.
"It got the cobwebs off me – I had surgery at the end of September in my shoulder, I had a tear in my shoulder. I got bicep roots connected into my shoulder. I wasn't punching for a couple of months and I've been easing in with my training. It was good to get the cobwebs off in an actual fight. I didn't take a lot from the fight. The referee called it a draw but, to be honest, I thought I won comfortably – Jones probably won a round.
"Cummings probably looks at the result and thinks I drew with a journeyman, and I don't know whether he'll take confidence from that. "
Keeler feels he is the better fighter.
"He's a come forward kind of fighter but I think I have the better jab and boxing ability to beat him. I'm set up as a puncher and I hit hard and I have an edge on speed. I plan on showcasing those talents and proving that on the night. He had a bit more success in the amateurs that made that kind of come forward busy style over three rounds, but it's a ten round fight. I have experience in ten round fights and I've learned from my couple of losses – I'm buzzing for the fight. The fact that I'm training fulltime twice a day now, it's brought me on and there's a difference in training than before when I was fulltime working night and day. "
Both fighters fought on the same bill recently in Belfast. Keeler caught the Cummings fight but wasn't overly impressed.
"Yeah, I stayed and watched the fight. It was good to see him and after the fight I had a good feeling in what I seen in him. His opponent wasn't much, he wasn't great. It was good to see him up close and I had a good feeling after."
Carl Frampton tops the bill against Nonito Donaire, Keeler shared his prediction.
"I think Frampton has the edge. Donaire is there to be taken; his legs have gone a bit. He's not the fighter he was but it's a tough fight at the same time and he was a pound-for-pound top 10 at one stage. He lost to Rigondeaux but he was untouchable, I wouldn't take anything from that. It's still a tough fight for Carl and it's one that puts him straight back into the mix. I think Frampton beats him on points by four or five rounds. "
Keeler is focused on the challenge that lies ahead, but he has set a long term goal.
"I'm fully focused on April 21 – I'm not looking past that and then I'll push on and then go from there.
"This fight gives me a ranking with the WBO but I'll be looking for guys that are ranked by the WBO. Billy Joe Saunders has the WBO belt and he also fights with MTK. My plan after April 21 is get a couple of learning fights with guys who are ranked high with the WBO and push up those rankings."
Luke Keeler would like to push for a world title in 2019 and he believes he can achieve this with the backing from MTK.
"It will start off as an achievement and success by winning this WBO European title. I'd like two or three learning fights, good fights that push me on right up them rankings. I want to be in the position to challenge for a world title 2019. I'd take this fight and another three after it, well matched. It's great to have MTK behind us and you're not taking fights as the B side. MTK are looking after you and getting guys in and you have their backing. My plan is to win and win impressively for the WBO European and push up those rankings. Be in the position to challenge in 2019."