Morgan Jones expects a clinical performance on the big stage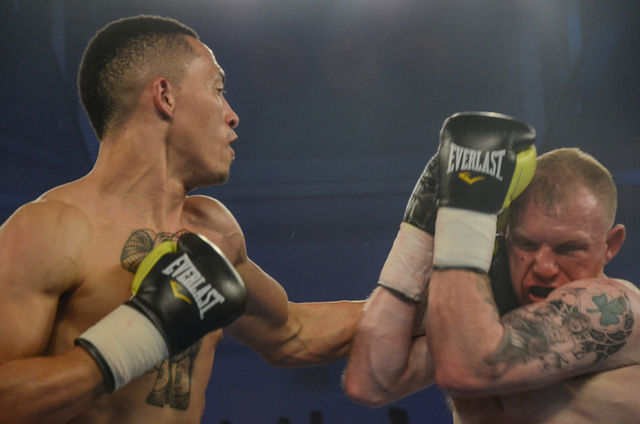 Aberdare's Morgan Jones (12-0-0, 5KO) forms part of a Welsh trio featuring on Matchroom Boxing's blockbuster show at the Principality Stadium on 31 March 2018.
The undefeated super middleweight will take on New Zealand boxer Mose Auimatagi Jnr (9-1-2 5KO).
Morgan Jones is no stranger to big events. He was last in action on 1 July 2017 fighting in London's O2 Arena. Jones fought Jade Karam and got a third round stoppage on the big stage.
Looking back Jones said:"I was a little bit shakey in the first round, I had nerves fighting on the big stage on a Matchroom card. This time around it won't happen. I'll be much more calm. I'll be used to how they got the ring set up. First time around I was a little bit tentative but then I got into it and stopped him in the third round. This time around I will get into the fight much quicker."
Jones trained at St Joseph's boxing club but made the move to Manchester. When asked how training had gone Jones said;
"I have kept myself in pretty good shape. I was ill over December. Since January I have been in Manchester with Lee Beard. In Manchester I have been doing a lot more technical work. Hell of a lot more sparring. A lot more tougher sparring. It's been a completely new experience.
I've been home this week and last week. I've been training hell of a lot doing a lot of roadwork. I've been training all year."
Mose Auimatagi Jnr is on an eight fight win streak and is managed by the show co-promoters Duco Events.
Morgan said: " I've seen some footage. He's got a good record and is a good strong fighter. I don't look too much into that. All I can do is prepare the best I can, which I have and perform the best I can, which I will."
This will be the thirteenth fight for Jones but he is keen to be more active.
He said: "To be honest all that out of my hands. I'd like to be out every month. I would love to fight in April on the Lee Selby-Josh Warrington undercard at Elland Road in Leeds. Whatever comes my way I'm ready for it. I'm pretty sure the British super middleweight title is vacant so I would love to fight for that at the end of the year. It would be the best way to end this year.
When asked what we can expect on Saturday Jones said:
"A clinical performance with a sixth round knockout."