Tony Bellew accuses the board & sanctioning bodies of not looking after David Price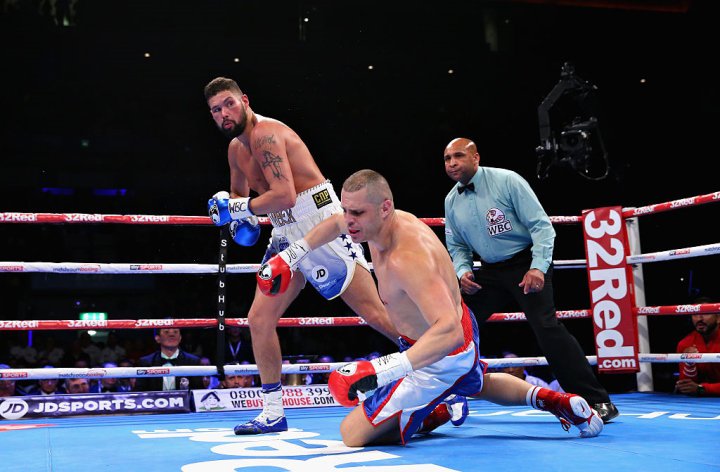 Former WBC cruiserweight champion and current heavyweight contender Tony "Bomber" Bellew 29-2-1 (19) has spoken out on Twitter against the British Boxing Board of Control (BBBoC) and the sport's multitude of sanctioning bodies for not protecting former amateur star David Price 22-4 (18), who fights top five-ranked Russian Alexander Povetkin 33-1 (23) on the undercard of the heavyweight unification bout between Anthony Joshua and Joseph Parker at Cardiff's Principality Stadium this weekend.
"He's a brilliant fighter and on his day he is capable of cleaning out ANYONE!" Bellew wrote on Twitter.
"He's been wronged by the game imo! I'm hoping Saturday night he can change all that! It would be bitter sweet if he was to KO Povetkin!"
Povetkin twice failed drug tests in 2016. The first dirty test was ahead of his scheduled mandatory title challenge against current WBC champion Deontay Wilder of the United States. The substance was Meldonium and the fight was halted in its tracks.
In an effort to breathe some life back into its stagnant heavyweight division, Mexican sanctioning body the WBC mandated a match-up between Povetkin and former titleholder Bermane Stiverne on December 17 as a final eliminator for Wilder's title.
This time Povetkin tested positive for Ostarine, a banned steroid [SARM].
The fight with Stiverne fell through but Povektin still fought on the date, stopping late-replacement Johann Duhaupas in six rounds in Ekaterinburg, Russia.
"We are all fighters and you win some you lose some BUT to be beat by a man and then he fails a post fight drugs test is disgusting and them defeats should be overturned but they haven't! Other fighters in same situation have had there's overturned," wrote Bellew on the social media platform.
"…I'm a limited fighter who has made the very best of what I had! An unreal amount of dedication & determination has got me here. As for David he's not been looked after like he should of been by the board or the sanctioning bodies. They took his £ though," continued Bellew.
"He's a good man who deserves some luck to go his way.. If he turns up on Saturday night and is focused he will iron Povetkin out."