Interview: Kieran Gething fully focused on April 14th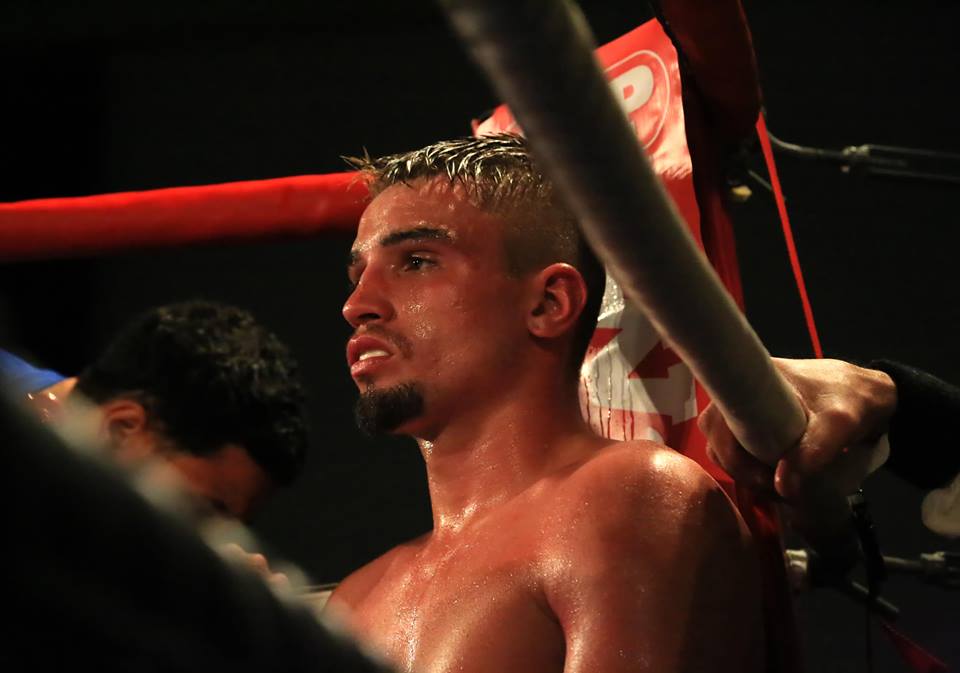 Pontypool based orthodox boxer, Kieran Gething was preparing for the biggest fight of his career. On April 14th, at the Ice Arena Wales, Cardiff, he was meant to face Tony Dixon for the Welsh Welterweight title. This week he got the news all boxers dread, his opponent had pull-out due to injury.
Now the 23-year-old will face the hugely experienced Bradley Pryce (38-24, 20 Kos), over six rounds. No title on the line but still a good challenge. I caught up with Kieran (4-1-1, 1 KO) at St. Joseph's Boxing gym in Newport, where he was sparring.
How did you first get into boxing? What was your first gym?
Pontypool was my first gym and still is, been there for twelve or thirteen years.
I started boxing the session after my brother first went. He went because he'd had trouble with bullies. In reality, I couldn't have done anything but went with him cos I'm the older brother (laughs).
Turns out, I stuck it out and he went into coaching.
What was your amateur record? Amateur achievements?
55 fights, 35 wins. I boxed at a very high level from the start, fought for the Welsh title in my fifth fight. I won junior, youth & senior titles (at Welsh level). A silver medal in the CYP British championships, silver medal in the Golden Gong tournament in Macedonia. A bronze in the GB's, I lost to the Gold medalist.
Why did you decide to turn professional?
For years I had people telling me my style suited professional boxing. I've always wanted to win a belt. It sounds silly but from when I was a kid playing WWE wrestling and lifting title belts – I've always wanted to do it (laughs). Nothing to do with money for me, I want the belts and as many as I can.
Didn't fancy doing wrestling?
No, no. My shoulders wouldn't hold out (laughs).
Are you a full-time boxer?
At the minute, Yeah. I've got sponsors funding my camp, for about five weeks, coming up to the Welsh title fight. It's a big deal for me, makes it a lot easier. Makes the diet easier and I need help with the diet (laughs).
Your debut ended in a draw and your second contest was a points loss. How do you view those results?
I feel they are wins really. The referees must've had an off-night. The second fight (against Aaron Sutton), I beat the boy up – gave him six stitches. But, it was in his hometown of Bristol – it should've been a win. Also, I avenged the draw (against Kevin McCauley).
In your last fight you defeated Kevin McCauley, what did it feel like to get the win this time?
It sounds daft saying redemption, for a draw. But I did feel I'd been robbed (first time), so it felt great coming out of there with the win. The only disappointing thing was that I couldn't put him down cos he's such a tough guy. He'd only been stopped eleven times in hundred plus fights.
How do you feel you compared in the win, over Kevin McCauley, compared to the draw against him?
Just the intensity. My first fight was the draw and had I been on a home show, with people I know watching me – they would've raved about how professional I was. I was calm, didn't go rushing in. The second time I did that (rushed in) and got the win (laughs).
I boxed well in both fights but the intensity won it for me the second time.
You've won the last four. What's been the best win?
I'm very proud of beating William Warburton cos of what he's done to Welsh fighters in the past. As a collective, I'm very happy with them. I had a draw in one round, of my last four wins. The knockout was nice, I enjoyed that.
Who is in your team?
Lyndon James is my coach, he and his brother Mark have been with me since I was an amateur. My brother is one of the coaches that I use, and Jeff Evans occasionally. My physio is Tom Stone, he helps with my nutrition as well. Jamie Arthur is my manager, he's well in with the promoters Sanigar and British Warriors, so I'm getting the best of both worlds.
What would you say are your strengths?
Tenacity, fitness levels, persistence, enthusiasm. I think I've got an underrated skill level when it comes to thinking as a boxer.
What is your favourite part of training?
I do love sparring, the camaraderie of it is awesome. I like being in my home gym training all day. Padwork, punching is my favourite.
Do you come here (St. Joseph's in Newport) a lot for sparring?
I come here a lot for sparring, the quality sparring here is well known. I go to Arthur's gym for sparring as well.
Least favourite part of training?
The afterburn (laughs). Maybe Super burpees – I'm not a fan of them.
You're fighting on April 14th. How has training gone, so far?
Training has gone perfectly. A couple of little niggles but got over them quite quickly.
What would it mean for you to win the Welsh title?
The reason I've suggested dropping down to super-lightweight (after Tony Dixon pulled out at welterweight), is because I want to win the Welsh title so bad. I don't want to fight journeymen or people who aren't coming to win. I want to pick belts up.
Were you confident of beating Tony Dixon?
I didn't think a lot of Tony anyway. I really want him to recover from his injury and I really do want to fight him. I think I've got the perfect style to make him look stupid and stop him. I think I would've gotten a late stoppage.
Thoughts on Tony pulling out?
Very disappointed. Beating him would've given a great ranking and the Welsh title, that would have meant so much to me. I made the weight, so professionally. But I just hope it happens again.
Thoughts on the fight with Bradley Pryce?
It's an opportunity. I'd like to make a statement but I'll show him the respect he deserves and give 100%.
How can people get hold of tickets?
They can phone me on 07564355306 or get hold of me on Facebook or Twitter.
How many times would you like to fight in 2018?
It was a later start than I wanted. February 24th was a possibility, I've been training since January. I'd like to fight another four or five times after this. If I can get out in May, I'd be very happy.
S4C is televising the 'Fire & Ice' show, have you been on there before?
This is my first televised show. It's a cool feeling having them phone you up and doing the features. I've got them coming next week to do the recordings of the training for the show Y Ffeit.
What are your minimum ambitions in the sport?
I hate putting a cap on it, so you're always going to say a World title. Over the next 18 months, to win an international title. To win a British title outright would be amazing.
Prediction for Anthony Joshua vs Joseph Parker fight?
AJ in the fifth or sixth.
Who are your sponsors?
DT Contract and they always help me, as they are my employers. My biggest sponsors: Liberty Care, they are consistently there; Euphoria tanning in Pontypool, they help me with the kit and things like that. Former boxers Nye Williams (NYE Properties) and Jeff Evans (ProWeld) have helped me. Thank you, also, to CRC – Cardiff Readymix Concrete, Readers – commercial kitchens, WJW self-storage, Border Plant and S3 Advertising.