Deontay Wilder continues campaign for Anthony Joshua fight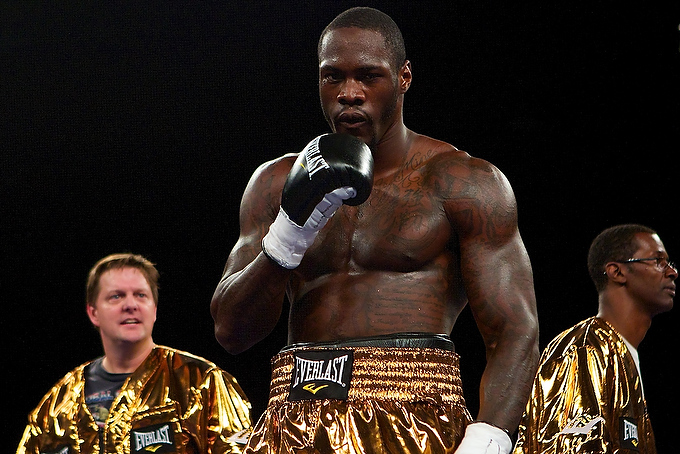 WBC heavyweight titleholder Deontay Wilder 40-0 (39) has issued a fresh challenger to unified heavyweight champion Anthony Joshua 21-0 (20) in the wake of the undefeated British boxer's 12-round unanimous decision win over former WBO titleholder Joseph Parker 24-1 (18) of New Zealand on Saturday night.
"Of course I want Joshua to fight," said Wilder on a video uploaded to the Premier Boxing Champions Twitter account. "Stop bulls******* the fans. I want that smoke, you said if I want it, the fans want it, you want it.
"You said if I want that work, I can get that work. Well, Joshua, I've been clocked in, I'm well overtime baby.
"Let's make this fight happen, stop lying to the people. It's easy, it's a simple fight to make, let's make it happen."
Last week Wilder turned heads with his statement on breakfast radio that "want[s] a body on [his] record" but Joshua refused to be drawn on that remark when he spoke to the media at his post-fight press conference at Principality Stadium in Cardiff, Wales.
"I think 2018 was always a time to capture all the belts. We are one away. It's been a big question that was asked after the fight and I spoke about it then. And I just said that I am not into the business of hype, hype, hype, talk, talk, talk, talk, talk," said Joshua.
"I would love to maybe go to American with Eddie [Hearn] or Rob [McCracken] and look at the landscape and see how serious they are and deal with this behind closed doors.
"A lot of negotiations can go on over social media and YouTube channels and stuff, but in terms of when you're doing serious business, you have to sit down in privacy and discuss terms and conditions and so on and so forth.
"Then we can see how serious people are about taking fights."