Jeff Horn promoter Dean Lonergan says Top Rank "bullshitting" about Terrence Crawford injury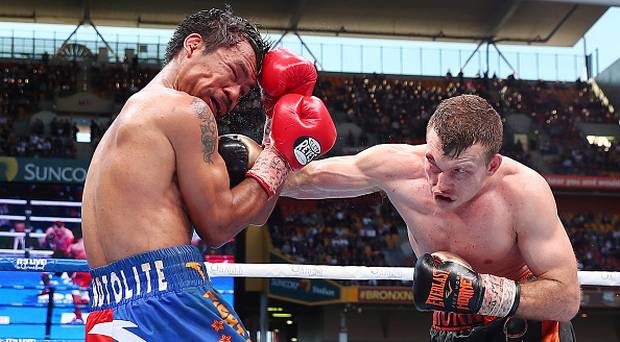 The relationship between Dean Longeran of Duco Events and Top Ranks' Bob Arum appears to be unravelling over WBO welterweight champion Jeff Horn's rescheduled mandatory title defence against Terrence Crawford.
The fight was originally scheduled to take place on April 14 until a hand injury to Crawford forced the postponement until June 9. The date change is expected to cost Duco Events and Horn a combined $1 million in pay-per-view revenue with Foxtel's PPV channel Main Event already committed to carrying the UFC event on the same date featuring Australian star Robert Whittaker's middleweight title defence.
Lonergan believe the injury suffered by Crawford is fake.
"This has been brought about by what I consider to be a fake injury, to be bluntly honest," Lonergan told AAP. "I've requested that Top Rank send through the medical certificates to prove that Crawford had an injury and we were told in no uncertain terms they wouldn't be forthcoming.
"So I've got no doubts that they're bullshitting us."
The hand injury reportedly occurred while sparring last month but didn't involve tearing any ligaments or breaking any bones.
The injury announcement came hot on the heels on the revelation that Manny Pacquiao would not be fighting on the same card as originally planned.
"I think the reason why the fight was delayed (was because) Top Rank had done zero promotion on the fight and hadn't formalised the agreement with ESPN," Lonergan said.
"I would have been just as happy if they'd have said, 'look, we're not ready to go, let's delay it by a month or two.'
"But you would have thought they would be considering their partners before they go and make unilateral decisions.
"Yes it has been frustrating, and yes, it is pissing me off no end."
There have been rumours in the industry that Top Rank wanted to wait until the new direct-to-consumer app ESPN+ was available to carry the fight in the US.
With two months to go until the opening bell you can expect more developments in this story in the coming weeks.