Jimmy Kilrain Kelly says youthful boozing will cost Dennis Hogan world title shot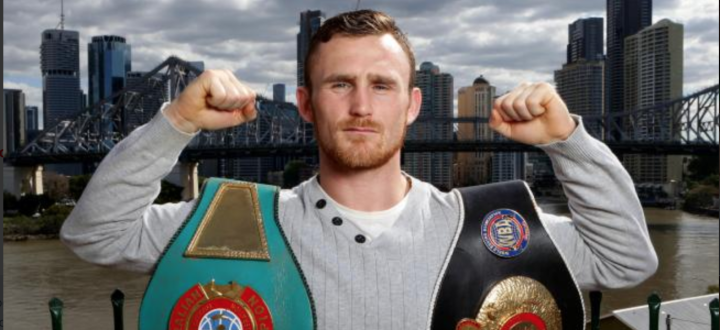 WBO number three junior middleweight Jimmy Kilrain Kelly 23-1 (9) says his clean-living lifestyle will be the key to victory when he meets WBO number two Dennis "Hurricane" Hogan 26-1-1 (7) at the Brisbane Convention & Exhibition Centre in Brisbane, Australia this Saturday night.
"I've always lived a clean life and never taken short cuts,'' says the 25-year-old from Manchester told the Courier Mail. "Hogan is a lot older than me and he's knocked himself around in earlier times. I'm young and fresh and coming into my peak. It's my time now. I'm going to put on a master class and give him a boxing lesson.
"I can make adjustments in a fight, he can't. He fought Jack Culcay for the world title and did the same thing round after round. He can't adapt, I can.''
The 33-year-old Hogan, who was born in Ireland but has resided in Brisbane for the past eight years, has openly discussed his love of the booze in his younger days.
Kelly's trainer Lee Beard, who once worked with another famous Guinness lover in Ricky Hatton, believes that the bottle shortens careers.
"We all know the things Dennis has got up to in his past,'' Beard said. "I give him credit for coming back but it's taken its toll on Hogan. If you abuse your body the way that he has there is no way at his age he can be in the same sort of condition as my lad who has never been out of the gym since he was a little kid.
"Jimmy has as strong a mentality as I've seen and Hogan is in for a big shock. Jimmy's a level above him in skills, he's a better all-round fighter and a much better puncher.''
The WBO Intercontinental and WBO Oriental titles are up for grabs in the fight, with the winner expected to earn a shot at the WBO world title.