10 Major Fights That Happened Too Late And What Would Have Took Place Had They Unfolded At The Right Time!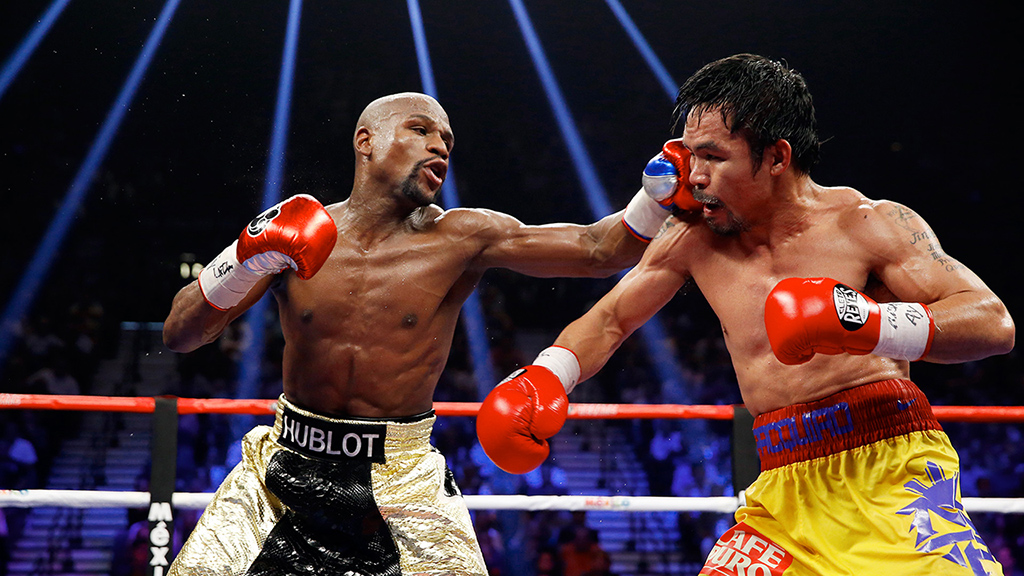 Nearly three years on, Floyd Mayweather v Pacquiao still leaves a bitter taste in people's mouths after the fight failed to catch alight and give us something that stood out to remember it for. Instead, it resulted in a clear points win for 'Money' which left no doubt that the long awaited welterweight battle was over-cooked in terms of promotion and duration.
Hopefully a huge lesson was learned, both by the fans and those in power to make these fights happen, but this is not something new! We can go far back in time, decades ago, and rumbles will be found involving one, or or even two combatants whose glory days had long past them by.
We are going to take a look at ten fights in various weight categories that were sealed and fought late in the day and a prediction for how each one would have panned out had they happened when the time was truly right.
Mike Tyson v Lennox Lewis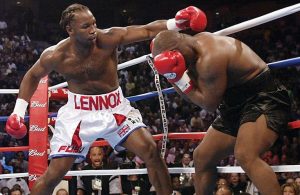 In the mid 1990's when Mike Tyson had not long been released from prison for a rape conviction there was talk of a clash with then former British heavyweight world champion Lennox Lewis. The two eventually met in 2002, way past time when Tyson's hunger for the sport had diminished. He eventually succumbed to an 8th round stoppage, but would the fight have panned out any differently had it happened around 1996?
Although Tyson still had the motivation at that time, he still no longer threw combinations or moved his head out of the way of incoming fire. He relied on one punch to try and take out opponents. This type of mindset would not have been enough to wipe out Lewis. The end result possibly would have been about the same although Tyson would have had it in him to try harder than he did years later.
Floyd Mayweather v Manny Pacquiao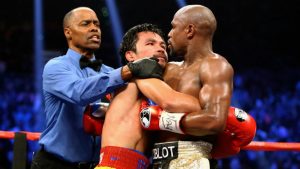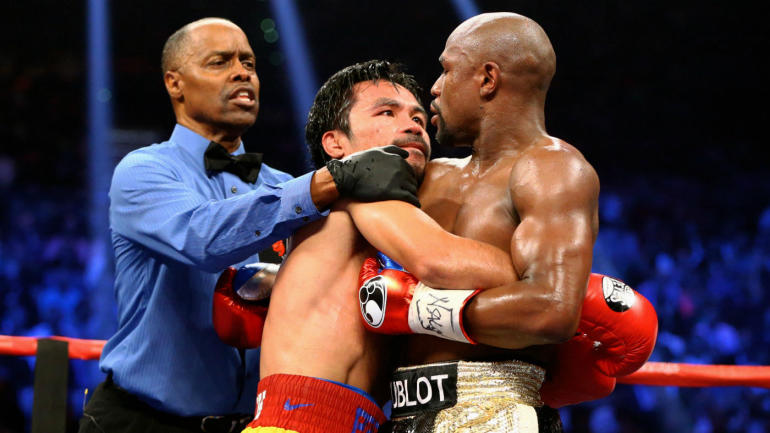 The 'Fight of the Century' finally took place six years later after the bout had been first suggested in 2009 shortly after Manny Pacquiao soundly defeated Miguel Cotto. The fans and everybody else who wanted to see who truly was the welterweight king of our time were put through the ringer while egos prevented the fight from taking place for years.
Eventually 2015 saw the fight happen, a dull technical affair that never contained any flair. Had the fight happened in 2010 we would have seen a prime Pacquiao use that whirlwind energy that he inflicted on so many contenders before him on Mayweather. Floyd would have had to withstand flurries of punches coming from all sorts of unusual angles non stop, but it is feasible to assume that he would have ground out a points win in a fight that would have been a much more entertaining battle than the borefest we were given after all them years of anticipation.
Mike Tyson v Evander Holyfield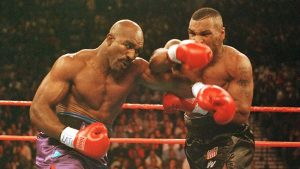 Tyson's first loss to two weight champion Evander Holyfield was the start of his rapid decline. His win over Bruno in their second fight made him look rather flattering, convincing some that he was back to his best. Of course, Holyfield proved those assumptions false when he cut, floored and eventually stopped him in 11 rounds. Would a prime Mike Tyson, a version that threw harrowing accurate bombs and used swift body movement and footwork been too much for Holyfield?
Let's say the fight took place around 1988. Forget 1990 because Mike had already got lazy and a lot of his best weapons that once made him look unbeatable were absent. To be fair, you would have to also choose the 1988 version of Holyfield, the one that had not long made his heavyweight debut. The bout would have surely seen more punches being thrown by both guys! Holyfield would often stand and trade with opponents but this maybe would have been his undoing against one of boxing's hardest hitting heavyweight champions in history.
Evidently, Holyfield had a great chin but there are serious doubts that even he would have managed to stay up against a supreme Mike Tyson. I would pick Mike to take out Holyfield in and around 5 rounds after the 'Real Deal' gets sucked into a war.
Joe Calzaghe v Roy Jones
Roy Jones was heavily faded by the time he fought Joe Calzaghe in 2008. Taken apart at the seams, Jones would go the distance to lose a lopsided decision.
Rewind to around 1998 when both guys were at the top of their game. Calzaghe's hands were still holding up and taking people out, while Jones was doing the same. The fight would have been tremendous, and it is difficult to pick a hypothetical winner but I am going to have to go with Jones on this one. He had more experience at world level and fought top competition while Joe was still relatively new at that level. But Roy would still had to have been careful of Joe's power, which had seen the likes of Chris Eubank being floored mere seconds after the first bell had rang. A distance fight once again is likely unless Roy could have done more of the same that he did against Joe in the 1st round of their encounter.
Oscar De La Hoya v Manny Pacquiao
The 'Golden Boy' thought he could take an easy route to the top of the Pound for Pound list and beat up on a much smaller guy in Manny Pacquiao but he came unstuck when his weight threw a spanner in the works. It was Pacquiao that inflicted a serious beating on a weight drained De La Hoya, who soon retired afterward.
Seeing that both boxers did not campaign at the same weight any time before 2008, let's assume that Oscar and Manny were fighting at their best around the year 2000 at welterweight. De La Hoya and Pacquiao both had come forward, crowd pleasing boxing styles, but Oscar was the more technically efficient. Pacquiao may have gotten caught with a counter left hook upstairs, a favourite of Oscar's that would either have knocked the Filipino straight out, or it would have quickly been followed up with an explosive finish. No particular round for this one. It would have happened at any point!
Joe Louis v Rocky Marciano
The 'Brown Bomber' Joe Louis still holds the record for longest reigning heavyweight champion ever, as well as another stand-alone achievement for making 25 successful title defenses. Louis was still fighting by 1951 and he eventually got the oportunity to face one of the 1950's most dangerous contenders, the unbeaten Rocky Marciano. Marciano compiled a record of 37-0 at the time and was climbing the rankings toward championship glory. As is all too common in boxing, the Louis that showed up was not the one that had dominated the division in the 1930's and 1940's. He was outfought and eventually stopped in 8 rounds.
Marciano's willpower often took the place of boxing craft, which evidently no man could match him with. In his younger days, Joe mastered how to set distance and used his left to measure where his right hand was going to land, but it came at a price of taking a few to score one big whack. He could do this whether it was in the centre of the ring or at the edge of it. Had Marciano and Louis met somewhere during the late 1930's Louis would have been too accurate for the sometimes sloppy looking Marciano, who often threw leather with the intention to overwhelm.
Amir Khan v Marco Antonio Barrera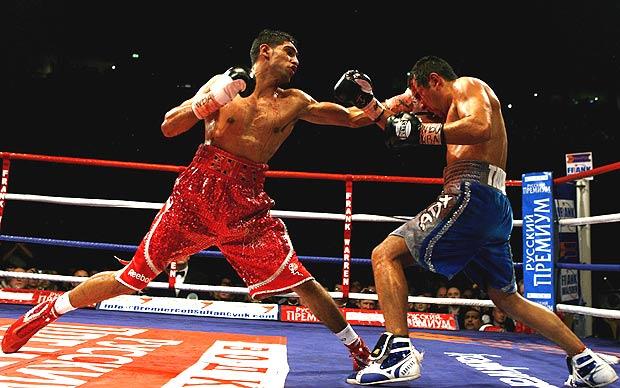 Mexican Marco Antonio Barrera had not long come off a fight against Freudis Rojas in which he suffered a nasty head cut that forced Rojas to be disqualified for an intentional headbutt. The fight with Amir Khan took place only two months later and had to be stopped after 5 rounds when Barrera received another head wound that halted the bout. The winner was announced by a Technical Decision. Khan got the victory.
Although Amir has always possessed speed and agility, Barrera has topped elite names like Naseem Hamed, Erik Morales, Kevin Kelley, Paulie Ayala and many more. He was armed with a heavy left that he liked to throw to the body which was often followed up with a right hand to the head. Even though he has some impressive knockout victories on his record, Barrera showed how intelligent he could be when he outboxed Naseem Hamed over 12 rounds in 2001. He may not have gotten a stoppage over Khan in his prime, had Barrera fought him in the lightweight class, but I do predict that he would have come up with a calculated plan to outbox him and time his speed over the distance.
Of course, Amir has always been susceptible to a knockout loss so it is not an impossibility that he would have also been halted at any point. But the same can be said for him fighting most boxers.
Larry Holmes v Muhammad Ali
Anybody who is a Muhammad Ali fan, which it can be assumed that most die hard fans are, will have found it almost sickening that a slurring, slow and stationary Ali was pulverized by Larry Holmes over 10 rounds in 1980 on the way to his first and only knockout loss. In fact, some would say it was criminal!
There are two forms of a prime Ali I could pick here to have faced Holmes. The one that amazed people with his footwork and quick reflexes to dodge out of the way of punches. Or, there is the Ali that came out of exile and continued to wow people in 1970. Some would say that the 1970 version wasn't a prime Muhammad Ali but when you compare that Ali with the one that fought Holmes in 1980, you can see a big difference.
For the sake of preventing argument I will go with the 1960's Ali. Holmes still had that famous jab and had fast hands that may well have caused a fair bit of trouble. But when he was taken down the stretch, Holmes' speed would often fade as would his footwork. If he missed many punches against Ali then it is likely that he would have gotten tired by the middle rounds. Ali often still retained a lot of his momentum in the later parts of his fights and that may have well been the difference! Muhammad Ali would have taken a points decision.
Nigel Benn v Steve Collins II
The famous British super-middleweight boxer was one of the most intense boxers that the United Kingdom saw. When the odds were against him, he often proved them wrong. Just look at the Gerald McClellan and Iran Barkley fights for proof of that. But by the time that he rematched WBO champion, Steve Collins in November 1996 most of the fire was gone. He had lost their previous fight when he allegedly suffered an ankle injury in the 4th round. In the second it was all Collins, who bossed Benn until he quit at the end of the 6th round.
I believe that the same Nigel Benn who faced McClellan, the one that had the resolve to make a statement, would have pounded on Collins until he either fell or until the final bell rang. The Irishman was not difficult to hit although he had a granite chin. But he had the more inferior hand speed and was not the most agile of boxers. It would have made for a barn burner of a fight. Maybe even a British classic! But an on form Nigel Benn would have been too much.
Tony Tucker v Herbie Hide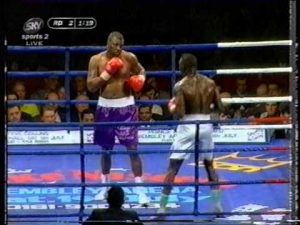 Nigerian Herbie Hide and American Tony Tucker fought each other in 1997 on the British segment of the Holyfield v Tyson II mega clash. Hide easily took him out in 2 rounds, with his speed, youth and power proving it's point.
The Tony Tucker that fought and went the distance with Mike Tyson was able to take the best that most could throw at him. He knew when to clinch and get out of the way. Though the best Tucker was still slower than Hide. If the fight had occurred in 1987 Hide possibly would have still snatched it on points, but as with Mike Tyson, it may have been a frustrating affair for him and probably would not have made for a great fight, unfortunately.