Anthony Mundine gunning for Jeff Horn, wants to go out fighting the best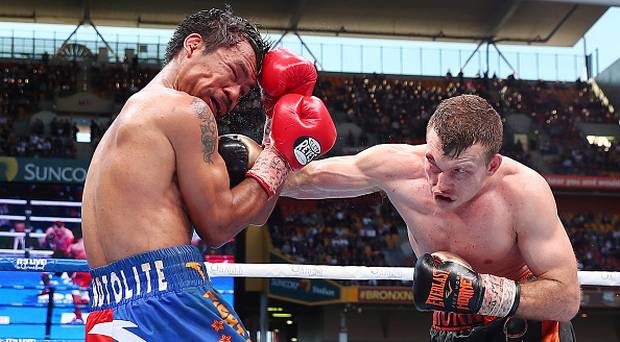 Former WBA super middleweight titleholder Anthony Mundine 48-8 (28) believes a fight between current WBO welterweight champion Jeff Horn 18-0-1 (12) and himself would eclipse his record-setting bout against domestic rival Danny Green back in 2006.
Speaking to Tom Watt of T2T Boxing at the Dennis Hogan versus Jimmy Kilrain Kelly fight in Brisbane on Saturday night, Mundine said: "It will probably be the biggest fight in Australian history. It will probably out-do Mundine-Green I. It can catapult the sport again, it doesn't matter who wins."
Brisbane's Horn, 30, is lined up to face former undisputed junior welterweight champion Terence Crawford on June 9 after the original date of April 14 was scrapped when the American injured his hand.
The new date clashes with UFC 225, which is already booked to be televised on Australia's only pay-per-view channel Main Event. The scheduling conflict is expected to cost Horn somewhere in the vicinity of six figures from PPV revenue.
Mundine, whose has had almost his entire professional career broadcast on PPV in Australia, is sympathetic to Horn's plight.
"It's a major loss for him," said Mundine. "I've got all the respect for Jeff. It's a Cinderella story, he's come from nowhere, beat [Manny] Pacquiao, now he's taking on one of the best [boxers in the world] pound-for-pound.
"I think he might get beat, but I think he'll do well. "
With the Horn fight off the table in the immediate future, Mundine is keen to get back in the gym to ensure he is ready to fight when the opportunity arises.
"I'm looking for the big fights, I just want to fight the best, go out fighting the best," he said. "Now I've got a good hip, I feel fit, I feel the best I've ever felt for a long time and that gives me confidence.
"I'm going to start sparring next week. I want to stay ready."
Mundine had an interesting take on the Canelo Alvarez situation after the Mexican superstar withdrew from his May 5 rematch against Gennady Golovkin after testing positive to clenbuterol, a banned substance for athletes.
"I'm not sure what the drug was, it was obviously a weight loss drug or something," said Mundine.
"It wasn't enhancing really, it was just enhancing his weight loss. Canelo I think is going to get punished for it, that's probably why he pulled out of the fight… They don't tolerate that stuff, so make sure you're clean at all times."
At 42-years-old, the former professional rugby league player knows that his career in the ring is approaching its end and he wants to make the most of the time he has left in the sport.
"I just want to go out fighting the best," said Mundine. "If they're champion or not, if they've got a good name and a solid history, then I'll fight anybody."