Dennis Hogan speaks out about settling differences with Jimmy Kilrain Kelly in the ring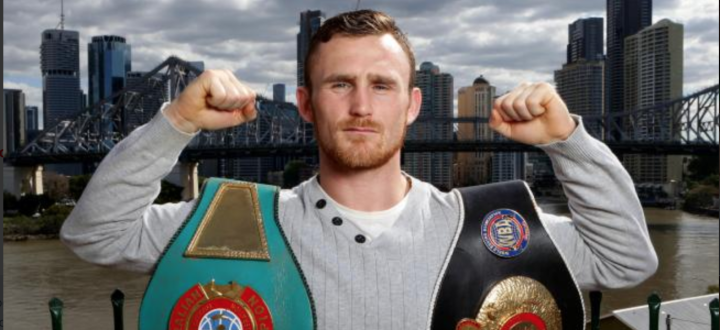 Dennis "Hurricane" Hogan 27-1-1 (7) has all but guaranteed himself a shot at the WBO junior middleweight title with 12-round unanimous decision win over Manchester's Jimmy Kilrain Kelly 23-2 (9) at the Brisbane Convention & Exhibition Centre in Brisbane, Australia on Saturday night.
"It was pretty close the first round but then I started to see some openings and started to see what was going on and I feel that I just took control of the fight from then on. It was a good scrap in the last couple of rounds I feel," Hogan said to Tom Watts of T2T Boxing after the fight.
There was plenty of bad blood between the two camps in the lead up to the fight with Kelly's backers not only posting their thoughts online, but even going as far as to direct message Hogan to tell him he had bitten off more than he could chew.
The animosity between the two teams evaporated almost as soon as the final bell rang.
"It's hard to imagine when there was so much being said in the lead-up how you can be friends afterwards," said Hogan.
"But it just happens that when two warriors go to war you have so much respect afterwards. And that's what's happened there, he's come back to the changing rooms and had a chat, and he's a nice guy.
Kelly's trip to the antipodes seems to have made a strong impression on the 25-year-old Mancunian.
"He said he's planning on moving here. Maybe we made a good impression on him and he likes what he sees, I certainly did. I've been here seven years now," said Hogan.
The 33-year-old Brisbane-based Irishman will be closely watching the WBO title fight between champion Sadam Ali 26-1 (14) of Brooklyn, New York and challenger Liam Smith 26-1-1 (14) of Liverpool, UK when the two clash at the Turning Stone Resort & Casino in Verona, New York on May 12.
Although he isn't fussed who he fights for the title, he does have a slight preference on who he hopes will win the fight.
"Maybe Liam Smith," he said. "I feel that we could get that deal over the line a bit easier. And I always did feel that when Smith was the champion that I did want to fight with him.
"I haven't looked at Sadam Ali that much. But these guys are top calibre boxers, so I need to get myself up to get myself going to get a good win over one of these guys.
"I'm under no illusion that these fights are going to be tough and with the right team that I have and the right training camp I know I can be world champion, which I will."
For the full interview with Dennis Hogan: https://www.youtube.com/watch?v=eawhXGrlBmQ