Trainer Glenn Rushton pleased with Dennis Hogan's win, says Joe Goodall can win world heavyweight title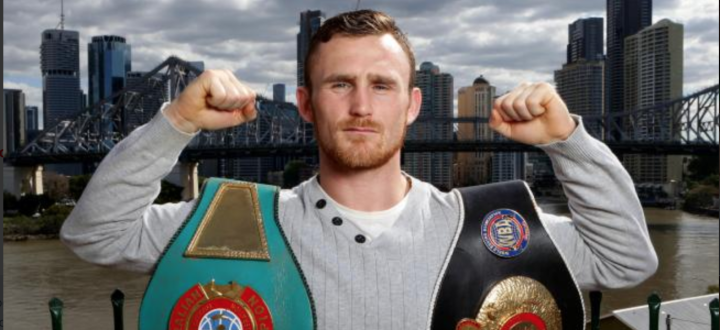 Stretton Boxing Club's head trainer Glenn Rushton is celebrating after his boxers went three for three on the weekend at DDP Sports' big 'Revolution' card at the Brisbane Convention & Exhibition Centre in Brisbane, Queensland, Australia on Saturday night.
In the headline fight WBO number two ranked junior middleweight Dennis 'Hurricane' Hogan 27-1-1 (7) outboxed Manchester's WBO number three Jimmy Kilrain Kelly 23-2 (9) to win a 12-round unanimous decision and add the WBO Intercontinental title to his WBO Oriental strap.
In other bouts featuring Stretton Boxing Club fighters heavyweight debutant Joe 'The Gun' Goodall needed just 2:14 to stop New Zealand's Lui Te'o 2-8-1 (2) while welterweight Nathan Webber 5-0 (2) made even shorter work of Indonesia's Natalius Cipong 4-1 (3), sending him to the canvas twice to earn a TKO at 1:13 of the opening round.
"It's exactly what we planned for," Rushton told Tom Watts of T2T Boxing post-fight. "We got the result we came here for and we're very, very pleased with a good night's work."
Rushton said Hogan was pushing for a late knockout but it never came thanks to Kelly's toughness and experience.
"It was a great effort," said Rushton, who also trains WBO welterweight champion Jeff Horn. "We were pushing for it but Jimmy knew how to hang on, in the 11th round there he even crash-tackled Dennis in an effort to avoid going down there.
"We knew we were winning the fight very convincingly, so it was more about discipline all the way to the finish. When you're that far in front, a knockout is just an added bonus.
"It didn't quite come but it was still a terrific victory against the number three in the world."
At 25-years-old the six-foot Kelly, who hails from Manchester in the UK, had all the physical advantages over Hogan. But it was the 33-year-old Brisbane-based Irishman who had more left in the tank in the later rounds of the fight.
"He gave away eight years in age and four inches in height," said Rushton. "That's a lot to give away at this level… But at the end of the fight you wouldn't have known who the younger man was.
"For a 33-year-old he's supremely fit and that was very, very important. If your legs stop working you get nailed on the ropes and you get into a lot of trouble."
Former Australian amateur champ Nathan Webber was impressive in stopping Cipong, while Joe Goodall had only slightly longer to show the almost 2,000-strong crowd what he is capable of.
Rushton plans to keep both boxers fighting as often as possible in this early stage of their professional careers.
"That's the plan, to keep Nathan Webber and Joe Goodall fighting every month," said Rushton. "Just keep them going, they're both machines.
"They're unstoppable forces and it's hard to see too many people holding them back.
Goodall, who won bronze at last year's World Amateur Boxing Championships in the super heavyweight division in Hamburg, Germany, is one of Australia's most accomplished amateur boxers and expectations are high for what he can achieve in the pros.
"Joe can do anything," said Rushton. "We call him 'The Gun' and he certainly is 'The Gun'. We'll be seeing a lot of those fists blazing away over the coming months and I think there's a lot of exciting fights for him.
"I believe he will be Australia's first world heavyweight champion."
For the full interview with Glenn Rushton: https://www.youtube.com/watch?v=efS6Klf-ALE