Jeff Horn versus Terence Crawford grudge match lands on ESPN+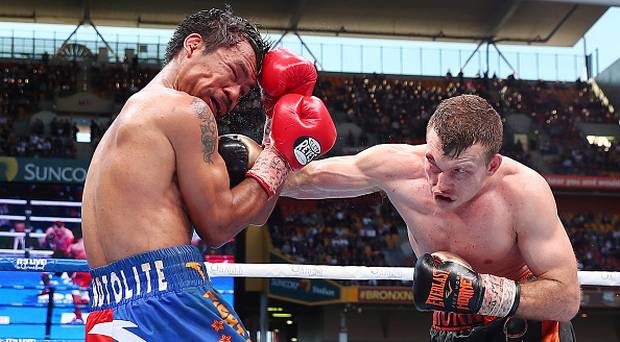 ESPN has announced that the forthcoming WBO welterweight world title defence of champion Jeff Horn against challenger Terence Crawford will be broadcast exclusively on the television station's new subscription streaming service ESPN+.
The 30-year-old Horn, 18-0-1 (12), of Brisbane, Australia will be making the second defence of the world title he won in his upset win over Filipino hero Manny Pacquiao last July. For Crawford, 32-0 (23), it will be his first excursion to the 147-pound weight class. The 30-year-old from Omaha, Nebraska is a former WBO lightweight champion and became the first boxer to unify all four major titles at junior welterweight last year.
The Horn-Crawford clash will take place at the MGM Grand in Las Vegas, Nevada on June 9.
The agreement sets the table for an integrated alliance between Top Rank and ESPN's industry-leading networks and platforms to allow all forms of Top Rank content, including additional original programming and library content, to reach more fans in a variety of new ways.
The 12 additional Top Rank on ESPN cards and six international live events are exclusive to ESPN+. Subscribers of ESPN+ will also have access to a variety of new and existing boxing content throughout the year, including:
A consistent studio show covering all the latest news, results and storylines
The unmatched, on-demand treasure chest of the greatest fights of all time, including hundreds of fights from the ESPN Big Fights Library and the Top Rank archive, including Ali vs. Frazier I-III, Ali vs. Foreman, Leonard vs. Duran I-III, Hagler vs. Hearns and Mayweather vs. Pacquiao, among many, many more
All Top Rank on ESPN undercard fights Re-airs of all T op Rank on ESPN and Top Rank on ESPN PPV boutsWeigh-ins, post-fight interviews and press conferences News, information and opinion across ESPN platforms
"ESPN is thrilled to take our relationship with Top Rank to a new level via this innovative and exclusive distribution on ESPN+," said Burke Magnus, ESPN's executive vice president of programming and scheduling, via media release. "By distributing more Top Rank events and boxing content than ever before, we are showing fans our commitment to boxing through a more personalized and targeted manner."
Top Rank president Todd duBoef said he is happy to ramp up the company's activity."
Top Rank is thrilled to extend our agreement to include these additional world-class events for ESPN+," duBoef said. "This addition offers a 360 approach to the entire boxing vertical, including live world-class events, unparalleled coverage, as well as access to historical moments in the sport."