Carl Frampton uses his doubters as motivation ahead of Nonito Donaire fight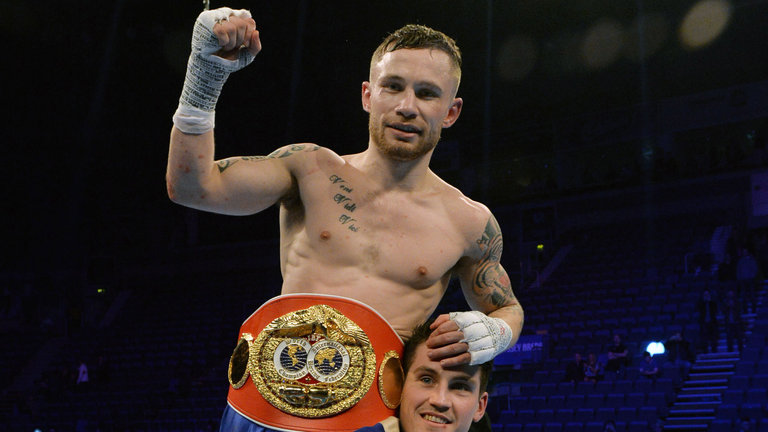 Belfast's Carl "The Jackal" Frampton 24-1 (14) is looking to prove his doubters wrong when he takes on veteran four-division titleholder Nonito Donaire 38-4 (24) at the SSE Arena in Belfast, Northern Ireland on April 21.
"I'm very lucky, I've got a fantastic support, a fantastic fanbase," Frampton told the Irish News. "But I don't kid myself, there are people who would love to see me fall flat on my face and they would take great joy out of it.
"I'm using that as a motivation to prove to people that I've still got a lot left – it's almost life sticking two fingers up to people who think I'm done."
Frampton, who split a pair of back-to-back fights against Leo Santa Cruz by majority decision in 2016-17, has seen some people relegate him to the trash heap after his lone loss.
"You see it online, some people like to begrudge and they like to moan," continued the 31-year-old.
"Two fights ago I lost my title to Leo Santa Cruz and in the last fight I had a performance that was okay, but probably over criticised considering all the things that were going on in my life at the time.
"People were quick to jump on. I lost fair and square but it was close against Santa Cruz and suddenly it was 'Frampton's done, he's over the hill'.
"People like to moan and they like to voice their opinions on social media."
Frampton has had some memorable fights in his nine year pro career, but says that he needs to fight the well-known names in and around his division to cement his legacy.
"I'm at the stage of my career where I need to be fighting names and Nonito Donaire (a four-weight world champion) certainly is a name," said Frampton.
"It's a risky fight. Potentially I could have fought for a world title in the summer without fighting Donaire but when I do fight for a world title I want to be in a position to go and take it off a champion. I think beating someone like Donaire is going to help me do that.
"If I can bring what we've been working on in the gym into the fight then I'll win the fight and I've believed that from the start. There's been talk about me fighting Donaire for a long time but I've always believed I can beat guys like Donaire and I believe it even more so now."