Tony Bellew v David Haye II Fight Prediction: Can The 'Hayemaker' Turn Back Time?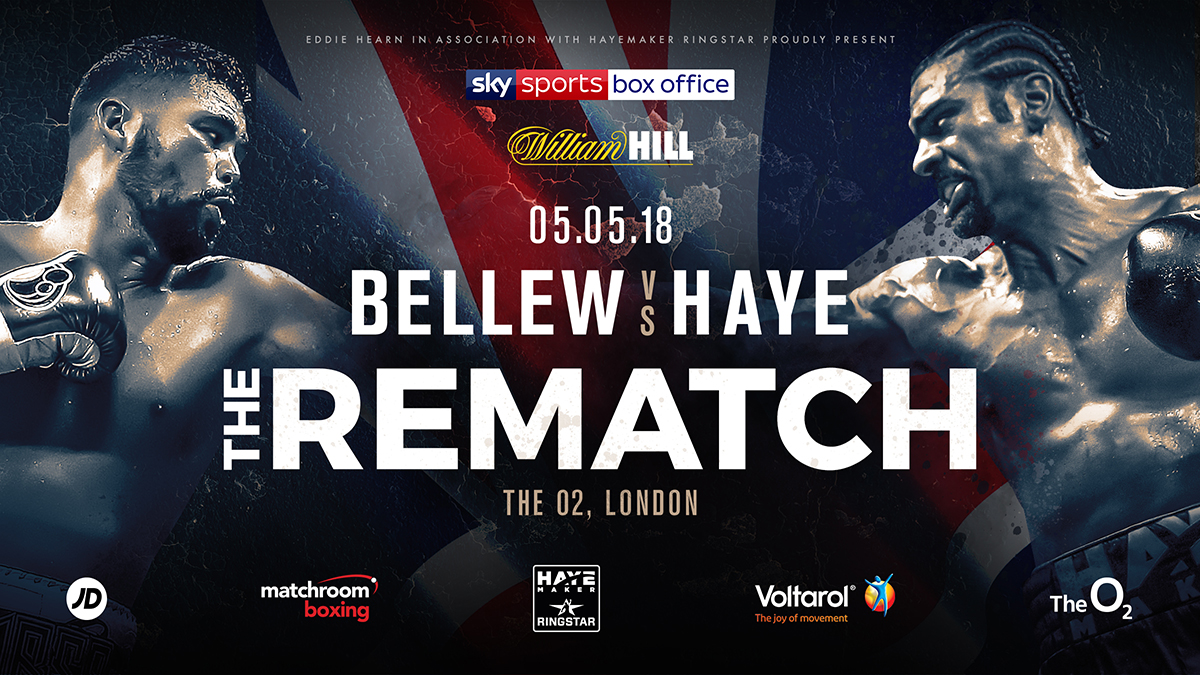 It's been a long time coming but David Haye and Tony Bellew will collide once again at the 02 arena in London on May 5th. The fight will be broadcast live on SKY Box Office.
Liverpudlian Bellew sensationally stopped Haye in March last year, partly due to an unfortunate injury to the Londoner's achilles heel which he suffered in the 6th round. It resulted in him being dropped during those same three minutes. He was unable to find a way to set his punches and it all got too much for him. The towel was thrown in the 11th.
David was fully confident of victory before the first fight took place, even going as far as saying that Bellew was the worst boxing champion he had ever seen! The two even came to blows at the initial press conference to kick off the hype for their original contest, but this time Haye has been sensibly noiseless. This could be a good thing on his part as it could mean that he has been knuckling down and focusing hard on his training, which is something that will undoubtedly be imperative for this fight!
It is easy to blame an injury, though. Before it occurred Haye was already missing with punches that were far-flung and Bellew was able to counter punch. Haye did manage to get through on occasion., but his licks appeared to not have any effect. Tony showed everybody that fighting the likes of Mark De Mori and Arnold Gjergjaj was no preparation to try and topple one of the best cruiserweight boxers at the moment, even if they did make Haye look good. Fighting opponents who are levels below can often shield a fighter's vulnerabilities.
Trainer Shane McGuigan urged David to retire shortly after his loss to Bellew. Boxing fans all over pleaded for him to do the same thing after he picked up another injury in training which cancelled their original planned date for the second fight in December last year. Bodily traumas have plagued him for years. In 2013, he had to pull out of fighting Tyson Fury due to an issue with his shoulder. Treatment was attempted but was ultimately unsuccessful. Then there was the back problem that caused him to delay a fight with Wladimir Klitschko.
In contrast, things are going well for Tony Bellew! The 29-2-1 fighter grabbed the European title in 2013 and became a world champion for the first time in the cruiserweight division when he crushed Ilunga Makabu in 3 rounds. He made one successful defense before the fight with Haye, which gave him his biggest pay day of £2.8 million. He had considered fights with Deontay Wilder and Joseph Parker. Tyson Fury also called him out after Haye pulled the plug on their December date, but it was admitted that he would have physically been a step too far. So, the new May 5th date was arranged to complete some unfinished business.
It seems that Bellew still is not being given enough credit for his underrated boxing ability, as there is still a sizeable number of people that are still picking Haye to win. Emphatically.
About 10 years ago, I would have given him every chance to reverse what happened. At age 37, he is not too old to still compete at a decent level these days. But factor in all the problems he has had with his body for the last 7 or 8 years and then it is not so easy to say that revenge is a formality. Let's also not forget that, historically, a lot of rematches have ended with the same combatant that won their initial encounters also being triumphant in their duplicates. And finally, there is the fact that Haye admitted to the media that he needs to train a little more gently than usual in order to try and physically adjust.
Tony Bellew is 35 and is in the prime of his life. He has not had to contend with all the personal challenges that Haye has had to face. It is a logical choice to pick the 'Bomber' to finally send David into a long overdue retirement.