Team Wilder preparing counter offer to Anthony Joshua's $12.5m proposal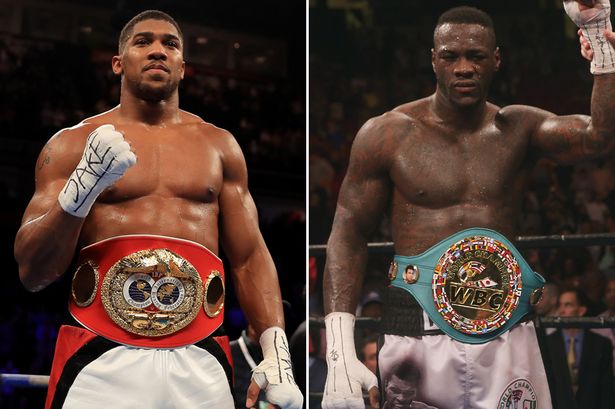 The team behind WBC heavyweight champion Deontay Wilder is preparing a counter offer to Anthony Joshua's promoter Eddie Hearn's offer of $USD12.5 million for the unbeaten American to face the IBF, WBA and WBO heavyweight champion of the world.
Wilder scoffed at the $USD12.5 million offer tabled earlier this week, with co-manager Shelley Finkel hinting that he believes the revenue available for this fight is closer to $USD100 million than $USD50 million.
"That's nice, since he offered us 12.5," Finkel exclusively told Sky Sports. "He thinks that we're only 12 and-a-half per cent of it?"
Finkel expects to have his counter offer ready by the end of the week and is working on the best way to structure the deal that will provide a reasonable purse for both combatants.
Referring to a counter offer, Finkel confirmed the inclusion of a rematch clause and hinted at a split of around 40 per cent to Wilder.
"It will either be today (Thursday) or at the latest tomorrow (Friday). If he wants the fight, it will happen," said Finkel. "I would offer him something that gives him both a guarantee and an upside. We are working on how to structure it.
"We believe it's a minimum of 60 [per cent to Joshua], probably closer to a hundred, but who knows?
"Again, even at 60 [per cent], he offered 20 per cent flat [to Wilder], but he wants 50 per cent flat. Come on. If he wants the fight then either don't under-price Deontay and don't overprice yourself."
The experienced American fight negotiator hinted that there are ways of making a fight offer while still secretly not wanting to make the fight.
"What we're going to offer, if he doesn't take, I don't know where you go. But it will be interesting," said Finkel.
"When a manager or a fighter, usually a manager – the fighter usually wants the fight and I want to believe Joshua wants the fight – if you don't want a fight, you ask for so much that you don't get it.
"And you still say 'I would have fought him'. That's one side, or if you don't want the fight you offer the other side so little that they won't take it.
"I think the world will look at the counter offer and say, 'if he wants the fight, this should happen'."