Tyson Fury: "I'm back, the champions are vulnerable and beatable"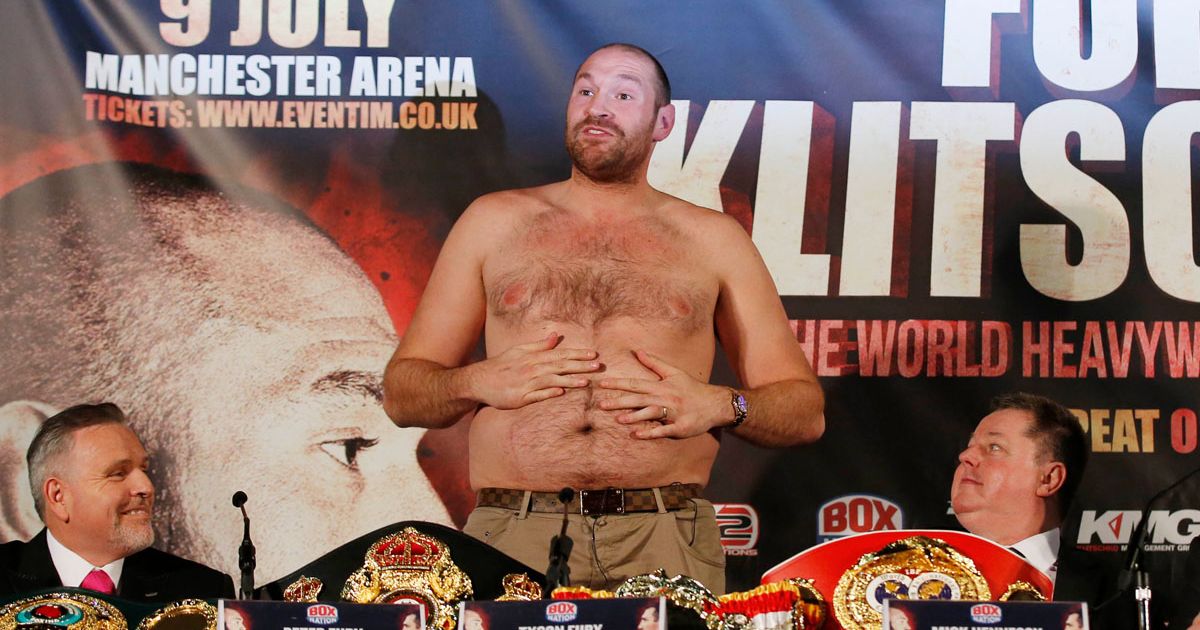 Lineal heavyweight champion Tyson Fury 25-0 (18) has been re-licenced to box by the British Boxing Board of Control (BBBofC) and will return to the ring on June 9 against an opponent to be named on a Frank Warren-promoted card at the Manchester Arena, it was announced at a press conference on Thursday.
"It's took a long time to make this happen," Fury was quoted as saying by The Ring. "The best heavyweight in the world is back. I'll be in Manchester to put on a show. I'm back to claim what's rightfully mine – and that's the world. I held the world in the palm of my hand.
"Given the right amount of time and the right fights, I'll be too much for the sluggers and wild punchers out there because of my agility and skill. I'm as fit as I've ever been. I'm stronger than I've ever been. I'm 29-years-old and coming into the prime of my life. Looking at the competition out there, it should be relatively easy."
The mercurial switch-hitter was last in action in November 2015 when he surprised the world by upsetting long-time world champion Wladimir Klitschko to claim the IBF, WBA and WBO world titles by unanimous decision over 12 rounds in the Ukrainian's adopted home of Germany.
Two rematches were scheduled, cancelled and eventually scrapped altogether when Fury retired from the sport to deal with his mental health and cocaine problems.
Fury blew up in weight during his time way form the ring, at one time claiming he weighed as much as 350-pounds. Against Klitschko he weighed 247-pounds.
In his two-and-a-half year absence from the sport the heavyweight titles splintered but fellow Englishman Anthony Joshua 21-0 (20) has managed to unify the IBF, WBA and WBO titles previously held by Fury. The WBC world heavyweight title belongs to American Deontay Wilder 40-0 (39).
"Joshua is a belt carrier for me," said the former champion. "Anyone who feints and moves on him gives him trouble. My advice to him is, get a handful of rice and throw it at me. That's the only way you'll touch me. He's not the hardest to hit, he's smaller than I am and I don't think he holds a good shot either.
"Deontay is the best of the bunch right now. He's dangerous until the final second of a fight and we saw that against Luis Ortiz. Unlike AJ, Wilder has the speed and agility to land his punches. But, like AJ, he's a bit vulnerable around the whiskers.
"The champions are vulnerable and beatable."
Fury and his cousin and fellow heavyweight Hughie Fury were investigated for testing positive for the banned steroid nandrolone in a lengthy and at time farcical investigation by UK Anti-Doping (UKAD). Late December Fury accepted a two-year backdated suspension, meaning he could continue his boxing career effective immediately. UKAD didn't charge the Furys until 16 months after the nandrolone was detected in their urine.
Fury is expected to be matched relatively softly in June as he begins a three-to-four fight campaign designed to ready him for a shot at unified champion Joshua.