Fire and Ice Ringside Fight Report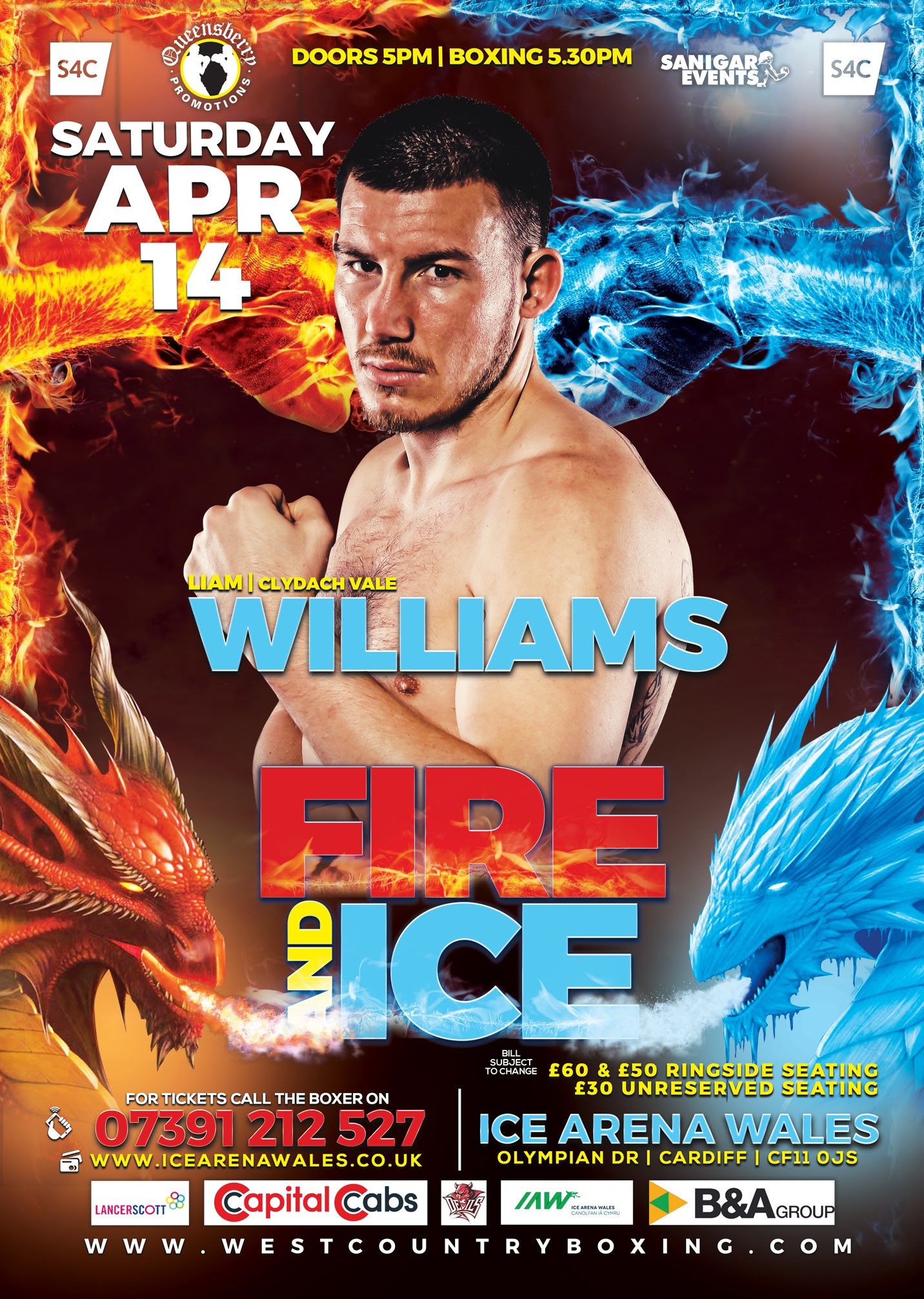 Fire and Ice Ringside Fight Report
Sanigar Events showcased Welsh boxing talent on 14 April 2018 at Cardiff's Ice Arena Wales. There were some familiar talent and some unfamiliar talent on display all aiming to make a statement in the Welsh capital.
Lottie Quryshi V Casey Blair
Lottie Quryshi opened the Fire and Ice card fighting at middleweight in his professional debut. Quryshi was born in Afghanistan and is trained by Tony Borg in St Joseph's Gym, Newport.
Quryshi started bright, keeping Blair at range with his jab. Quryshi was out working Blair and landing cleanly but the fight changed in Blair's favour with one punch, his overhand right. Blair appeared to be catching and hurting Quryshi every time he threw the right.
It was in the third round that the referee stopped the fight. Blair catching Quryshi and hurting him for the last time as Quryshi stumbled across the ring and the referee waived the fight off.
Lottie Quryshi is now (0-1) whilst Norther Ireland's Casey Blair improves to (5-38).
Jacob Robinson V Jamie Quinn
Jacob 'Baby Jake' Robinson was up next and fought his second professional fight in front of his hometown. Robinson is the son of former world champion Steve Robinson. Jacob has aspirations to copy his father's success.
It would turn out to be a comfortable night for Robinson, winning 40-37 on the scorecard
Robinson would prove to be too agile for Quinn, slipping and countering anything Quinn had to offer. Robinson had great success with his work to the body.
Jacob Robinson improves to (2-0) and Jamie Quinn falls to (3-57-2).
Fred Evans V William Warburton
Cardiff's Fred Evans won the silver medal at the London 2012 Olympic Games and had three professional fights before his bout with Warburton. The undefeated southpaw middleweight continues to rebuild his boxing career after setbacks outside of the ring.
Evans dominated all of the four rounds. Warburton looking at times as if he was unwilling to engage with Evans and he had good reason not to as it appeared Evans hurt Warrburton with every shot he threw. Evans spent the whole fight landing at will. There was frustration from Evans' corner as they felt with a higher work rate he could have got the stoppage. The scorecard was 40-36 in favour of Evans.
Fred Evans improves to (4-0) and William Warburton is now (25-132-10, 4KO).
Kristian Touze V Alec Bazza
Swansea's Kristian Touze recovered from an early scare to draw 38-38 with Alec Bazza to keep his undefeated record.
A wild first round saw Touze knocked down by a right hand from Bazza. Bazza continued his pressure but was missing shots by a wide margin. Bazza was headfirst and coming forward at all times but Touze was able to land whilst being on the backfoot.
Kristian Touze is now (5-0-2) and Alec Bazza is now (0-34-3).
Gavin Gwynne V Dean Evans
Undefeated Gavin Gwynne won the Welsh lightweight title last time out, Gwynne was meant to fight Ciaran McVarnock for the vacant Celtic title but it was a fight that never materialised.
Dean Evans stepped in for McVarnock and he would feel the brunt of Gwynne's frustration. Gwynne dominated from start to finish, outworking Evans in every round. Gwynne sent Evans to the canvas in the second round but was able to survive the full six rounds despite Gwynne's best efforts of walking Evans down. Gwynne's height and reach advantage troubled Evans and it could prove to trouble others in his weight division. The scorecard confirmed Gavin Gwynne's dominance as it scored 60-53 in his favour.
Gavin Gwynne improves to (9-0) and Dean Evans is now (6-21-2).
Kieran Gething V Bradley Pryce
Kieran Gething was due to fight Tony Dixon for the Welsh welterweight title but after Dixon had to pull out due to injury the experienced Bradley Pryce stepped in.
Former Calzaghe gym stablemate Gavin Rees was in Pryce's corner. Bradley Pryce promised to retire if he lost to Gething.
The fight was entertaining but Gething was the clear winner. Gething was the busier fighter and enjoyed early success with his jab. Gething is the younger man and it showed when comparing reflexes between both boxers. Pryce accepted from the start that he was always going to get outworked by the younger Gething and he committed himself to a game plan of landing big shots. The problem with this game plan was that Gething with his superior movement and reflexes was able to avoid the majority of the big punches thrown by Pryce.
The second round saw Pryce's nose bleed, as the rounds went on the bleeding situation was getting worse. It was a real testament to how tough Pryce is as he carried on and went the distance. With Pryce badly bleeding and stumbling at times there were some who might ask if the fight should have been stopped but Pryce was still fighting back despite the punishment he was taking. The scorecard had it 60-54 all in favour of Kieran Gething.
Kieran Gething is now (5-1) and Bradley Pryce is now (38-25). Pryce can look back on his career with great pride as he now retires.
Nathan Thorley V Adam Jones
Cardiff's Nathan Thorley won the Welsh light-heavyweight title last time out. Thorley was scheduled to fight former Commonwealth champion Charles Adamu but due to Adamu having to pull out Adam Jones stepped in as a late replacement.
Thorley wanted to make a statement in front of his home crowd but Adam Jones is a tough boxer so getting a stoppage would always prove difficult.
Thorley held all the advantages over Jones, Thorley was the bigger and quicker man. Thorley's reach advantage meant that he was having success keeping Jones at bay when he was using his jab. There was some frustration from Thorley's corner as rather working with the jab; Thorley seemed to just want to land the big right hand that gave him the impressive stoppage in his last fight. Thorley did catch Jones a number of times and stopped Jones in his tracks a couple times but Jones remained standing. The final round became scrappy between the pair as Jones made Thorley work throughout the 8 rounds
The scorecard was 79 – 75 in favour of Nathan Thorley.
Nathan Thorley remains undefeated and improves to (10-0) and Adam Jones is now (7-31-6)
Liam Williams V Darryl Sharp
Liam Williams responded to back to back defeats to former world champion Liam Smith by stopping Darryl Sharp in front of the Welsh crowd. Williams was due to fight the Czech Anatoli Hunanyan but he did not board his plane but Sharp stepped in so Williams could return to action.
Williams had Gary Lockett in his corner and was determined to make a statement. From the first bell Williams marched to the centre of the ring. Williams gained control from the start and continued to dominate the entire fight. Williams nearly ended it in the second round, Sharp was in deep water as Williams continued to apply pressure. The bell at the end of round two was welcomed by Sharp. The third round is when the stoppage came as many would have predicted after the first two rounds. Sharp had no answer to Williams' relentless attack which resulted in the referee stopping the bout.
Liam Williams improves to (17-2-1, 12KO) and Darryl Sharp is now (5-33).
After the fight Williams said "Next fight, I'm looking for a big one, I want a title. I want one of the top five names."
Ashley Brace V Xenia Jorneac
Ebbw Vale's Ashley Brace was looking to put her draw with Spain's Melania Sorroche behind her as she aimed to be the first female British boxer to win the EBU (European Boxing Union title).
Brace was headlining the Fire and Ice event and she stole the show with her performance. Brace was dominant in every one of the ten rounds. Brace was finding answers to Jorneac's defence and landing combinations. Tony Borg was in Brace's corner, he made sure that Brace continued to move to the left so she avoided and nullified Jorneac's dangerous left hand. In the sixth round a right hook sent Jorneac flying to the ropes, there was hesitation from the referee which allowed her to recover. Make her miss, make her pay was the call from Brace's corner and it was executed to perfection by Brace.
The fight went the full ten rounds and the judges scored it 99-91, 99-91 and 100-90 all in favour of Ashley Brace. Ashley Brace is now (8-0-1) and Xenia Jorneac is (8-3). Brace now turns her attention to an all British bout with Nicola Adams.
After the fight Brace said "Nicola Adams happens to be at this weight and it's something I wanted since 2014, I don't dislike her, I don't know her but at the end of the day I want to know if I am good enough to beat her. "
Craig Kennedy V Nikolajs Grisunins
Cardiff's Craig Kennedy returned to the ring after a ten month absence. Kennedy suffered his first loss as a professional last time out, losing by knockout in a British title fight with Matty Haskin. Kennedy returned with Gary Lockett as his new trainer as he looked to get back on track. Kennedy faced Lativa's undefeated Nikolajs Grisunins, who would prove to give Kennedy just the test he needed after his break from boxing.
The fight had a tentative start, neither boxing wanting to over commit early on. A right by Kennedy hurt Grisunins and sent him to the ropes in the first. The second round saw blood coming from the nose of Grisunins. In the fourth round things got worse for Grisunins as his eye began pouring blood. The referee had the doctor check the bloody face of Grisunins but was deemed fine to continue. There was frustration from the crowd as they felt Kennedy was throwing too many single shots throughout the fight. The seventh round saw Grisunins produce his better work. Kennedy was cut just above his right eye in the seventh round but he believed it was due to a clash of heads. The final two round saw Kennedy tire but the result was never in doubt as it was scored 80-72 in favour of Kennedy.
Craig Kennedy is now (17-1) and Nikolajs Grisunins is now (7-1-1).
Read more articles about: